Warning
: preg_match(): Compilation failed: invalid range in character class at offset 4 in
/wp-content/plugins/lightbox-plus/classes/shd.class.php
on line
1384
Warning
: preg_match(): Compilation failed: invalid range in character class at offset 4 in
/wp-content/plugins/lightbox-plus/classes/shd.class.php
on line
1384
Warning
: preg_match(): Compilation failed: invalid range in character class at offset 4 in
/wp-content/plugins/lightbox-plus/classes/shd.class.php
on line
1384
Warning
: preg_match(): Compilation failed: invalid range in character class at offset 4 in
/wp-content/plugins/lightbox-plus/classes/shd.class.php
on line
1384
Warning
: preg_match(): Compilation failed: invalid range in character class at offset 4 in
/wp-content/plugins/lightbox-plus/classes/shd.class.php
on line
1384
Warning
: preg_match(): Compilation failed: invalid range in character class at offset 4 in
/wp-content/plugins/lightbox-plus/classes/shd.class.php
on line
1384
Warning
: preg_match(): Compilation failed: invalid range in character class at offset 4 in
/wp-content/plugins/lightbox-plus/classes/shd.class.php
on line
1384
Warning
: preg_match(): Compilation failed: invalid range in character class at offset 4 in
/wp-content/plugins/lightbox-plus/classes/shd.class.php
on line
1384
Warning
: preg_match(): Compilation failed: invalid range in character class at offset 4 in
/wp-content/plugins/lightbox-plus/classes/shd.class.php
on line
1384
Warning
: preg_match(): Compilation failed: invalid range in character class at offset 4 in
/wp-content/plugins/lightbox-plus/classes/shd.class.php
on line
1384
Warning
: preg_match(): Compilation failed: invalid range in character class at offset 4 in
/wp-content/plugins/lightbox-plus/classes/shd.class.php
on line
1384
Warning
: preg_match(): Compilation failed: invalid range in character class at offset 4 in
/wp-content/plugins/lightbox-plus/classes/shd.class.php
on line
1384
Warning
: preg_match(): Compilation failed: invalid range in character class at offset 4 in
/wp-content/plugins/lightbox-plus/classes/shd.class.php
on line
1384
Warning
: preg_match(): Compilation failed: invalid range in character class at offset 4 in
/wp-content/plugins/lightbox-plus/classes/shd.class.php
on line
1384
Warning
: preg_match(): Compilation failed: invalid range in character class at offset 4 in
/wp-content/plugins/lightbox-plus/classes/shd.class.php
on line
1384
Warning
: preg_match(): Compilation failed: invalid range in character class at offset 4 in
/wp-content/plugins/lightbox-plus/classes/shd.class.php
on line
1384
Warning
: preg_match(): Compilation failed: invalid range in character class at offset 4 in
/wp-content/plugins/lightbox-plus/classes/shd.class.php
on line
1384
Warning
: preg_match(): Compilation failed: invalid range in character class at offset 4 in
/wp-content/plugins/lightbox-plus/classes/shd.class.php
on line
1384
Warning
: preg_match(): Compilation failed: invalid range in character class at offset 4 in
/wp-content/plugins/lightbox-plus/classes/shd.class.php
on line
1384
Warning
: preg_match(): Compilation failed: invalid range in character class at offset 4 in
/wp-content/plugins/lightbox-plus/classes/shd.class.php
on line
1384
Warning
: preg_match(): Compilation failed: invalid range in character class at offset 4 in
/wp-content/plugins/lightbox-plus/classes/shd.class.php
on line
1384
Warning
: preg_match(): Compilation failed: invalid range in character class at offset 4 in
/wp-content/plugins/lightbox-plus/classes/shd.class.php
on line
1384
Warning
: preg_match(): Compilation failed: invalid range in character class at offset 4 in
/wp-content/plugins/lightbox-plus/classes/shd.class.php
on line
1384
Warning
: preg_match(): Compilation failed: invalid range in character class at offset 4 in
/wp-content/plugins/lightbox-plus/classes/shd.class.php
on line
1384
Warning
: preg_match(): Compilation failed: invalid range in character class at offset 4 in
/wp-content/plugins/lightbox-plus/classes/shd.class.php
on line
1384
Warning
: preg_match(): Compilation failed: invalid range in character class at offset 4 in
/wp-content/plugins/lightbox-plus/classes/shd.class.php
on line
1384
Warning
: preg_match(): Compilation failed: invalid range in character class at offset 4 in
/wp-content/plugins/lightbox-plus/classes/shd.class.php
on line
1384
Warning
: preg_match(): Compilation failed: invalid range in character class at offset 4 in
/wp-content/plugins/lightbox-plus/classes/shd.class.php
on line
1384
Warning
: preg_match(): Compilation failed: invalid range in character class at offset 4 in
/wp-content/plugins/lightbox-plus/classes/shd.class.php
on line
1384
Warning
: preg_match(): Compilation failed: invalid range in character class at offset 4 in
/wp-content/plugins/lightbox-plus/classes/shd.class.php
on line
1384
Warning
: preg_match(): Compilation failed: invalid range in character class at offset 4 in
/wp-content/plugins/lightbox-plus/classes/shd.class.php
on line
1384
Warning
: preg_match(): Compilation failed: invalid range in character class at offset 4 in
/wp-content/plugins/lightbox-plus/classes/shd.class.php
on line
1384
Warning
: preg_match(): Compilation failed: invalid range in character class at offset 4 in
/wp-content/plugins/lightbox-plus/classes/shd.class.php
on line
1384
Warning
: preg_match(): Compilation failed: invalid range in character class at offset 4 in
/wp-content/plugins/lightbox-plus/classes/shd.class.php
on line
1384
Warning
: preg_match(): Compilation failed: invalid range in character class at offset 4 in
/wp-content/plugins/lightbox-plus/classes/shd.class.php
on line
1384
Warning
: preg_match(): Compilation failed: invalid range in character class at offset 4 in
/wp-content/plugins/lightbox-plus/classes/shd.class.php
on line
1384
Warning
: preg_match_all(): Compilation failed: invalid range in character class at offset 4 in
/wp-content/plugins/lightbox-plus/classes/shd.class.php
on line
700
Warning
: Invalid argument supplied for foreach() in
/wp-content/plugins/lightbox-plus/classes/shd.class.php
on line
707
Warning
: preg_match_all(): Compilation failed: invalid range in character class at offset 4 in
/wp-content/plugins/lightbox-plus/classes/shd.class.php
on line
700
Warning
: Invalid argument supplied for foreach() in
/wp-content/plugins/lightbox-plus/classes/shd.class.php
on line
707
W pieczywie bezglutenowym stawiam pierwsze kroki. Jest to dość trudna dziedzina. Pszenne chętnie wyrasta, pięknie pachnie i przeważnie nie sprawia kłopotów.

Z tym jest inaczej… Jednak pogodziłam się z tym faktem i coraz chętniej testuję nowe proporcje i techniki.
Chciałabym któregoś razu wpaść na taki trop, który pozwoli mi opracować coś takiego, że nie będę mogła w nocy spać ze szczęścia 😀 Ale jak już wspominałam ciągle pracuję nad tym, ulepszam swoje przepisy, żeby któregoś razu pozytywnie Cię zaskoczyć 😛
Jakiś czas temu upiekłam chałkę! Bardzo dobrą, choć na pewno nie idealną. Nie wymaga dużego nakładu pracy, a efekt jest zaskakująco dobry. Mi smakuje z masłem i odrobiną dżemiku. Standardowo jak to w wypiekach bezglutenowych- najlepsza pierwszego dnia.
Na zdjęciu wersja bezglutenowa. Glutenowa jest pulchniejsza i ma bardziej chrupiącą skórkę. Ale mnie (z konieczności) zadowala ta pierwsza
Po raz pierwszy, na pomysł zmierzenia się z tak poważnym zadaniem, wpadałam przed realizacją gimnazjalnego projektu dotyczącego Średniowiecza. Zarówno chałki, jak i widoczne na filmie biszkopty z kolendrą, powstały w mojej kuchni. Tym razem, jednak nie robiłam ich sama ponieważ dzielnie wspierały mnie dwie moje serdeczne koleżanki: Ewa i Patrycja.
Chałka:
Potrzebne składniki:
¨     400- 500 g mąki bezglutenowej/ owsianej bezglutenowej, pszennej, żytniej czy orkiszowej
¨      200 ml letniej wody, 20 g świeżych drożdży, 50 g cukru, szczypta soli
¨      2 jajka, 50 g masła
¨      papier do pieczenia
Sposób przygotowania:
Drożdże rozrób z wodą i odstaw. W tym czasie w małym garnuszku rozpuść masło. Spienione drożdże przełóż do dużej miski. Dodaj pozostałe składniki, zaczynając od połowy mąki. Następnie: sól, cukier, masło i jajka. Stopniowo dosyp pozostałą mąkę. Ciasto nie może być zbyt zbite, lecz "miękkie", odrobinę klejące.
Przełóż je do czystej miski, przykryj ściereczką i odstaw w ciepłe miejsce na około 2 h. Po tym czasie, ciasto podziel na 6 wałeczków równych wielkości. Złącz końcówki (z jednej strony) wszystkich pasków i zapleć chałkę układając zewnętrzne wałki do środka.
Odstaw ciasto jeszcze do wyrośnięcia na pół godziny. Piekarnik nagrzej do temp. 170 stopni C. Chałkę przełóż na blachę wyłożoną papierem do pieczenia. Piecz około 30 min.
Smacznego!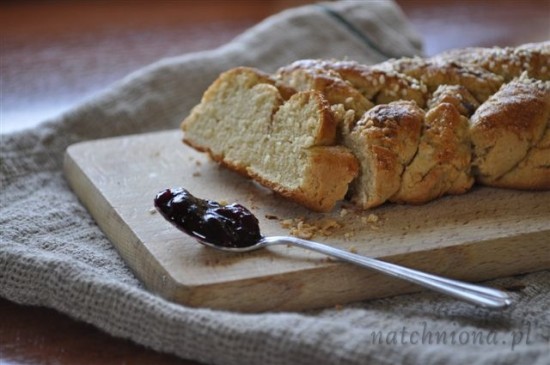 http://www.youtube.com/watch?v=nGesFXHwOA8

Drukuj przepis