Warning
: preg_match(): Compilation failed: invalid range in character class at offset 4 in
/wp-content/plugins/lightbox-plus/classes/shd.class.php
on line
1384
Warning
: preg_match(): Compilation failed: invalid range in character class at offset 4 in
/wp-content/plugins/lightbox-plus/classes/shd.class.php
on line
1384
Warning
: preg_match(): Compilation failed: invalid range in character class at offset 4 in
/wp-content/plugins/lightbox-plus/classes/shd.class.php
on line
1384
Warning
: preg_match(): Compilation failed: invalid range in character class at offset 4 in
/wp-content/plugins/lightbox-plus/classes/shd.class.php
on line
1384
Warning
: preg_match(): Compilation failed: invalid range in character class at offset 4 in
/wp-content/plugins/lightbox-plus/classes/shd.class.php
on line
1384
Warning
: preg_match(): Compilation failed: invalid range in character class at offset 4 in
/wp-content/plugins/lightbox-plus/classes/shd.class.php
on line
1384
Warning
: preg_match(): Compilation failed: invalid range in character class at offset 4 in
/wp-content/plugins/lightbox-plus/classes/shd.class.php
on line
1384
Warning
: preg_match(): Compilation failed: invalid range in character class at offset 4 in
/wp-content/plugins/lightbox-plus/classes/shd.class.php
on line
1384
Warning
: preg_match(): Compilation failed: invalid range in character class at offset 4 in
/wp-content/plugins/lightbox-plus/classes/shd.class.php
on line
1384
Warning
: preg_match(): Compilation failed: invalid range in character class at offset 4 in
/wp-content/plugins/lightbox-plus/classes/shd.class.php
on line
1384
Warning
: preg_match(): Compilation failed: invalid range in character class at offset 4 in
/wp-content/plugins/lightbox-plus/classes/shd.class.php
on line
1384
Warning
: preg_match(): Compilation failed: invalid range in character class at offset 4 in
/wp-content/plugins/lightbox-plus/classes/shd.class.php
on line
1384
Warning
: preg_match(): Compilation failed: invalid range in character class at offset 4 in
/wp-content/plugins/lightbox-plus/classes/shd.class.php
on line
1384
Warning
: preg_match(): Compilation failed: invalid range in character class at offset 4 in
/wp-content/plugins/lightbox-plus/classes/shd.class.php
on line
1384
Warning
: preg_match(): Compilation failed: invalid range in character class at offset 4 in
/wp-content/plugins/lightbox-plus/classes/shd.class.php
on line
1384
Warning
: preg_match(): Compilation failed: invalid range in character class at offset 4 in
/wp-content/plugins/lightbox-plus/classes/shd.class.php
on line
1384
Warning
: preg_match(): Compilation failed: invalid range in character class at offset 4 in
/wp-content/plugins/lightbox-plus/classes/shd.class.php
on line
1384
Warning
: preg_match(): Compilation failed: invalid range in character class at offset 4 in
/wp-content/plugins/lightbox-plus/classes/shd.class.php
on line
1384
Warning
: preg_match(): Compilation failed: invalid range in character class at offset 4 in
/wp-content/plugins/lightbox-plus/classes/shd.class.php
on line
1384
Warning
: preg_match(): Compilation failed: invalid range in character class at offset 4 in
/wp-content/plugins/lightbox-plus/classes/shd.class.php
on line
1384
Warning
: preg_match(): Compilation failed: invalid range in character class at offset 4 in
/wp-content/plugins/lightbox-plus/classes/shd.class.php
on line
1384
Warning
: preg_match(): Compilation failed: invalid range in character class at offset 4 in
/wp-content/plugins/lightbox-plus/classes/shd.class.php
on line
1384
Warning
: preg_match(): Compilation failed: invalid range in character class at offset 4 in
/wp-content/plugins/lightbox-plus/classes/shd.class.php
on line
1384
Warning
: preg_match(): Compilation failed: invalid range in character class at offset 4 in
/wp-content/plugins/lightbox-plus/classes/shd.class.php
on line
1384
Warning
: preg_match(): Compilation failed: invalid range in character class at offset 4 in
/wp-content/plugins/lightbox-plus/classes/shd.class.php
on line
1384
Warning
: preg_match(): Compilation failed: invalid range in character class at offset 4 in
/wp-content/plugins/lightbox-plus/classes/shd.class.php
on line
1384
Warning
: preg_match(): Compilation failed: invalid range in character class at offset 4 in
/wp-content/plugins/lightbox-plus/classes/shd.class.php
on line
1384
Warning
: preg_match(): Compilation failed: invalid range in character class at offset 4 in
/wp-content/plugins/lightbox-plus/classes/shd.class.php
on line
1384
Warning
: preg_match(): Compilation failed: invalid range in character class at offset 4 in
/wp-content/plugins/lightbox-plus/classes/shd.class.php
on line
1384
Warning
: preg_match(): Compilation failed: invalid range in character class at offset 4 in
/wp-content/plugins/lightbox-plus/classes/shd.class.php
on line
1384
Warning
: preg_match(): Compilation failed: invalid range in character class at offset 4 in
/wp-content/plugins/lightbox-plus/classes/shd.class.php
on line
1384
Warning
: preg_match(): Compilation failed: invalid range in character class at offset 4 in
/wp-content/plugins/lightbox-plus/classes/shd.class.php
on line
1384
Warning
: preg_match(): Compilation failed: invalid range in character class at offset 4 in
/wp-content/plugins/lightbox-plus/classes/shd.class.php
on line
1384
Warning
: preg_match(): Compilation failed: invalid range in character class at offset 4 in
/wp-content/plugins/lightbox-plus/classes/shd.class.php
on line
1384
Warning
: preg_match(): Compilation failed: invalid range in character class at offset 4 in
/wp-content/plugins/lightbox-plus/classes/shd.class.php
on line
1384
Warning
: preg_match(): Compilation failed: invalid range in character class at offset 4 in
/wp-content/plugins/lightbox-plus/classes/shd.class.php
on line
1384
Warning
: preg_match(): Compilation failed: invalid range in character class at offset 4 in
/wp-content/plugins/lightbox-plus/classes/shd.class.php
on line
1384
Warning
: preg_match(): Compilation failed: invalid range in character class at offset 4 in
/wp-content/plugins/lightbox-plus/classes/shd.class.php
on line
1384
Warning
: preg_match(): Compilation failed: invalid range in character class at offset 4 in
/wp-content/plugins/lightbox-plus/classes/shd.class.php
on line
1384
Warning
: preg_match(): Compilation failed: invalid range in character class at offset 4 in
/wp-content/plugins/lightbox-plus/classes/shd.class.php
on line
1384
Warning
: preg_match(): Compilation failed: invalid range in character class at offset 4 in
/wp-content/plugins/lightbox-plus/classes/shd.class.php
on line
1384
Warning
: preg_match(): Compilation failed: invalid range in character class at offset 4 in
/wp-content/plugins/lightbox-plus/classes/shd.class.php
on line
1384
Warning
: preg_match(): Compilation failed: invalid range in character class at offset 4 in
/wp-content/plugins/lightbox-plus/classes/shd.class.php
on line
1384
Warning
: preg_match(): Compilation failed: invalid range in character class at offset 4 in
/wp-content/plugins/lightbox-plus/classes/shd.class.php
on line
1384
Warning
: preg_match(): Compilation failed: invalid range in character class at offset 4 in
/wp-content/plugins/lightbox-plus/classes/shd.class.php
on line
1384
Warning
: preg_match(): Compilation failed: invalid range in character class at offset 4 in
/wp-content/plugins/lightbox-plus/classes/shd.class.php
on line
1384
Warning
: preg_match(): Compilation failed: invalid range in character class at offset 4 in
/wp-content/plugins/lightbox-plus/classes/shd.class.php
on line
1384
Warning
: preg_match(): Compilation failed: invalid range in character class at offset 4 in
/wp-content/plugins/lightbox-plus/classes/shd.class.php
on line
1384
Warning
: preg_match(): Compilation failed: invalid range in character class at offset 4 in
/wp-content/plugins/lightbox-plus/classes/shd.class.php
on line
1384
Warning
: preg_match(): Compilation failed: invalid range in character class at offset 4 in
/wp-content/plugins/lightbox-plus/classes/shd.class.php
on line
1384
Warning
: preg_match(): Compilation failed: invalid range in character class at offset 4 in
/wp-content/plugins/lightbox-plus/classes/shd.class.php
on line
1384
Warning
: preg_match(): Compilation failed: invalid range in character class at offset 4 in
/wp-content/plugins/lightbox-plus/classes/shd.class.php
on line
1384
Warning
: preg_match(): Compilation failed: invalid range in character class at offset 4 in
/wp-content/plugins/lightbox-plus/classes/shd.class.php
on line
1384
Warning
: preg_match(): Compilation failed: invalid range in character class at offset 4 in
/wp-content/plugins/lightbox-plus/classes/shd.class.php
on line
1384
Warning
: preg_match(): Compilation failed: invalid range in character class at offset 4 in
/wp-content/plugins/lightbox-plus/classes/shd.class.php
on line
1384
Warning
: preg_match(): Compilation failed: invalid range in character class at offset 4 in
/wp-content/plugins/lightbox-plus/classes/shd.class.php
on line
1384
Warning
: preg_match(): Compilation failed: invalid range in character class at offset 4 in
/wp-content/plugins/lightbox-plus/classes/shd.class.php
on line
1384
Warning
: preg_match(): Compilation failed: invalid range in character class at offset 4 in
/wp-content/plugins/lightbox-plus/classes/shd.class.php
on line
1384
Warning
: preg_match(): Compilation failed: invalid range in character class at offset 4 in
/wp-content/plugins/lightbox-plus/classes/shd.class.php
on line
1384
Warning
: preg_match(): Compilation failed: invalid range in character class at offset 4 in
/wp-content/plugins/lightbox-plus/classes/shd.class.php
on line
1384
Warning
: preg_match(): Compilation failed: invalid range in character class at offset 4 in
/wp-content/plugins/lightbox-plus/classes/shd.class.php
on line
1384
Warning
: preg_match(): Compilation failed: invalid range in character class at offset 4 in
/wp-content/plugins/lightbox-plus/classes/shd.class.php
on line
1384
Warning
: preg_match(): Compilation failed: invalid range in character class at offset 4 in
/wp-content/plugins/lightbox-plus/classes/shd.class.php
on line
1384
Warning
: preg_match(): Compilation failed: invalid range in character class at offset 4 in
/wp-content/plugins/lightbox-plus/classes/shd.class.php
on line
1384
Warning
: preg_match(): Compilation failed: invalid range in character class at offset 4 in
/wp-content/plugins/lightbox-plus/classes/shd.class.php
on line
1384
Warning
: preg_match(): Compilation failed: invalid range in character class at offset 4 in
/wp-content/plugins/lightbox-plus/classes/shd.class.php
on line
1384
Warning
: preg_match(): Compilation failed: invalid range in character class at offset 4 in
/wp-content/plugins/lightbox-plus/classes/shd.class.php
on line
1384
Warning
: preg_match(): Compilation failed: invalid range in character class at offset 4 in
/wp-content/plugins/lightbox-plus/classes/shd.class.php
on line
1384
Warning
: preg_match(): Compilation failed: invalid range in character class at offset 4 in
/wp-content/plugins/lightbox-plus/classes/shd.class.php
on line
1384
Warning
: preg_match(): Compilation failed: invalid range in character class at offset 4 in
/wp-content/plugins/lightbox-plus/classes/shd.class.php
on line
1384
Warning
: preg_match(): Compilation failed: invalid range in character class at offset 4 in
/wp-content/plugins/lightbox-plus/classes/shd.class.php
on line
1384
Warning
: preg_match(): Compilation failed: invalid range in character class at offset 4 in
/wp-content/plugins/lightbox-plus/classes/shd.class.php
on line
1384
Warning
: preg_match(): Compilation failed: invalid range in character class at offset 4 in
/wp-content/plugins/lightbox-plus/classes/shd.class.php
on line
1384
Warning
: preg_match(): Compilation failed: invalid range in character class at offset 4 in
/wp-content/plugins/lightbox-plus/classes/shd.class.php
on line
1384
Warning
: preg_match(): Compilation failed: invalid range in character class at offset 4 in
/wp-content/plugins/lightbox-plus/classes/shd.class.php
on line
1384
Warning
: preg_match(): Compilation failed: invalid range in character class at offset 4 in
/wp-content/plugins/lightbox-plus/classes/shd.class.php
on line
1384
Warning
: preg_match(): Compilation failed: invalid range in character class at offset 4 in
/wp-content/plugins/lightbox-plus/classes/shd.class.php
on line
1384
Warning
: preg_match(): Compilation failed: invalid range in character class at offset 4 in
/wp-content/plugins/lightbox-plus/classes/shd.class.php
on line
1384
Warning
: preg_match(): Compilation failed: invalid range in character class at offset 4 in
/wp-content/plugins/lightbox-plus/classes/shd.class.php
on line
1384
Warning
: preg_match(): Compilation failed: invalid range in character class at offset 4 in
/wp-content/plugins/lightbox-plus/classes/shd.class.php
on line
1384
Warning
: preg_match(): Compilation failed: invalid range in character class at offset 4 in
/wp-content/plugins/lightbox-plus/classes/shd.class.php
on line
1384
Warning
: preg_match(): Compilation failed: invalid range in character class at offset 4 in
/wp-content/plugins/lightbox-plus/classes/shd.class.php
on line
1384
Warning
: preg_match(): Compilation failed: invalid range in character class at offset 4 in
/wp-content/plugins/lightbox-plus/classes/shd.class.php
on line
1384
Warning
: preg_match(): Compilation failed: invalid range in character class at offset 4 in
/wp-content/plugins/lightbox-plus/classes/shd.class.php
on line
1384
Warning
: preg_match(): Compilation failed: invalid range in character class at offset 4 in
/wp-content/plugins/lightbox-plus/classes/shd.class.php
on line
1384
Warning
: preg_match(): Compilation failed: invalid range in character class at offset 4 in
/wp-content/plugins/lightbox-plus/classes/shd.class.php
on line
1384
Warning
: preg_match(): Compilation failed: invalid range in character class at offset 4 in
/wp-content/plugins/lightbox-plus/classes/shd.class.php
on line
1384
Warning
: preg_match(): Compilation failed: invalid range in character class at offset 4 in
/wp-content/plugins/lightbox-plus/classes/shd.class.php
on line
1384
Warning
: preg_match(): Compilation failed: invalid range in character class at offset 4 in
/wp-content/plugins/lightbox-plus/classes/shd.class.php
on line
1384
Warning
: preg_match(): Compilation failed: invalid range in character class at offset 4 in
/wp-content/plugins/lightbox-plus/classes/shd.class.php
on line
1384
Warning
: preg_match(): Compilation failed: invalid range in character class at offset 4 in
/wp-content/plugins/lightbox-plus/classes/shd.class.php
on line
1384
Warning
: preg_match(): Compilation failed: invalid range in character class at offset 4 in
/wp-content/plugins/lightbox-plus/classes/shd.class.php
on line
1384
Warning
: preg_match(): Compilation failed: invalid range in character class at offset 4 in
/wp-content/plugins/lightbox-plus/classes/shd.class.php
on line
1384
Warning
: preg_match(): Compilation failed: invalid range in character class at offset 4 in
/wp-content/plugins/lightbox-plus/classes/shd.class.php
on line
1384
Warning
: preg_match(): Compilation failed: invalid range in character class at offset 4 in
/wp-content/plugins/lightbox-plus/classes/shd.class.php
on line
1384
Warning
: preg_match(): Compilation failed: invalid range in character class at offset 4 in
/wp-content/plugins/lightbox-plus/classes/shd.class.php
on line
1384
Warning
: preg_match(): Compilation failed: invalid range in character class at offset 4 in
/wp-content/plugins/lightbox-plus/classes/shd.class.php
on line
1384
Warning
: preg_match(): Compilation failed: invalid range in character class at offset 4 in
/wp-content/plugins/lightbox-plus/classes/shd.class.php
on line
1384
Warning
: preg_match(): Compilation failed: invalid range in character class at offset 4 in
/wp-content/plugins/lightbox-plus/classes/shd.class.php
on line
1384
Warning
: preg_match(): Compilation failed: invalid range in character class at offset 4 in
/wp-content/plugins/lightbox-plus/classes/shd.class.php
on line
1384
Warning
: preg_match(): Compilation failed: invalid range in character class at offset 4 in
/wp-content/plugins/lightbox-plus/classes/shd.class.php
on line
1384
Warning
: preg_match(): Compilation failed: invalid range in character class at offset 4 in
/wp-content/plugins/lightbox-plus/classes/shd.class.php
on line
1384
Warning
: preg_match(): Compilation failed: invalid range in character class at offset 4 in
/wp-content/plugins/lightbox-plus/classes/shd.class.php
on line
1384
Warning
: preg_match(): Compilation failed: invalid range in character class at offset 4 in
/wp-content/plugins/lightbox-plus/classes/shd.class.php
on line
1384
Warning
: preg_match(): Compilation failed: invalid range in character class at offset 4 in
/wp-content/plugins/lightbox-plus/classes/shd.class.php
on line
1384
Warning
: preg_match(): Compilation failed: invalid range in character class at offset 4 in
/wp-content/plugins/lightbox-plus/classes/shd.class.php
on line
1384
Warning
: preg_match(): Compilation failed: invalid range in character class at offset 4 in
/wp-content/plugins/lightbox-plus/classes/shd.class.php
on line
1384
Warning
: preg_match(): Compilation failed: invalid range in character class at offset 4 in
/wp-content/plugins/lightbox-plus/classes/shd.class.php
on line
1384
Warning
: preg_match(): Compilation failed: invalid range in character class at offset 4 in
/wp-content/plugins/lightbox-plus/classes/shd.class.php
on line
1384
Warning
: preg_match(): Compilation failed: invalid range in character class at offset 4 in
/wp-content/plugins/lightbox-plus/classes/shd.class.php
on line
1384
Warning
: preg_match(): Compilation failed: invalid range in character class at offset 4 in
/wp-content/plugins/lightbox-plus/classes/shd.class.php
on line
1384
Warning
: preg_match(): Compilation failed: invalid range in character class at offset 4 in
/wp-content/plugins/lightbox-plus/classes/shd.class.php
on line
1384
Warning
: preg_match(): Compilation failed: invalid range in character class at offset 4 in
/wp-content/plugins/lightbox-plus/classes/shd.class.php
on line
1384
Warning
: preg_match(): Compilation failed: invalid range in character class at offset 4 in
/wp-content/plugins/lightbox-plus/classes/shd.class.php
on line
1384
Warning
: preg_match(): Compilation failed: invalid range in character class at offset 4 in
/wp-content/plugins/lightbox-plus/classes/shd.class.php
on line
1384
Warning
: preg_match(): Compilation failed: invalid range in character class at offset 4 in
/wp-content/plugins/lightbox-plus/classes/shd.class.php
on line
1384
Warning
: preg_match_all(): Compilation failed: invalid range in character class at offset 4 in
/wp-content/plugins/lightbox-plus/classes/shd.class.php
on line
700
Warning
: Invalid argument supplied for foreach() in
/wp-content/plugins/lightbox-plus/classes/shd.class.php
on line
707
Warning
: preg_match_all(): Compilation failed: invalid range in character class at offset 4 in
/wp-content/plugins/lightbox-plus/classes/shd.class.php
on line
700
Warning
: Invalid argument supplied for foreach() in
/wp-content/plugins/lightbox-plus/classes/shd.class.php
on line
707
Chciałam napisać jak najszybciej, podzielić się z Wami tą wiadomością, ale nie byłam w stanie. 
Miniony czwartek pozostanie w mojej pamięci na bardzo, bardzo długo!  Ten dzień był pełen radości ale i głębokich wzruszeń. Dopiero teraz kiedy patrzę na statuetkę, która jest mi najcenniejszą z nagród – zaczynam wierzyć. Było pięknie! Nigdy wcześniej nie było mi dane uczestniczyć w tak uroczystej gali i spotkać tak wielu wspaniałych osób. Blogerzy, z którymi mogłam się zetknąć, to ludzie z niewiarygodną pasją! Usłyszałam wiele cennych wskazówek, słów które podniosły na duchu i jeszcze bardziej zmotywowały.
Choć nie ukrywam, bardzo marzyłam o nagrodzie, do końca wierzyłam bardziej w rywali! Po werdykcie…  nie, nie płakałam ale głos szalenie drżał. To co chciałam powiedzieć płynęło z serca. Żadna łza nie potoczyła się po policzku, ale z każdym słowem głos odmawiał współpracy. Nie dałam rady podzielić się tym wszystkim czym chciałam. Nie podziękowałam i nie pozdrowiłam. Chcąc to naprawić, obiecuję, że już niebawem nagram video, w którym wszystko uzupełnię.
Mogłabym dziś napisać wiele, ale tym razem pozwólcie, że część tego wyjątkowego wydarzenia schowam głęboko w  sercu. Mam nadzieję, że zdjęcia przybliżą Wam jeszcze to wydarzenie. Czekajcie na filmik, a artykuły możecie przeczytać na stronie http://www.blogroku.pl/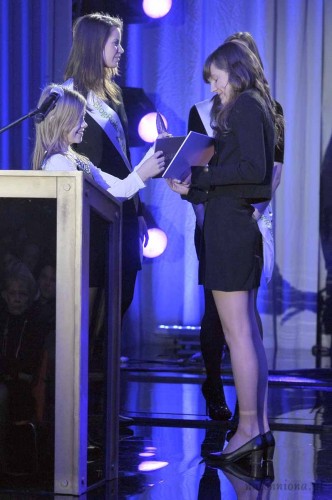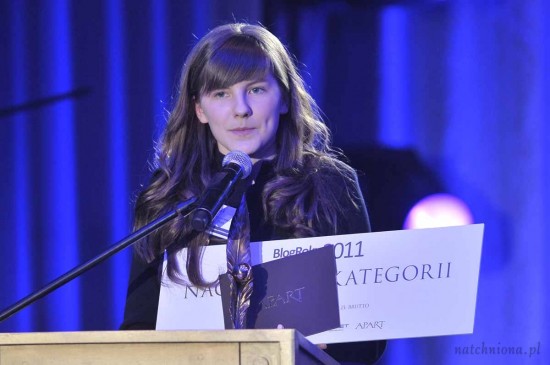 ("Źródło: AKPA")
Prowadzący Galę: Anna Maruszeczko i Maciej Orłoś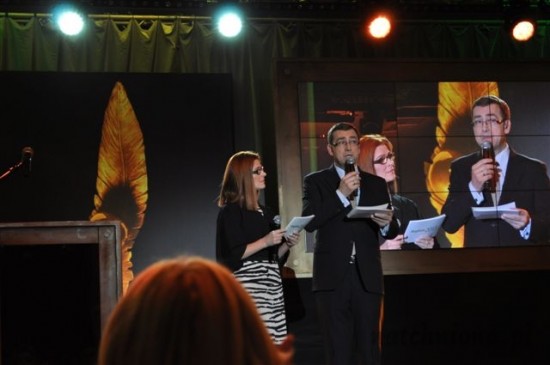 A tutaj… jurorka w kategorii TEEN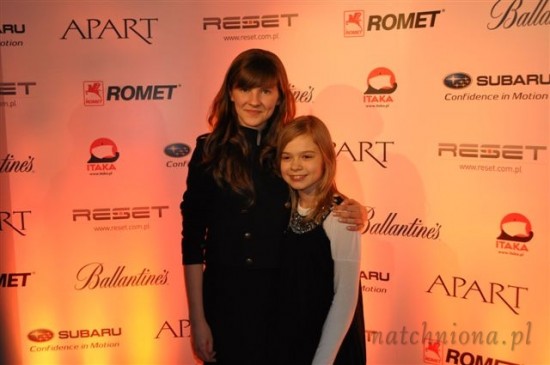 Prezentacja "Natchnionej"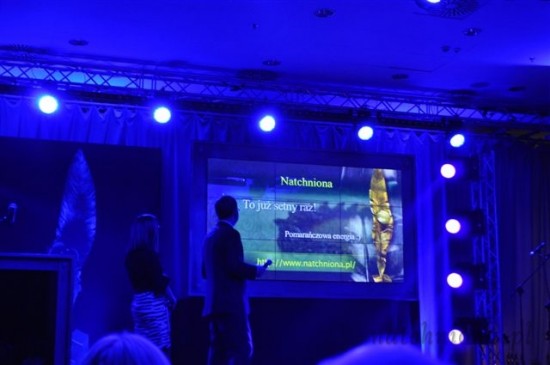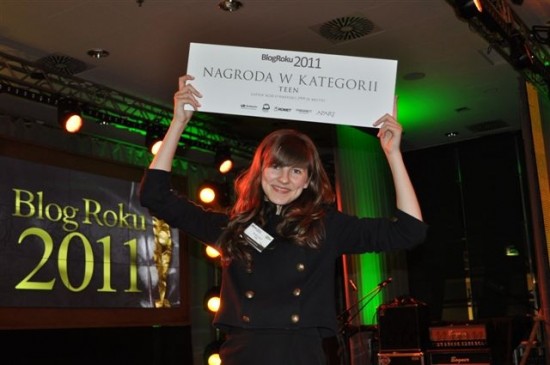 [hana-flv-player video="http://www.natchniona.pl/wp-content/uploads/2012/02/Problem_z_ktorym_przyszlo_mi_sie_zmierzyc_Gala_Blo.flv"
width="550″
height="335″
description=""
player="4″
autoload="true" autoplay="false"
loop="false" autorewind="true"
/]
 "Rodzinne"
zdjęcie z Laureatami Konkursu i Jurorami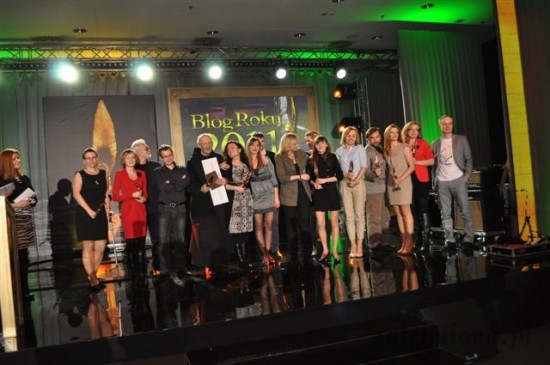 Z Rodzicami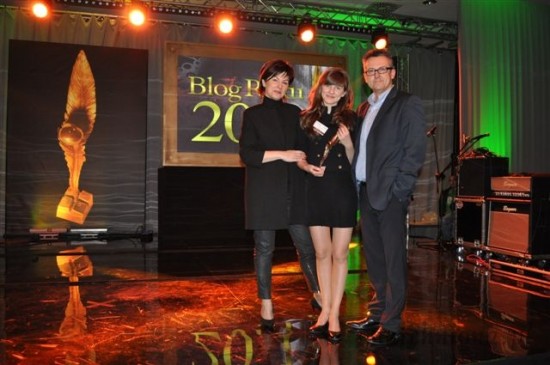 Z moimi Rywalami: Anią i Michałem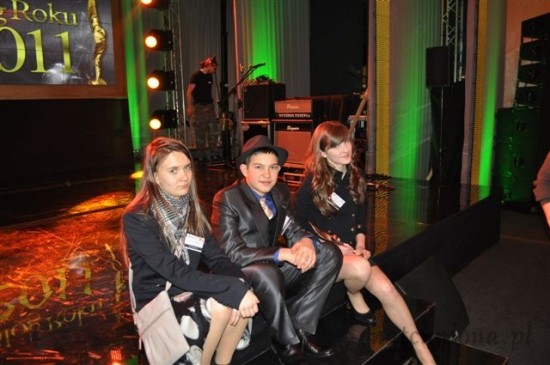 Wspaniała osoba, autorka całego przedsięwzięcia. Od pani Magdaleny Kowalczyk  usłyszałam wiele miłych słów!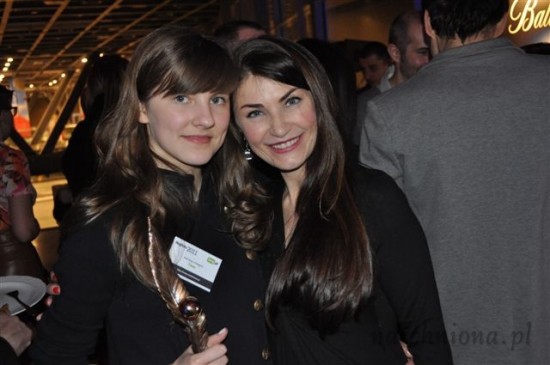 Na spotkanie z panią Martyną Wojciechowską bardzo czekałam.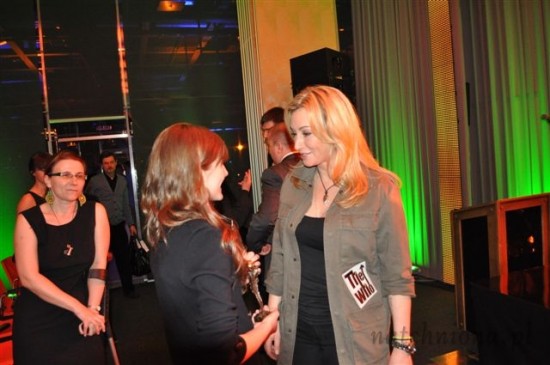 Niesamowity człowiek, ojciec Leon Knabit. Zwycięzca w kategorii "Profesjonalne"!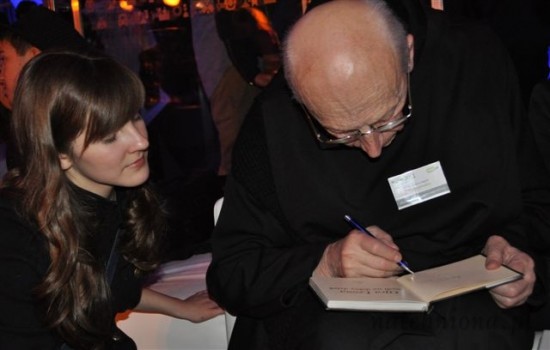 Przesympatyczna Kasia Tusk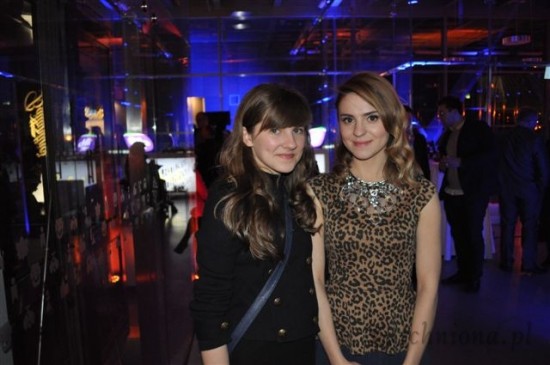 Z Mediafunem, Maciejem Budzichem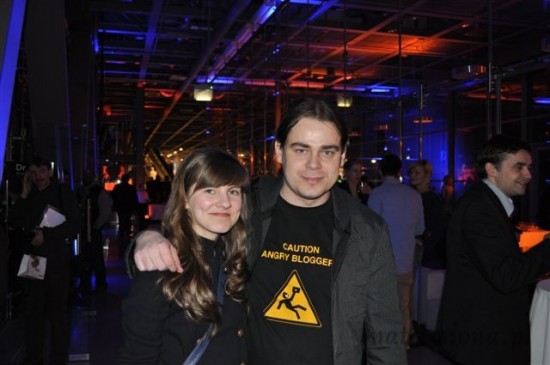 Z Zorką, tegoroczną Potrójną (!!!) Laureatką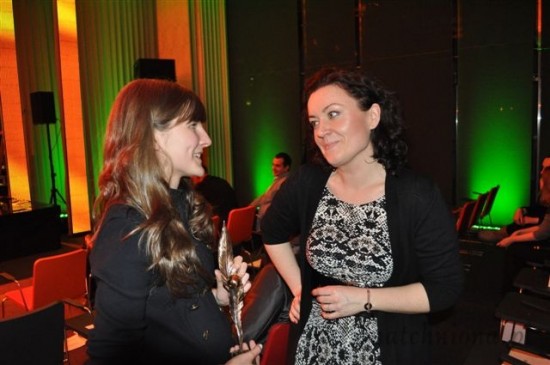 Z p. Moniką Zakrzewską, nagrodzoną przez Michała Żebrowskiego w  kategorii: Kultura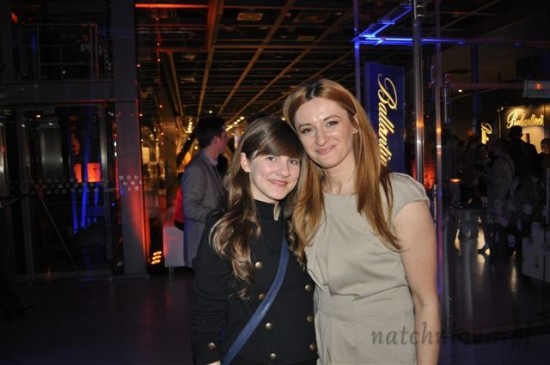 Grzegorz Sikora, zwycięzca w kategorii: Foto, video, komiks i zdobywca  jednego z dwóch Wyróżnień Głównych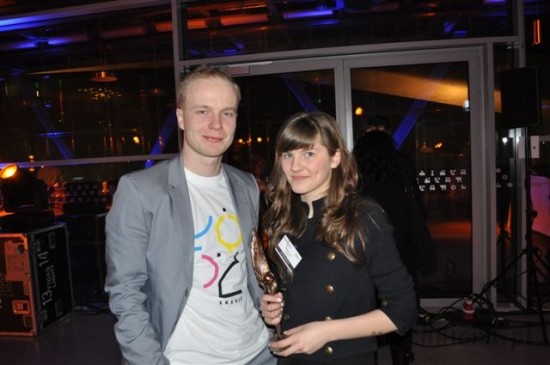 Groźny
w kinie i teatrze, w rzeczywistości bardzo miły (!!!) pan Krzysztof Majchrzak.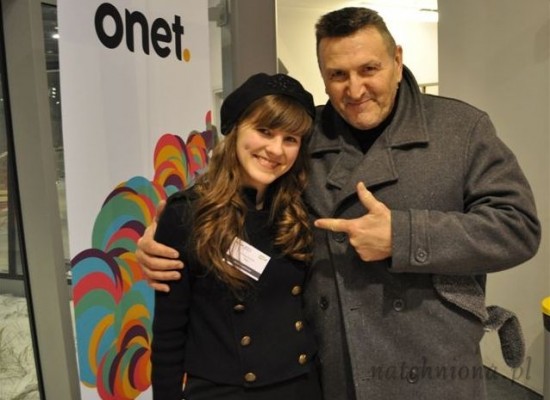 Ze słynnym rysownikiem i satyrykiem p. Henrykiem Sawką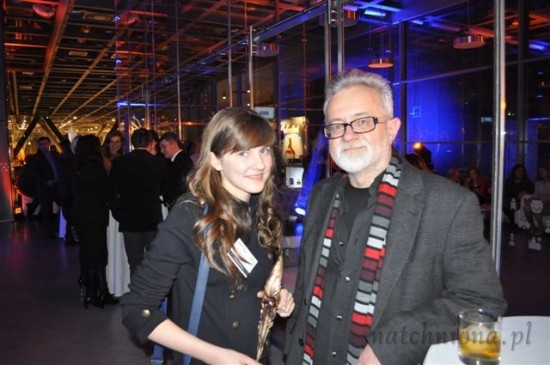 Drukuj przepis