Warning
: preg_match(): Compilation failed: invalid range in character class at offset 4 in
/wp-content/plugins/lightbox-plus/classes/shd.class.php
on line
1384
Warning
: preg_match(): Compilation failed: invalid range in character class at offset 4 in
/wp-content/plugins/lightbox-plus/classes/shd.class.php
on line
1384
Warning
: preg_match(): Compilation failed: invalid range in character class at offset 4 in
/wp-content/plugins/lightbox-plus/classes/shd.class.php
on line
1384
Warning
: preg_match(): Compilation failed: invalid range in character class at offset 4 in
/wp-content/plugins/lightbox-plus/classes/shd.class.php
on line
1384
Warning
: preg_match(): Compilation failed: invalid range in character class at offset 4 in
/wp-content/plugins/lightbox-plus/classes/shd.class.php
on line
1384
Warning
: preg_match(): Compilation failed: invalid range in character class at offset 4 in
/wp-content/plugins/lightbox-plus/classes/shd.class.php
on line
1384
Warning
: preg_match(): Compilation failed: invalid range in character class at offset 4 in
/wp-content/plugins/lightbox-plus/classes/shd.class.php
on line
1384
Warning
: preg_match(): Compilation failed: invalid range in character class at offset 4 in
/wp-content/plugins/lightbox-plus/classes/shd.class.php
on line
1384
Warning
: preg_match(): Compilation failed: invalid range in character class at offset 4 in
/wp-content/plugins/lightbox-plus/classes/shd.class.php
on line
1384
Warning
: preg_match(): Compilation failed: invalid range in character class at offset 4 in
/wp-content/plugins/lightbox-plus/classes/shd.class.php
on line
1384
Warning
: preg_match(): Compilation failed: invalid range in character class at offset 4 in
/wp-content/plugins/lightbox-plus/classes/shd.class.php
on line
1384
Warning
: preg_match(): Compilation failed: invalid range in character class at offset 4 in
/wp-content/plugins/lightbox-plus/classes/shd.class.php
on line
1384
Warning
: preg_match(): Compilation failed: invalid range in character class at offset 4 in
/wp-content/plugins/lightbox-plus/classes/shd.class.php
on line
1384
Warning
: preg_match(): Compilation failed: invalid range in character class at offset 4 in
/wp-content/plugins/lightbox-plus/classes/shd.class.php
on line
1384
Warning
: preg_match(): Compilation failed: invalid range in character class at offset 4 in
/wp-content/plugins/lightbox-plus/classes/shd.class.php
on line
1384
Warning
: preg_match(): Compilation failed: invalid range in character class at offset 4 in
/wp-content/plugins/lightbox-plus/classes/shd.class.php
on line
1384
Warning
: preg_match(): Compilation failed: invalid range in character class at offset 4 in
/wp-content/plugins/lightbox-plus/classes/shd.class.php
on line
1384
Warning
: preg_match(): Compilation failed: invalid range in character class at offset 4 in
/wp-content/plugins/lightbox-plus/classes/shd.class.php
on line
1384
Warning
: preg_match(): Compilation failed: invalid range in character class at offset 4 in
/wp-content/plugins/lightbox-plus/classes/shd.class.php
on line
1384
Warning
: preg_match(): Compilation failed: invalid range in character class at offset 4 in
/wp-content/plugins/lightbox-plus/classes/shd.class.php
on line
1384
Warning
: preg_match(): Compilation failed: invalid range in character class at offset 4 in
/wp-content/plugins/lightbox-plus/classes/shd.class.php
on line
1384
Warning
: preg_match(): Compilation failed: invalid range in character class at offset 4 in
/wp-content/plugins/lightbox-plus/classes/shd.class.php
on line
1384
Warning
: preg_match(): Compilation failed: invalid range in character class at offset 4 in
/wp-content/plugins/lightbox-plus/classes/shd.class.php
on line
1384
Warning
: preg_match(): Compilation failed: invalid range in character class at offset 4 in
/wp-content/plugins/lightbox-plus/classes/shd.class.php
on line
1384
Warning
: preg_match(): Compilation failed: invalid range in character class at offset 4 in
/wp-content/plugins/lightbox-plus/classes/shd.class.php
on line
1384
Warning
: preg_match(): Compilation failed: invalid range in character class at offset 4 in
/wp-content/plugins/lightbox-plus/classes/shd.class.php
on line
1384
Warning
: preg_match(): Compilation failed: invalid range in character class at offset 4 in
/wp-content/plugins/lightbox-plus/classes/shd.class.php
on line
1384
Warning
: preg_match(): Compilation failed: invalid range in character class at offset 4 in
/wp-content/plugins/lightbox-plus/classes/shd.class.php
on line
1384
Warning
: preg_match(): Compilation failed: invalid range in character class at offset 4 in
/wp-content/plugins/lightbox-plus/classes/shd.class.php
on line
1384
Warning
: preg_match(): Compilation failed: invalid range in character class at offset 4 in
/wp-content/plugins/lightbox-plus/classes/shd.class.php
on line
1384
Warning
: preg_match(): Compilation failed: invalid range in character class at offset 4 in
/wp-content/plugins/lightbox-plus/classes/shd.class.php
on line
1384
Warning
: preg_match(): Compilation failed: invalid range in character class at offset 4 in
/wp-content/plugins/lightbox-plus/classes/shd.class.php
on line
1384
Warning
: preg_match(): Compilation failed: invalid range in character class at offset 4 in
/wp-content/plugins/lightbox-plus/classes/shd.class.php
on line
1384
Warning
: preg_match(): Compilation failed: invalid range in character class at offset 4 in
/wp-content/plugins/lightbox-plus/classes/shd.class.php
on line
1384
Warning
: preg_match(): Compilation failed: invalid range in character class at offset 4 in
/wp-content/plugins/lightbox-plus/classes/shd.class.php
on line
1384
Warning
: preg_match(): Compilation failed: invalid range in character class at offset 4 in
/wp-content/plugins/lightbox-plus/classes/shd.class.php
on line
1384
Warning
: preg_match(): Compilation failed: invalid range in character class at offset 4 in
/wp-content/plugins/lightbox-plus/classes/shd.class.php
on line
1384
Warning
: preg_match(): Compilation failed: invalid range in character class at offset 4 in
/wp-content/plugins/lightbox-plus/classes/shd.class.php
on line
1384
Warning
: preg_match(): Compilation failed: invalid range in character class at offset 4 in
/wp-content/plugins/lightbox-plus/classes/shd.class.php
on line
1384
Warning
: preg_match(): Compilation failed: invalid range in character class at offset 4 in
/wp-content/plugins/lightbox-plus/classes/shd.class.php
on line
1384
Warning
: preg_match(): Compilation failed: invalid range in character class at offset 4 in
/wp-content/plugins/lightbox-plus/classes/shd.class.php
on line
1384
Warning
: preg_match(): Compilation failed: invalid range in character class at offset 4 in
/wp-content/plugins/lightbox-plus/classes/shd.class.php
on line
1384
Warning
: preg_match(): Compilation failed: invalid range in character class at offset 4 in
/wp-content/plugins/lightbox-plus/classes/shd.class.php
on line
1384
Warning
: preg_match(): Compilation failed: invalid range in character class at offset 4 in
/wp-content/plugins/lightbox-plus/classes/shd.class.php
on line
1384
Warning
: preg_match(): Compilation failed: invalid range in character class at offset 4 in
/wp-content/plugins/lightbox-plus/classes/shd.class.php
on line
1384
Warning
: preg_match(): Compilation failed: invalid range in character class at offset 4 in
/wp-content/plugins/lightbox-plus/classes/shd.class.php
on line
1384
Warning
: preg_match(): Compilation failed: invalid range in character class at offset 4 in
/wp-content/plugins/lightbox-plus/classes/shd.class.php
on line
1384
Warning
: preg_match(): Compilation failed: invalid range in character class at offset 4 in
/wp-content/plugins/lightbox-plus/classes/shd.class.php
on line
1384
Warning
: preg_match(): Compilation failed: invalid range in character class at offset 4 in
/wp-content/plugins/lightbox-plus/classes/shd.class.php
on line
1384
Warning
: preg_match(): Compilation failed: invalid range in character class at offset 4 in
/wp-content/plugins/lightbox-plus/classes/shd.class.php
on line
1384
Warning
: preg_match(): Compilation failed: invalid range in character class at offset 4 in
/wp-content/plugins/lightbox-plus/classes/shd.class.php
on line
1384
Warning
: preg_match(): Compilation failed: invalid range in character class at offset 4 in
/wp-content/plugins/lightbox-plus/classes/shd.class.php
on line
1384
Warning
: preg_match(): Compilation failed: invalid range in character class at offset 4 in
/wp-content/plugins/lightbox-plus/classes/shd.class.php
on line
1384
Warning
: preg_match(): Compilation failed: invalid range in character class at offset 4 in
/wp-content/plugins/lightbox-plus/classes/shd.class.php
on line
1384
Warning
: preg_match(): Compilation failed: invalid range in character class at offset 4 in
/wp-content/plugins/lightbox-plus/classes/shd.class.php
on line
1384
Warning
: preg_match(): Compilation failed: invalid range in character class at offset 4 in
/wp-content/plugins/lightbox-plus/classes/shd.class.php
on line
1384
Warning
: preg_match(): Compilation failed: invalid range in character class at offset 4 in
/wp-content/plugins/lightbox-plus/classes/shd.class.php
on line
1384
Warning
: preg_match(): Compilation failed: invalid range in character class at offset 4 in
/wp-content/plugins/lightbox-plus/classes/shd.class.php
on line
1384
Warning
: preg_match_all(): Compilation failed: invalid range in character class at offset 4 in
/wp-content/plugins/lightbox-plus/classes/shd.class.php
on line
700
Warning
: Invalid argument supplied for foreach() in
/wp-content/plugins/lightbox-plus/classes/shd.class.php
on line
707
Warning
: preg_match_all(): Compilation failed: invalid range in character class at offset 4 in
/wp-content/plugins/lightbox-plus/classes/shd.class.php
on line
700
Warning
: Invalid argument supplied for foreach() in
/wp-content/plugins/lightbox-plus/classes/shd.class.php
on line
707
Przed każdymi warsztatami staram się komponować menu tak by każdy z uczestników mógł wynieść z nich jakąś korzyć, umiejętność, wyjść z nową myślą i inspiracją. Nie było chyba spotkania podczas którego nie poruszylibyśmy tematu ciasta drożdżowego. Pieczemy chleb, bułki czy słodkie rogale. Zawsze obserwuję przeróżne reakcje na kolejne etapy przygotowania tych tworów bo wzbudzają wielką ciekawość, niedowierzanie, a nawet oburzenie! Coś zrobiłam źle, co to za konsystencja! Jakbym zobaczyła taką zupę to od razu bym wyrzuciła do kosza! Nie dam rady tego uformować. Emocjom nie ma końca. Kiedy jednak gotowe wypieki wyjeżdżają z piekarnika, okazuje się, że nie czaruję, a uczestnicy biorą sobie do serca moje przykazania.
Bardzo długo nie mogłam rozgryźć właściwości bezglutenowego pieczywa i popełniałam nieustannie szereg tych najbardziej podstawowych błędów, które teraz obserwuję u innych. Jednak dobrze zdać sobie sprawę z tego, że przygotowanie pieczywa tradycyjnego też nie należy do najłatwiejszych, a amatorzy (i nie tylko!) zadają sobie mnóstwo pytań o chlebowe zależności. Okazuje się, że czynników warunkujących sukces jest całe mnóstwo, a wiele zagadnień wymaga zagłębienia się w nie i zrozumienia. Piekarniczy fach to po prostu sztuka. Nie ulega natomiast wątpliwości, że literatury na temat pszennego bochenka jest bez liku, a najmniejszą chociażby wskazówkę można znaleźć w rodzinnym kajecie albo podpytać w piekarni za rogiem.
W kwestii pieczywa bezglutenowego niezbędna jest praktyka i sztuka obserwacji. Tyle. Zatem próbujcie.
Przepis na te bułki stworzyłam na potrzebę wspólnego gotowania w Białymstoku. Zdjęcie wyrośniętego pieczywa pojawiło się w relacji ze spotkania i choć na Podlasiu piekliśmy w listopadzie, do dzisiaj dostaję pytania o publikację tej receptury. Kiedy kilka dni temu otrzymałam podobną wiadomość, zajrzałam do archiwum i odkurzyłam przepis.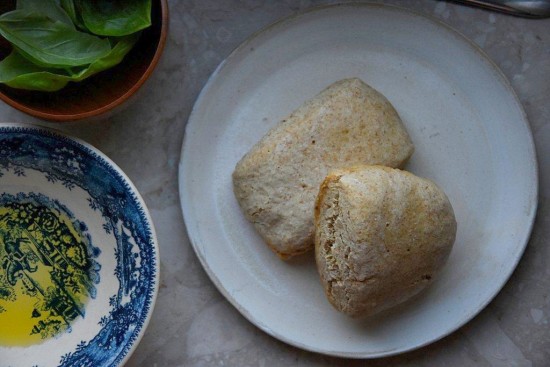 Ciabatta (z włoskiego kapeć) nie musi być idealnie uformowana ani wygrywać w konkursach piękności. To proste pieczywo, które można zamoczyć w oliwie albo nafaszerować ulubionymi dodatkami i złożyć w elegancką kanapkę. Im luźniejsze ciasto tym lepszy efekt po upieczeniu. Rzućcie okiem na porady i odpalajcie piekarnik. Dyktuję niewielkie proporcje, na kolację dla dwóch osób, tak do poćwiczenia.
3 sztuki
Ciabatty
składniki
75 g mąki z brązowego ryżu
100 g mąki ziemniaczanej
25 g siemienia lnianego złocistego mielonego
120-220 ml letniej wody
3 g drożdży instant
1/2 łyżeczki bezglutenowego proszku
1/2 łyżeczki soli
więcej mąki ziemniaczanej do podsypania, woda do posmarowania bułeczek
wykonanie
Mąkę ryżową przesiej z ziemniaczaną. Dodaj siemię, proszek oraz drożdże. Wymieszaj. Dodaj sól.
Wlewaj stopniowo wodę, jednocześnie rozpoczynając wyrabianie ciasta mikserem z hakiem. Ciasto powinno być luźne, ale kleić się tylko minimalnie.
Miskę oprósz mąką ziemniaczaną i wyłóż tam wyrobione składniki. Podsypując mąką zagnieć ciasto ręką tak dało się uformować w jedną całość. Przykryj szczelnie i odstaw do wyrośnięcia lub od razu podziel na trzy części i w odstępach ułóż na blasze wyłożonej papierem do pieczenia. Wtedy również przykryj ciasto i odstaw do podwojenia objętości.
Piekarnik rozgrzej do temperatury 210 stopni C. Bułeczki dokładnie posmaruj wodą i wsuń do piekarnika. Na dno wyłóż kilka kostek lodu dla powstania pary. Piecz około 20 minut.
Gotowe bułeczki wystudź na kratce.
Smacznego!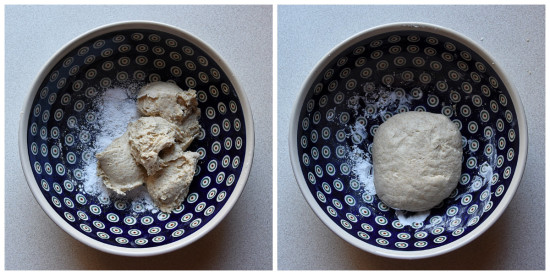 z lewej strony ciasto po wyrobieniu mikserem, po prawej zagniecione z odrobiną mąki
Uwagi
 Mąkę z brązowego ryżu uzyskałam poprzez zmielenie ziaren. Możesz zastosować inną naturalnie bezglutenową mieszankę, ale nie mogę zagwarantować tego samego efektu.
Mąkę ziemniaczaną zastąpisz na pewno skrobią kukurydzianą, a prawdopodobnie także tapioką.
Przypominam- im luźniejsze ciasto tym lepiej. Z uwagi na zawartość siemienia lnianego, które zaczyna pracować z opóźnieniem, ciasto zmieni jeszcze konsystencję podczas wyrastania. Zawsze łatwiej będzie dodać więcej mąki przed pieczeniem niż uformować bułki z twardego, zbitego ciasta.
W trakcie pieczenia możesz posmarować bułeczki wodą jeszcze dwukrotnie. Zwiększy to szansę na uzyskanie dobrze wypieczonej, chrupiącej skórki.
Jeżeli nie masz pod ręką kostek lodu, na dnie piekarnika możesz postawić naczynko żaroodporne wypełnione do połowy wodą.
Zgodnie ze specyfiką bezglutenowego ciasta drożdżowego wolnego od ulepszaczy, bułeczki najlepiej smakują krótko po upieczeniu.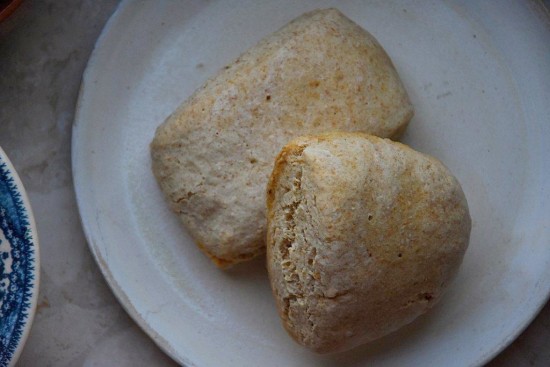 Drukuj przepis