Warning
: preg_match(): Compilation failed: invalid range in character class at offset 4 in
/wp-content/plugins/lightbox-plus/classes/shd.class.php
on line
1384
Warning
: preg_match(): Compilation failed: invalid range in character class at offset 4 in
/wp-content/plugins/lightbox-plus/classes/shd.class.php
on line
1384
Warning
: preg_match(): Compilation failed: invalid range in character class at offset 4 in
/wp-content/plugins/lightbox-plus/classes/shd.class.php
on line
1384
Warning
: preg_match(): Compilation failed: invalid range in character class at offset 4 in
/wp-content/plugins/lightbox-plus/classes/shd.class.php
on line
1384
Warning
: preg_match(): Compilation failed: invalid range in character class at offset 4 in
/wp-content/plugins/lightbox-plus/classes/shd.class.php
on line
1384
Warning
: preg_match(): Compilation failed: invalid range in character class at offset 4 in
/wp-content/plugins/lightbox-plus/classes/shd.class.php
on line
1384
Warning
: preg_match(): Compilation failed: invalid range in character class at offset 4 in
/wp-content/plugins/lightbox-plus/classes/shd.class.php
on line
1384
Warning
: preg_match(): Compilation failed: invalid range in character class at offset 4 in
/wp-content/plugins/lightbox-plus/classes/shd.class.php
on line
1384
Warning
: preg_match(): Compilation failed: invalid range in character class at offset 4 in
/wp-content/plugins/lightbox-plus/classes/shd.class.php
on line
1384
Warning
: preg_match(): Compilation failed: invalid range in character class at offset 4 in
/wp-content/plugins/lightbox-plus/classes/shd.class.php
on line
1384
Warning
: preg_match(): Compilation failed: invalid range in character class at offset 4 in
/wp-content/plugins/lightbox-plus/classes/shd.class.php
on line
1384
Warning
: preg_match(): Compilation failed: invalid range in character class at offset 4 in
/wp-content/plugins/lightbox-plus/classes/shd.class.php
on line
1384
Warning
: preg_match(): Compilation failed: invalid range in character class at offset 4 in
/wp-content/plugins/lightbox-plus/classes/shd.class.php
on line
1384
Warning
: preg_match(): Compilation failed: invalid range in character class at offset 4 in
/wp-content/plugins/lightbox-plus/classes/shd.class.php
on line
1384
Warning
: preg_match(): Compilation failed: invalid range in character class at offset 4 in
/wp-content/plugins/lightbox-plus/classes/shd.class.php
on line
1384
Warning
: preg_match(): Compilation failed: invalid range in character class at offset 4 in
/wp-content/plugins/lightbox-plus/classes/shd.class.php
on line
1384
Warning
: preg_match(): Compilation failed: invalid range in character class at offset 4 in
/wp-content/plugins/lightbox-plus/classes/shd.class.php
on line
1384
Warning
: preg_match(): Compilation failed: invalid range in character class at offset 4 in
/wp-content/plugins/lightbox-plus/classes/shd.class.php
on line
1384
Warning
: preg_match(): Compilation failed: invalid range in character class at offset 4 in
/wp-content/plugins/lightbox-plus/classes/shd.class.php
on line
1384
Warning
: preg_match(): Compilation failed: invalid range in character class at offset 4 in
/wp-content/plugins/lightbox-plus/classes/shd.class.php
on line
1384
Warning
: preg_match(): Compilation failed: invalid range in character class at offset 4 in
/wp-content/plugins/lightbox-plus/classes/shd.class.php
on line
1384
Warning
: preg_match(): Compilation failed: invalid range in character class at offset 4 in
/wp-content/plugins/lightbox-plus/classes/shd.class.php
on line
1384
Warning
: preg_match(): Compilation failed: invalid range in character class at offset 4 in
/wp-content/plugins/lightbox-plus/classes/shd.class.php
on line
1384
Warning
: preg_match(): Compilation failed: invalid range in character class at offset 4 in
/wp-content/plugins/lightbox-plus/classes/shd.class.php
on line
1384
Warning
: preg_match(): Compilation failed: invalid range in character class at offset 4 in
/wp-content/plugins/lightbox-plus/classes/shd.class.php
on line
1384
Warning
: preg_match(): Compilation failed: invalid range in character class at offset 4 in
/wp-content/plugins/lightbox-plus/classes/shd.class.php
on line
1384
Warning
: preg_match(): Compilation failed: invalid range in character class at offset 4 in
/wp-content/plugins/lightbox-plus/classes/shd.class.php
on line
1384
Warning
: preg_match(): Compilation failed: invalid range in character class at offset 4 in
/wp-content/plugins/lightbox-plus/classes/shd.class.php
on line
1384
Warning
: preg_match(): Compilation failed: invalid range in character class at offset 4 in
/wp-content/plugins/lightbox-plus/classes/shd.class.php
on line
1384
Warning
: preg_match(): Compilation failed: invalid range in character class at offset 4 in
/wp-content/plugins/lightbox-plus/classes/shd.class.php
on line
1384
Warning
: preg_match(): Compilation failed: invalid range in character class at offset 4 in
/wp-content/plugins/lightbox-plus/classes/shd.class.php
on line
1384
Warning
: preg_match(): Compilation failed: invalid range in character class at offset 4 in
/wp-content/plugins/lightbox-plus/classes/shd.class.php
on line
1384
Warning
: preg_match(): Compilation failed: invalid range in character class at offset 4 in
/wp-content/plugins/lightbox-plus/classes/shd.class.php
on line
1384
Warning
: preg_match(): Compilation failed: invalid range in character class at offset 4 in
/wp-content/plugins/lightbox-plus/classes/shd.class.php
on line
1384
Warning
: preg_match(): Compilation failed: invalid range in character class at offset 4 in
/wp-content/plugins/lightbox-plus/classes/shd.class.php
on line
1384
Warning
: preg_match(): Compilation failed: invalid range in character class at offset 4 in
/wp-content/plugins/lightbox-plus/classes/shd.class.php
on line
1384
Warning
: preg_match(): Compilation failed: invalid range in character class at offset 4 in
/wp-content/plugins/lightbox-plus/classes/shd.class.php
on line
1384
Warning
: preg_match(): Compilation failed: invalid range in character class at offset 4 in
/wp-content/plugins/lightbox-plus/classes/shd.class.php
on line
1384
Warning
: preg_match(): Compilation failed: invalid range in character class at offset 4 in
/wp-content/plugins/lightbox-plus/classes/shd.class.php
on line
1384
Warning
: preg_match(): Compilation failed: invalid range in character class at offset 4 in
/wp-content/plugins/lightbox-plus/classes/shd.class.php
on line
1384
Warning
: preg_match(): Compilation failed: invalid range in character class at offset 4 in
/wp-content/plugins/lightbox-plus/classes/shd.class.php
on line
1384
Warning
: preg_match(): Compilation failed: invalid range in character class at offset 4 in
/wp-content/plugins/lightbox-plus/classes/shd.class.php
on line
1384
Warning
: preg_match(): Compilation failed: invalid range in character class at offset 4 in
/wp-content/plugins/lightbox-plus/classes/shd.class.php
on line
1384
Warning
: preg_match(): Compilation failed: invalid range in character class at offset 4 in
/wp-content/plugins/lightbox-plus/classes/shd.class.php
on line
1384
Warning
: preg_match(): Compilation failed: invalid range in character class at offset 4 in
/wp-content/plugins/lightbox-plus/classes/shd.class.php
on line
1384
Warning
: preg_match(): Compilation failed: invalid range in character class at offset 4 in
/wp-content/plugins/lightbox-plus/classes/shd.class.php
on line
1384
Warning
: preg_match_all(): Compilation failed: invalid range in character class at offset 4 in
/wp-content/plugins/lightbox-plus/classes/shd.class.php
on line
700
Warning
: Invalid argument supplied for foreach() in
/wp-content/plugins/lightbox-plus/classes/shd.class.php
on line
707
Warning
: preg_match_all(): Compilation failed: invalid range in character class at offset 4 in
/wp-content/plugins/lightbox-plus/classes/shd.class.php
on line
700
Warning
: Invalid argument supplied for foreach() in
/wp-content/plugins/lightbox-plus/classes/shd.class.php
on line
707
Kilka lat temu, Internet obiegł genialny przepis Sarah na The Life- Changing Loaf of Bread, przetłumaczony i uproszczony później przez Jadłonomię. Tajemnicza receptura na chleb nie zawiera grama mąki, a opiera się na ziarnach i mielonym siemieniu (oryginalnie babce płesznik), które zgrabnie łączy składniki w całość. Choć Sarah nie miała pewnie pojęcia, że przepisem wywoła tak wielką rewolucję, dzisiaj bochenki inspirowane jej koncepcją, można zakupić nawet w wielu sieciowych piekarniach w dużych i małych miastach. W okresie jego największej popularności, ja również zapałałam żarliwym uczuciem do omawianego wyrobu i kilka razy zaserwowałam rodzinie kromki lekko wilgotnego, bardzo konkretnego pieczywa, które syci na długo. Muszę przyznać jednak, że mimo iż wydawało mi się, że postępuję zgodnie z przykazaniami autorki, chlebek nie zawsze udawał się tak jakbym sobie tego życzyła. Żeby pokroić go na zgrabne kromki, trzeba było być w posiadaniu ostrego jak brzytwa noża, a najgorsze okazywało się to, że bochenek musiał studzić się bardzo długo. W innym wypadku wszystkie próby porcjowania kończyły się fiaskiem.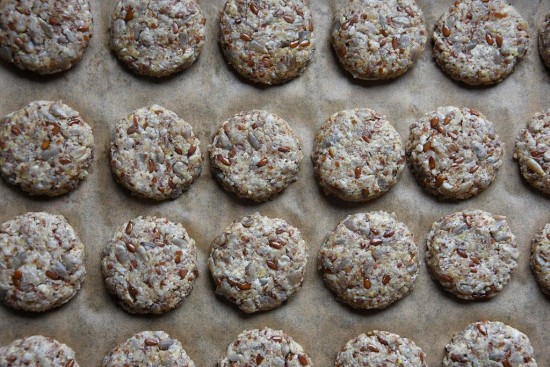 Jako że chlebek nie zawiera jednak mąki, drożdży czy innych spulchniaczy, gorąco rekomendowałam go alergikom. Pewnego razu dołączyłam go nawet do menu moich pierwszych, nieco jeszcze chaotycznych warsztatów dla grupy zapalonych fit freaków. Niestety, ponieważ nie upłynęło dostatecznie dużo czasu, a po kilku godzinach spotkania musieliśmy się rozstać, chlebek pałaszowaliśmy w kawałkach, a ja obiecałam sobie uczynić przepis bardziej użytkowym. Po powrocie do domu, na bazie tej receptury próbowałam piec bułeczki i tym podobne twory, jednak kiedy żaden z wariantów nie zachwycił nas dostatecznie, porzuciłam temat. Do receptury nie sięgałam aż do minionej niedzieli, kiedy to po dwóch latach obudziłam się z pragnieniem upieczenia malutkich, zgrabnych chlebków lnianych. I wiecie co? Przepadłam! To pieczywko jest po prostu pyszne- pięknie pachnie, wspaniale smakuje i delikatnie chrupie pozostając wilgotne w środku. Chlebki można jeść prosto z blaszki bez żadnych dodatków lub maczać w ulubionym twarożku czy humusie bez konieczności bawienia się w porcjowanie. Od tych kilku dni trudno jest mi wyobrazić sobie lepszą przekąskę do pracy przy komputerze, w ramach śniadania czy małej kolacji. Niewątpliwie chlebki rewelacyjnie sprawdzą się też w podróży. Zapas można przechowywać w szklanym słoju, jednak jeżeli macie w sobie coś z hedonisty, spróbujcie tych jeszcze lekko ciepłych, świeżo upieczonych
Wszak sposób przygotowania jest na tyle prosty i nieabsorbujący, że z przepisu można skorzystać nawet kilka razy w tygodniu. Do dzieła!
przepis inspirowany The Life- Changing Loaf of Bread, znacznie uproszczony
60- 70 małych chlebków
Lniane chlebki bez grama mąki
składniki
80 g bezglutenowych płatków owsianych
80 g ziaren słonecznika
80 g mielonego siemienia lnianego (użyłam pół na pół złocistego i zwykłego)
20 g siemienia lnianego w ziarenkach
40 g oleju kokosowego
200 ml wody
1 płaska łyżeczka soli
wykonanie
Płatki, słonecznik oraz całe siemię wrzuć do naczynia blendera i pokrusz przez chwilę- 2 s.
Do nasion dodaj mielone siemię, sól, rozpuszczony w garnuszku olej kokosowy i wodę. Wymieszaj dokładnie do uzyskania jednej całości, a następnie przykryj i odstaw na minimum godzinę aż wchłonięcia płynów.
Po tym czasie przygotuj jedną dużą blachę z wyposażenia piekarnika lub dwie w rozmiarach ok. 20×30 cm. Wybraną blaszkę/ blaszki wyłóż papierem.
Ciasto rozpłaszcz na desce, blacie czy arkuszu papieru do pieczenia i za pomocą kieliszka do shotów wykrawaj małe kółka. Przyszłe chlebki wyrównaj w dłoni. Możesz też nieco je spłaszczyć. Układaj na blasze. Przed umieszczeniem w piekarniku posmaruj wodą.
Piecz ok. 30 minut w piekarniku nagrzanym do 180 stopni C.
Voila!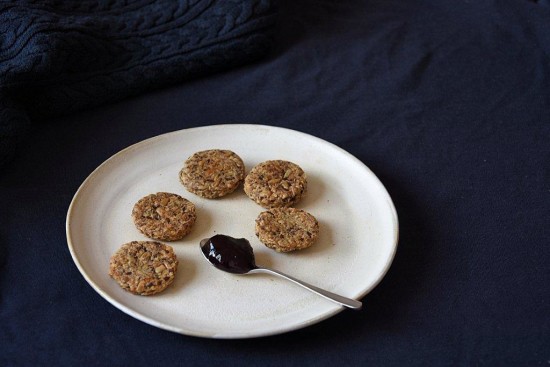 Drukuj przepis