Warning
: preg_match(): Compilation failed: invalid range in character class at offset 4 in
/wp-content/plugins/lightbox-plus/classes/shd.class.php
on line
1384
Warning
: preg_match(): Compilation failed: invalid range in character class at offset 4 in
/wp-content/plugins/lightbox-plus/classes/shd.class.php
on line
1384
Warning
: preg_match(): Compilation failed: invalid range in character class at offset 4 in
/wp-content/plugins/lightbox-plus/classes/shd.class.php
on line
1384
Warning
: preg_match(): Compilation failed: invalid range in character class at offset 4 in
/wp-content/plugins/lightbox-plus/classes/shd.class.php
on line
1384
Warning
: preg_match(): Compilation failed: invalid range in character class at offset 4 in
/wp-content/plugins/lightbox-plus/classes/shd.class.php
on line
1384
Warning
: preg_match(): Compilation failed: invalid range in character class at offset 4 in
/wp-content/plugins/lightbox-plus/classes/shd.class.php
on line
1384
Warning
: preg_match(): Compilation failed: invalid range in character class at offset 4 in
/wp-content/plugins/lightbox-plus/classes/shd.class.php
on line
1384
Warning
: preg_match(): Compilation failed: invalid range in character class at offset 4 in
/wp-content/plugins/lightbox-plus/classes/shd.class.php
on line
1384
Warning
: preg_match(): Compilation failed: invalid range in character class at offset 4 in
/wp-content/plugins/lightbox-plus/classes/shd.class.php
on line
1384
Warning
: preg_match(): Compilation failed: invalid range in character class at offset 4 in
/wp-content/plugins/lightbox-plus/classes/shd.class.php
on line
1384
Warning
: preg_match(): Compilation failed: invalid range in character class at offset 4 in
/wp-content/plugins/lightbox-plus/classes/shd.class.php
on line
1384
Warning
: preg_match(): Compilation failed: invalid range in character class at offset 4 in
/wp-content/plugins/lightbox-plus/classes/shd.class.php
on line
1384
Warning
: preg_match(): Compilation failed: invalid range in character class at offset 4 in
/wp-content/plugins/lightbox-plus/classes/shd.class.php
on line
1384
Warning
: preg_match(): Compilation failed: invalid range in character class at offset 4 in
/wp-content/plugins/lightbox-plus/classes/shd.class.php
on line
1384
Warning
: preg_match(): Compilation failed: invalid range in character class at offset 4 in
/wp-content/plugins/lightbox-plus/classes/shd.class.php
on line
1384
Warning
: preg_match(): Compilation failed: invalid range in character class at offset 4 in
/wp-content/plugins/lightbox-plus/classes/shd.class.php
on line
1384
Warning
: preg_match(): Compilation failed: invalid range in character class at offset 4 in
/wp-content/plugins/lightbox-plus/classes/shd.class.php
on line
1384
Warning
: preg_match(): Compilation failed: invalid range in character class at offset 4 in
/wp-content/plugins/lightbox-plus/classes/shd.class.php
on line
1384
Warning
: preg_match(): Compilation failed: invalid range in character class at offset 4 in
/wp-content/plugins/lightbox-plus/classes/shd.class.php
on line
1384
Warning
: preg_match(): Compilation failed: invalid range in character class at offset 4 in
/wp-content/plugins/lightbox-plus/classes/shd.class.php
on line
1384
Warning
: preg_match(): Compilation failed: invalid range in character class at offset 4 in
/wp-content/plugins/lightbox-plus/classes/shd.class.php
on line
1384
Warning
: preg_match(): Compilation failed: invalid range in character class at offset 4 in
/wp-content/plugins/lightbox-plus/classes/shd.class.php
on line
1384
Warning
: preg_match(): Compilation failed: invalid range in character class at offset 4 in
/wp-content/plugins/lightbox-plus/classes/shd.class.php
on line
1384
Warning
: preg_match(): Compilation failed: invalid range in character class at offset 4 in
/wp-content/plugins/lightbox-plus/classes/shd.class.php
on line
1384
Warning
: preg_match(): Compilation failed: invalid range in character class at offset 4 in
/wp-content/plugins/lightbox-plus/classes/shd.class.php
on line
1384
Warning
: preg_match(): Compilation failed: invalid range in character class at offset 4 in
/wp-content/plugins/lightbox-plus/classes/shd.class.php
on line
1384
Warning
: preg_match(): Compilation failed: invalid range in character class at offset 4 in
/wp-content/plugins/lightbox-plus/classes/shd.class.php
on line
1384
Warning
: preg_match(): Compilation failed: invalid range in character class at offset 4 in
/wp-content/plugins/lightbox-plus/classes/shd.class.php
on line
1384
Warning
: preg_match(): Compilation failed: invalid range in character class at offset 4 in
/wp-content/plugins/lightbox-plus/classes/shd.class.php
on line
1384
Warning
: preg_match(): Compilation failed: invalid range in character class at offset 4 in
/wp-content/plugins/lightbox-plus/classes/shd.class.php
on line
1384
Warning
: preg_match(): Compilation failed: invalid range in character class at offset 4 in
/wp-content/plugins/lightbox-plus/classes/shd.class.php
on line
1384
Warning
: preg_match(): Compilation failed: invalid range in character class at offset 4 in
/wp-content/plugins/lightbox-plus/classes/shd.class.php
on line
1384
Warning
: preg_match(): Compilation failed: invalid range in character class at offset 4 in
/wp-content/plugins/lightbox-plus/classes/shd.class.php
on line
1384
Warning
: preg_match(): Compilation failed: invalid range in character class at offset 4 in
/wp-content/plugins/lightbox-plus/classes/shd.class.php
on line
1384
Warning
: preg_match(): Compilation failed: invalid range in character class at offset 4 in
/wp-content/plugins/lightbox-plus/classes/shd.class.php
on line
1384
Warning
: preg_match(): Compilation failed: invalid range in character class at offset 4 in
/wp-content/plugins/lightbox-plus/classes/shd.class.php
on line
1384
Warning
: preg_match(): Compilation failed: invalid range in character class at offset 4 in
/wp-content/plugins/lightbox-plus/classes/shd.class.php
on line
1384
Warning
: preg_match(): Compilation failed: invalid range in character class at offset 4 in
/wp-content/plugins/lightbox-plus/classes/shd.class.php
on line
1384
Warning
: preg_match(): Compilation failed: invalid range in character class at offset 4 in
/wp-content/plugins/lightbox-plus/classes/shd.class.php
on line
1384
Warning
: preg_match(): Compilation failed: invalid range in character class at offset 4 in
/wp-content/plugins/lightbox-plus/classes/shd.class.php
on line
1384
Warning
: preg_match(): Compilation failed: invalid range in character class at offset 4 in
/wp-content/plugins/lightbox-plus/classes/shd.class.php
on line
1384
Warning
: preg_match(): Compilation failed: invalid range in character class at offset 4 in
/wp-content/plugins/lightbox-plus/classes/shd.class.php
on line
1384
Warning
: preg_match(): Compilation failed: invalid range in character class at offset 4 in
/wp-content/plugins/lightbox-plus/classes/shd.class.php
on line
1384
Warning
: preg_match_all(): Compilation failed: invalid range in character class at offset 4 in
/wp-content/plugins/lightbox-plus/classes/shd.class.php
on line
700
Warning
: Invalid argument supplied for foreach() in
/wp-content/plugins/lightbox-plus/classes/shd.class.php
on line
707
Warning
: preg_match_all(): Compilation failed: invalid range in character class at offset 4 in
/wp-content/plugins/lightbox-plus/classes/shd.class.php
on line
700
Warning
: Invalid argument supplied for foreach() in
/wp-content/plugins/lightbox-plus/classes/shd.class.php
on line
707
O ciasteczkach pisałam już we wtorek, ale dopiero dziś znalazłam czas by je zamieścić… Bardzo nie podoba mi się takie rozegranie sprawy, ale rzadko ostatnio włączam komputer, na rzecz rozprawek, przygotowań do sprawdzianów i podobnych tworów.
Kiedy wstaję rano, nie mam odpowiedniego światła do fotografowania, a  po powrocie do domu wieczorem… no cóż, to samo.  Aparatem mogłam więc pobawić się dopiero dzisiaj przed szkołą, mając na godzinę późniejszą niż zwykle.
Ciasteczka, o których mowa, to kombinacja razowej mąki, czekolady, żurawiny i orzechów lub ziaren. Za każdym razem skład może się różnić. Eksperymentuj!
Bardzo smaczne, małe  i chrupiące. Idealne jako "zapychająca" przekąska
A teraz z innej beczki…
W ciągu kilku najbliższych dni chcę się Wam zaprezentować na monitorze w trochę innej formie niż dotychczas.
Opracuję pierwszy filmik video i upieczemy coś pysznego.
To bardzo stresujące, ale zobaczymy co da się zrobić.
Czy to dobry pomysł?…
Miłego weekendu!
ok 40 sztuk
Ciasteczka razowe z dodatkami
potrzebne składniki
¨      125 g miękkiego masła, 3 jajka, 100 g mąki bezglutenowej, 75 g mąki ziemniaczanej, 2 łyżki bułki tartej bezglutenowej lub zwykłej, 100 g żurawiny, garść orzechów,100 g czekolady, 1/3 łyżeczki sody oczyszczonej
sposób przygotowania
Piekarnik nagrzej do temp. 180 stopni C.
Blachy wyłóż papierem do pieczenia. Czekoladę, żurawinę, orzechy (lub inne dodatki) posiekaj. Wszystkie składniki połącz ze sobą mikserem.
Z ciasta formuj małe kulki, a następnie rozpłaszczaj je na blasze. Piecz 20-25 minut.
Od razu po upieczeniu ciasteczka są dość miękkie, ale wystudzone kruszeją.
Smacznego!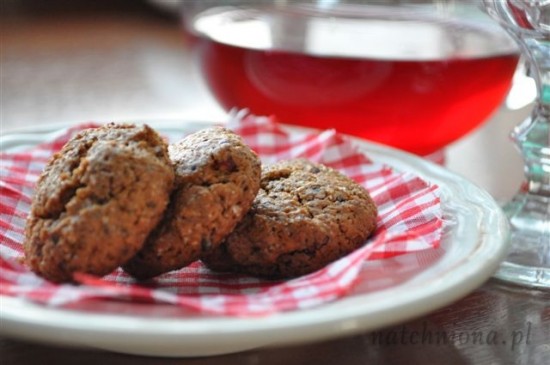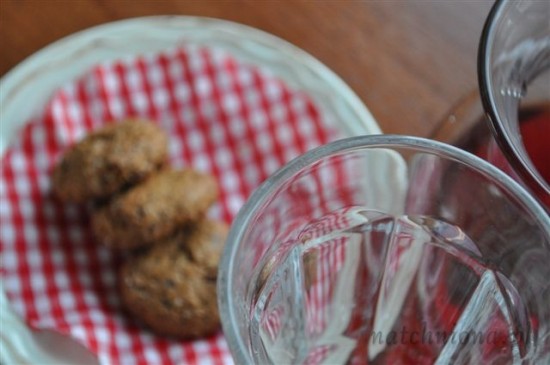 Drukuj przepis