Warning
: preg_match(): Compilation failed: invalid range in character class at offset 4 in
/wp-content/plugins/lightbox-plus/classes/shd.class.php
on line
1384
Warning
: preg_match(): Compilation failed: invalid range in character class at offset 4 in
/wp-content/plugins/lightbox-plus/classes/shd.class.php
on line
1384
Warning
: preg_match(): Compilation failed: invalid range in character class at offset 4 in
/wp-content/plugins/lightbox-plus/classes/shd.class.php
on line
1384
Warning
: preg_match(): Compilation failed: invalid range in character class at offset 4 in
/wp-content/plugins/lightbox-plus/classes/shd.class.php
on line
1384
Warning
: preg_match(): Compilation failed: invalid range in character class at offset 4 in
/wp-content/plugins/lightbox-plus/classes/shd.class.php
on line
1384
Warning
: preg_match(): Compilation failed: invalid range in character class at offset 4 in
/wp-content/plugins/lightbox-plus/classes/shd.class.php
on line
1384
Warning
: preg_match(): Compilation failed: invalid range in character class at offset 4 in
/wp-content/plugins/lightbox-plus/classes/shd.class.php
on line
1384
Warning
: preg_match(): Compilation failed: invalid range in character class at offset 4 in
/wp-content/plugins/lightbox-plus/classes/shd.class.php
on line
1384
Warning
: preg_match(): Compilation failed: invalid range in character class at offset 4 in
/wp-content/plugins/lightbox-plus/classes/shd.class.php
on line
1384
Warning
: preg_match(): Compilation failed: invalid range in character class at offset 4 in
/wp-content/plugins/lightbox-plus/classes/shd.class.php
on line
1384
Warning
: preg_match(): Compilation failed: invalid range in character class at offset 4 in
/wp-content/plugins/lightbox-plus/classes/shd.class.php
on line
1384
Warning
: preg_match(): Compilation failed: invalid range in character class at offset 4 in
/wp-content/plugins/lightbox-plus/classes/shd.class.php
on line
1384
Warning
: preg_match(): Compilation failed: invalid range in character class at offset 4 in
/wp-content/plugins/lightbox-plus/classes/shd.class.php
on line
1384
Warning
: preg_match(): Compilation failed: invalid range in character class at offset 4 in
/wp-content/plugins/lightbox-plus/classes/shd.class.php
on line
1384
Warning
: preg_match(): Compilation failed: invalid range in character class at offset 4 in
/wp-content/plugins/lightbox-plus/classes/shd.class.php
on line
1384
Warning
: preg_match(): Compilation failed: invalid range in character class at offset 4 in
/wp-content/plugins/lightbox-plus/classes/shd.class.php
on line
1384
Warning
: preg_match(): Compilation failed: invalid range in character class at offset 4 in
/wp-content/plugins/lightbox-plus/classes/shd.class.php
on line
1384
Warning
: preg_match(): Compilation failed: invalid range in character class at offset 4 in
/wp-content/plugins/lightbox-plus/classes/shd.class.php
on line
1384
Warning
: preg_match(): Compilation failed: invalid range in character class at offset 4 in
/wp-content/plugins/lightbox-plus/classes/shd.class.php
on line
1384
Warning
: preg_match(): Compilation failed: invalid range in character class at offset 4 in
/wp-content/plugins/lightbox-plus/classes/shd.class.php
on line
1384
Warning
: preg_match(): Compilation failed: invalid range in character class at offset 4 in
/wp-content/plugins/lightbox-plus/classes/shd.class.php
on line
1384
Warning
: preg_match(): Compilation failed: invalid range in character class at offset 4 in
/wp-content/plugins/lightbox-plus/classes/shd.class.php
on line
1384
Warning
: preg_match(): Compilation failed: invalid range in character class at offset 4 in
/wp-content/plugins/lightbox-plus/classes/shd.class.php
on line
1384
Warning
: preg_match(): Compilation failed: invalid range in character class at offset 4 in
/wp-content/plugins/lightbox-plus/classes/shd.class.php
on line
1384
Warning
: preg_match(): Compilation failed: invalid range in character class at offset 4 in
/wp-content/plugins/lightbox-plus/classes/shd.class.php
on line
1384
Warning
: preg_match(): Compilation failed: invalid range in character class at offset 4 in
/wp-content/plugins/lightbox-plus/classes/shd.class.php
on line
1384
Warning
: preg_match(): Compilation failed: invalid range in character class at offset 4 in
/wp-content/plugins/lightbox-plus/classes/shd.class.php
on line
1384
Warning
: preg_match(): Compilation failed: invalid range in character class at offset 4 in
/wp-content/plugins/lightbox-plus/classes/shd.class.php
on line
1384
Warning
: preg_match(): Compilation failed: invalid range in character class at offset 4 in
/wp-content/plugins/lightbox-plus/classes/shd.class.php
on line
1384
Warning
: preg_match(): Compilation failed: invalid range in character class at offset 4 in
/wp-content/plugins/lightbox-plus/classes/shd.class.php
on line
1384
Warning
: preg_match(): Compilation failed: invalid range in character class at offset 4 in
/wp-content/plugins/lightbox-plus/classes/shd.class.php
on line
1384
Warning
: preg_match(): Compilation failed: invalid range in character class at offset 4 in
/wp-content/plugins/lightbox-plus/classes/shd.class.php
on line
1384
Warning
: preg_match(): Compilation failed: invalid range in character class at offset 4 in
/wp-content/plugins/lightbox-plus/classes/shd.class.php
on line
1384
Warning
: preg_match(): Compilation failed: invalid range in character class at offset 4 in
/wp-content/plugins/lightbox-plus/classes/shd.class.php
on line
1384
Warning
: preg_match(): Compilation failed: invalid range in character class at offset 4 in
/wp-content/plugins/lightbox-plus/classes/shd.class.php
on line
1384
Warning
: preg_match(): Compilation failed: invalid range in character class at offset 4 in
/wp-content/plugins/lightbox-plus/classes/shd.class.php
on line
1384
Warning
: preg_match(): Compilation failed: invalid range in character class at offset 4 in
/wp-content/plugins/lightbox-plus/classes/shd.class.php
on line
1384
Warning
: preg_match(): Compilation failed: invalid range in character class at offset 4 in
/wp-content/plugins/lightbox-plus/classes/shd.class.php
on line
1384
Warning
: preg_match(): Compilation failed: invalid range in character class at offset 4 in
/wp-content/plugins/lightbox-plus/classes/shd.class.php
on line
1384
Warning
: preg_match(): Compilation failed: invalid range in character class at offset 4 in
/wp-content/plugins/lightbox-plus/classes/shd.class.php
on line
1384
Warning
: preg_match(): Compilation failed: invalid range in character class at offset 4 in
/wp-content/plugins/lightbox-plus/classes/shd.class.php
on line
1384
Warning
: preg_match(): Compilation failed: invalid range in character class at offset 4 in
/wp-content/plugins/lightbox-plus/classes/shd.class.php
on line
1384
Warning
: preg_match(): Compilation failed: invalid range in character class at offset 4 in
/wp-content/plugins/lightbox-plus/classes/shd.class.php
on line
1384
Warning
: preg_match(): Compilation failed: invalid range in character class at offset 4 in
/wp-content/plugins/lightbox-plus/classes/shd.class.php
on line
1384
Warning
: preg_match(): Compilation failed: invalid range in character class at offset 4 in
/wp-content/plugins/lightbox-plus/classes/shd.class.php
on line
1384
Warning
: preg_match(): Compilation failed: invalid range in character class at offset 4 in
/wp-content/plugins/lightbox-plus/classes/shd.class.php
on line
1384
Warning
: preg_match(): Compilation failed: invalid range in character class at offset 4 in
/wp-content/plugins/lightbox-plus/classes/shd.class.php
on line
1384
Warning
: preg_match(): Compilation failed: invalid range in character class at offset 4 in
/wp-content/plugins/lightbox-plus/classes/shd.class.php
on line
1384
Warning
: preg_match(): Compilation failed: invalid range in character class at offset 4 in
/wp-content/plugins/lightbox-plus/classes/shd.class.php
on line
1384
Warning
: preg_match(): Compilation failed: invalid range in character class at offset 4 in
/wp-content/plugins/lightbox-plus/classes/shd.class.php
on line
1384
Warning
: preg_match(): Compilation failed: invalid range in character class at offset 4 in
/wp-content/plugins/lightbox-plus/classes/shd.class.php
on line
1384
Warning
: preg_match(): Compilation failed: invalid range in character class at offset 4 in
/wp-content/plugins/lightbox-plus/classes/shd.class.php
on line
1384
Warning
: preg_match(): Compilation failed: invalid range in character class at offset 4 in
/wp-content/plugins/lightbox-plus/classes/shd.class.php
on line
1384
Warning
: preg_match_all(): Compilation failed: invalid range in character class at offset 4 in
/wp-content/plugins/lightbox-plus/classes/shd.class.php
on line
700
Warning
: Invalid argument supplied for foreach() in
/wp-content/plugins/lightbox-plus/classes/shd.class.php
on line
707
Warning
: preg_match_all(): Compilation failed: invalid range in character class at offset 4 in
/wp-content/plugins/lightbox-plus/classes/shd.class.php
on line
700
Warning
: Invalid argument supplied for foreach() in
/wp-content/plugins/lightbox-plus/classes/shd.class.php
on line
707
Ostatnio sofa stała się centrum mojego świata. Rodzice wybrali się do miejsca gdzie -jak to ktoś pięknie ujął- niebo łączy się z ziemią. Wiem jak bardzo potrzebują chwili wytchnienia i jestem spokojna, że spędzą tam dobry czas. Ja opiekuję się domem, podlewam kwiaty, wysyłam listy albo odbieram paczki. Ogromną satysfakcje daje mi wczesne wstawanie i porządek. Lubię doprowadzić się do stanu, w którym nie zmorzy mnie już sen i z kubkiem zielonej herbaty i opasłą książką wskoczyć pod kołdrę, wdychając rześkie, poranne powietrze. Głodnieję wieczorem. Postanowiłam nie zachodzić do sklepu, nie szukać czegoś czego nie mam pod ręką, zrywać zioła z ogródka i jeść prosto.
Całymi dniami mogę czytać, a wieczorami nadrabiać zaległości w filmach, których nie było okazji obejrzeć. Zajrzałam do ogromnej biblioteczki mamy i wydobyłam ciężkie, płócienne "Rozlewisko", jedną z najbardziej klimatycznych książek  jaką miałam okazję trzymać w ręce. Prosty język, zwykli bohaterowie, a jednak każdy wyjątkowy na swój sposób. Mnożące się zawirowania i spokój, który wszystkim udaje się odnaleźć nad sentymentalnym Rozlewiskiem. Miejscem, w którym można odkryć swoją siłę.
Zamykam książkę, patrzę przez okno i myślę sobie, że tu gdzie jestem, mam swoje własne Rozlewisko. W bezpiecznej odległości od miasta, z przestrzenią do oddychania, z widokiem na las. Pamiętam jak kilka lat temu przyjechaliśmy tu po raz pierwszy, drepcząc pomiędzy młodymi brzózkami. Kilkanaście miesięcy później układaliśmy bibeloty na swoich nowych miejscach, mama układała w wazonach kwiaty, tata zawieszał kolejne zdjęcia, rodzina, znajomi i przyjaciele wkraczali z prezentami, a ja z siostrą zbiegałyśmy głośno ze schodów.
Ten rok był taki pokręcony, ciągle czegoś brakowało mi w powietrzu. Wieczne napięcie zamiast prawdziwej nauki, udawany odpoczynek, stres, kurczący się kalendarz, coś na siłę, coś niepotrzebnie. Dzisiaj myślę, że tutaj, właśnie teraz, prawie dwa miesiące po maturze osiągnęłam spokój i szczęście. To są cudowne wakacje, cicha zapowiedź nowego i nieznanego rozdziału.
Chyba naprawdę zgłodniałam. Gotuję makaron i szybki sos z warzyw, które można znaleźć teraz wszędzie. Obsypuję ukochaną bazylią i idę na obchód po mokrawej, zielonej trawie.
Kto chętny do napisania swojego traktatu o szczęściu? Chętnie przeczytam!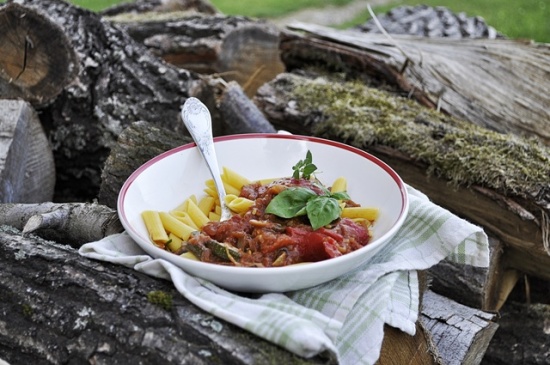 To makaron w stylu comfort food- prosty i treściwy. Wszystko można pokroić niedbale, a kiedy warzywa pieką się w piekarniku chwycić za książkę albo odebrać miły telefon. Całość posypuję ulubionym gomasio czyli posypką z sezamu utartego z solą.
dla 2 osób
Makaron z wakacyjnym sosem
składniki
– 200 g makaronu bezglutenowego
– 2 aromatyczne pomidory
– 1 duża papryka
– 1 cukinia
– 2 cebule
– 3 pieczarki
– 2 ząbki czosnku
– 2 łyżki sosu sojowego tamari
– pieprz cayenne
– pieprz ziołowy
– świeże zioła
– oliwa
– sezam utarty z solą do posypania
wykonanie
Pomidory i paprykę przekrój na pół, cukinię w duże kawałki. Wszystko ułóż na blasze wyłożonej papierem do pieczenia i piecz przez 25 minut w temp. 190 stopni C.
Ugotuj makaron. Cebulę, czosnek i pieczarki pokrój jak lubisz, a następnie wrzuć na rozgrzaną oliwę. Dodaj sos sojowy i wymieszaj.
Upieczone pomidory i paprykę pozbaw skórki i wrzuć do garnka. Dodaj pokrojoną cukinię. Całość pozostaw na ogniu przez kilka minut, mieszając czasami by uniknąć przypalenia. Dopraw do smaku.
Makaron podawaj w towarzystwie sosu, ziół i posypki.
Smacznego!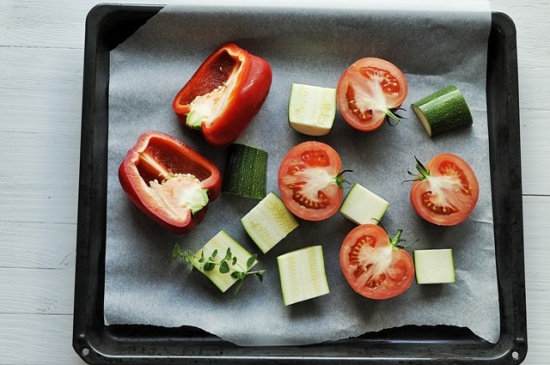 Drukuj przepis