Warning
: preg_match(): Compilation failed: invalid range in character class at offset 4 in
/wp-content/plugins/lightbox-plus/classes/shd.class.php
on line
1384
Warning
: preg_match(): Compilation failed: invalid range in character class at offset 4 in
/wp-content/plugins/lightbox-plus/classes/shd.class.php
on line
1384
Warning
: preg_match(): Compilation failed: invalid range in character class at offset 4 in
/wp-content/plugins/lightbox-plus/classes/shd.class.php
on line
1384
Warning
: preg_match(): Compilation failed: invalid range in character class at offset 4 in
/wp-content/plugins/lightbox-plus/classes/shd.class.php
on line
1384
Warning
: preg_match(): Compilation failed: invalid range in character class at offset 4 in
/wp-content/plugins/lightbox-plus/classes/shd.class.php
on line
1384
Warning
: preg_match(): Compilation failed: invalid range in character class at offset 4 in
/wp-content/plugins/lightbox-plus/classes/shd.class.php
on line
1384
Warning
: preg_match(): Compilation failed: invalid range in character class at offset 4 in
/wp-content/plugins/lightbox-plus/classes/shd.class.php
on line
1384
Warning
: preg_match(): Compilation failed: invalid range in character class at offset 4 in
/wp-content/plugins/lightbox-plus/classes/shd.class.php
on line
1384
Warning
: preg_match(): Compilation failed: invalid range in character class at offset 4 in
/wp-content/plugins/lightbox-plus/classes/shd.class.php
on line
1384
Warning
: preg_match(): Compilation failed: invalid range in character class at offset 4 in
/wp-content/plugins/lightbox-plus/classes/shd.class.php
on line
1384
Warning
: preg_match(): Compilation failed: invalid range in character class at offset 4 in
/wp-content/plugins/lightbox-plus/classes/shd.class.php
on line
1384
Warning
: preg_match(): Compilation failed: invalid range in character class at offset 4 in
/wp-content/plugins/lightbox-plus/classes/shd.class.php
on line
1384
Warning
: preg_match(): Compilation failed: invalid range in character class at offset 4 in
/wp-content/plugins/lightbox-plus/classes/shd.class.php
on line
1384
Warning
: preg_match(): Compilation failed: invalid range in character class at offset 4 in
/wp-content/plugins/lightbox-plus/classes/shd.class.php
on line
1384
Warning
: preg_match(): Compilation failed: invalid range in character class at offset 4 in
/wp-content/plugins/lightbox-plus/classes/shd.class.php
on line
1384
Warning
: preg_match(): Compilation failed: invalid range in character class at offset 4 in
/wp-content/plugins/lightbox-plus/classes/shd.class.php
on line
1384
Warning
: preg_match(): Compilation failed: invalid range in character class at offset 4 in
/wp-content/plugins/lightbox-plus/classes/shd.class.php
on line
1384
Warning
: preg_match(): Compilation failed: invalid range in character class at offset 4 in
/wp-content/plugins/lightbox-plus/classes/shd.class.php
on line
1384
Warning
: preg_match(): Compilation failed: invalid range in character class at offset 4 in
/wp-content/plugins/lightbox-plus/classes/shd.class.php
on line
1384
Warning
: preg_match(): Compilation failed: invalid range in character class at offset 4 in
/wp-content/plugins/lightbox-plus/classes/shd.class.php
on line
1384
Warning
: preg_match(): Compilation failed: invalid range in character class at offset 4 in
/wp-content/plugins/lightbox-plus/classes/shd.class.php
on line
1384
Warning
: preg_match(): Compilation failed: invalid range in character class at offset 4 in
/wp-content/plugins/lightbox-plus/classes/shd.class.php
on line
1384
Warning
: preg_match(): Compilation failed: invalid range in character class at offset 4 in
/wp-content/plugins/lightbox-plus/classes/shd.class.php
on line
1384
Warning
: preg_match(): Compilation failed: invalid range in character class at offset 4 in
/wp-content/plugins/lightbox-plus/classes/shd.class.php
on line
1384
Warning
: preg_match(): Compilation failed: invalid range in character class at offset 4 in
/wp-content/plugins/lightbox-plus/classes/shd.class.php
on line
1384
Warning
: preg_match(): Compilation failed: invalid range in character class at offset 4 in
/wp-content/plugins/lightbox-plus/classes/shd.class.php
on line
1384
Warning
: preg_match(): Compilation failed: invalid range in character class at offset 4 in
/wp-content/plugins/lightbox-plus/classes/shd.class.php
on line
1384
Warning
: preg_match(): Compilation failed: invalid range in character class at offset 4 in
/wp-content/plugins/lightbox-plus/classes/shd.class.php
on line
1384
Warning
: preg_match(): Compilation failed: invalid range in character class at offset 4 in
/wp-content/plugins/lightbox-plus/classes/shd.class.php
on line
1384
Warning
: preg_match(): Compilation failed: invalid range in character class at offset 4 in
/wp-content/plugins/lightbox-plus/classes/shd.class.php
on line
1384
Warning
: preg_match(): Compilation failed: invalid range in character class at offset 4 in
/wp-content/plugins/lightbox-plus/classes/shd.class.php
on line
1384
Warning
: preg_match(): Compilation failed: invalid range in character class at offset 4 in
/wp-content/plugins/lightbox-plus/classes/shd.class.php
on line
1384
Warning
: preg_match(): Compilation failed: invalid range in character class at offset 4 in
/wp-content/plugins/lightbox-plus/classes/shd.class.php
on line
1384
Warning
: preg_match(): Compilation failed: invalid range in character class at offset 4 in
/wp-content/plugins/lightbox-plus/classes/shd.class.php
on line
1384
Warning
: preg_match(): Compilation failed: invalid range in character class at offset 4 in
/wp-content/plugins/lightbox-plus/classes/shd.class.php
on line
1384
Warning
: preg_match(): Compilation failed: invalid range in character class at offset 4 in
/wp-content/plugins/lightbox-plus/classes/shd.class.php
on line
1384
Warning
: preg_match(): Compilation failed: invalid range in character class at offset 4 in
/wp-content/plugins/lightbox-plus/classes/shd.class.php
on line
1384
Warning
: preg_match(): Compilation failed: invalid range in character class at offset 4 in
/wp-content/plugins/lightbox-plus/classes/shd.class.php
on line
1384
Warning
: preg_match(): Compilation failed: invalid range in character class at offset 4 in
/wp-content/plugins/lightbox-plus/classes/shd.class.php
on line
1384
Warning
: preg_match(): Compilation failed: invalid range in character class at offset 4 in
/wp-content/plugins/lightbox-plus/classes/shd.class.php
on line
1384
Warning
: preg_match(): Compilation failed: invalid range in character class at offset 4 in
/wp-content/plugins/lightbox-plus/classes/shd.class.php
on line
1384
Warning
: preg_match(): Compilation failed: invalid range in character class at offset 4 in
/wp-content/plugins/lightbox-plus/classes/shd.class.php
on line
1384
Warning
: preg_match(): Compilation failed: invalid range in character class at offset 4 in
/wp-content/plugins/lightbox-plus/classes/shd.class.php
on line
1384
Warning
: preg_match(): Compilation failed: invalid range in character class at offset 4 in
/wp-content/plugins/lightbox-plus/classes/shd.class.php
on line
1384
Warning
: preg_match(): Compilation failed: invalid range in character class at offset 4 in
/wp-content/plugins/lightbox-plus/classes/shd.class.php
on line
1384
Warning
: preg_match(): Compilation failed: invalid range in character class at offset 4 in
/wp-content/plugins/lightbox-plus/classes/shd.class.php
on line
1384
Warning
: preg_match(): Compilation failed: invalid range in character class at offset 4 in
/wp-content/plugins/lightbox-plus/classes/shd.class.php
on line
1384
Warning
: preg_match_all(): Compilation failed: invalid range in character class at offset 4 in
/wp-content/plugins/lightbox-plus/classes/shd.class.php
on line
700
Warning
: Invalid argument supplied for foreach() in
/wp-content/plugins/lightbox-plus/classes/shd.class.php
on line
707
Warning
: preg_match_all(): Compilation failed: invalid range in character class at offset 4 in
/wp-content/plugins/lightbox-plus/classes/shd.class.php
on line
700
Warning
: Invalid argument supplied for foreach() in
/wp-content/plugins/lightbox-plus/classes/shd.class.php
on line
707
Kilka dni temu zostałam poproszona o przepis na naleśniki bez jajek więc poczułam się w obowiązku spełnić to proste marzenie. Początkowo miałam w zamyśle dodać jeden z roślinnych zamienników jednak nie miałam pod ręką ani bezglutenowych płatków owsianych, ani mielonego siemienia. Przygotowałam ciasto na ulubione naleśniki, z pominięciem jajka. Uwierzcie, to się uda! Do kompletu dodaję najszybszy serek z nerkowców. Voila!
Takie naleśniki są bardziej chrupiące, ale wystarczy kilka minut pod ściereczką by zmiękły i stały się sprężyste.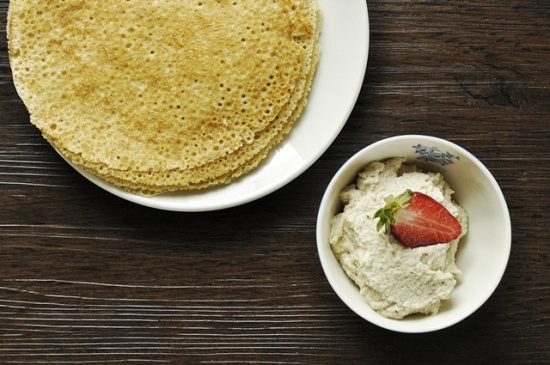 12 stuk
Wegańskie naleśniki z twarożkiem z nerkowców
składniki
– 100 g mąki ryżowej
– 80 g mąki owsianej
– 50 g mąki ziemniaczanej
– 1 płaska łyżeczka proszku do pieczenia
– szczypta sody
– szczypta soli
– 20 ml oliwy
– 400-450 ml mleka roślinnego
– odrobina oleju do smażenia
twarożek
– 200 g nerkowców (namoczonych przez noc)
– 5 łyżek mleka roślinnego
– ksylitol lub syrop z agawy do smaku
– świeże owoce
wykonanie
Nerkowce zmiksuj za pomocą blendera na twarożek. Dodaj mleko i tyle ksylitolu ile lubisz.
Wszystkie składniki zmiksuj na jednolite, płynne ciasto naleśnikowe.
Na patelnię wylej odrobinę oleju i rozsmaruj za pomocą ręcznika papierowego.
Wylewaj po łyżce wazowej ciasta, a następnie szybkim ruchem rozprowadź po całej patelni.
Smaż z dwóch stron na złoty kolor. Naleśniki powinny z łatwością odchodzić od powierzchni.
Gotowe placki układaj na stercie i przykryj folią lub ściereczką by nabrały sprężystości.
Podawaj z wcześniej przygotowanym twarożkiem i owocami.
Smacznego!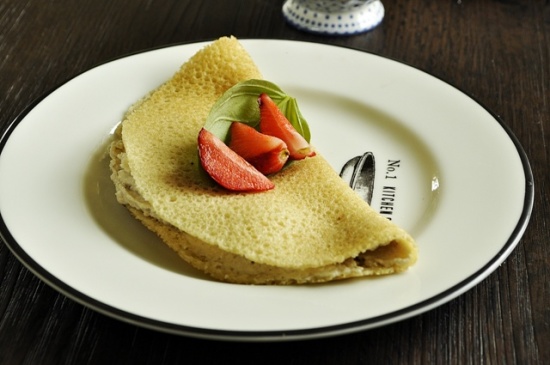 Drukuj przepis