Warning
: preg_match(): Compilation failed: invalid range in character class at offset 4 in
/wp-content/plugins/lightbox-plus/classes/shd.class.php
on line
1384
Warning
: preg_match(): Compilation failed: invalid range in character class at offset 4 in
/wp-content/plugins/lightbox-plus/classes/shd.class.php
on line
1384
Warning
: preg_match(): Compilation failed: invalid range in character class at offset 4 in
/wp-content/plugins/lightbox-plus/classes/shd.class.php
on line
1384
Warning
: preg_match(): Compilation failed: invalid range in character class at offset 4 in
/wp-content/plugins/lightbox-plus/classes/shd.class.php
on line
1384
Warning
: preg_match(): Compilation failed: invalid range in character class at offset 4 in
/wp-content/plugins/lightbox-plus/classes/shd.class.php
on line
1384
Warning
: preg_match(): Compilation failed: invalid range in character class at offset 4 in
/wp-content/plugins/lightbox-plus/classes/shd.class.php
on line
1384
Warning
: preg_match(): Compilation failed: invalid range in character class at offset 4 in
/wp-content/plugins/lightbox-plus/classes/shd.class.php
on line
1384
Warning
: preg_match(): Compilation failed: invalid range in character class at offset 4 in
/wp-content/plugins/lightbox-plus/classes/shd.class.php
on line
1384
Warning
: preg_match(): Compilation failed: invalid range in character class at offset 4 in
/wp-content/plugins/lightbox-plus/classes/shd.class.php
on line
1384
Warning
: preg_match(): Compilation failed: invalid range in character class at offset 4 in
/wp-content/plugins/lightbox-plus/classes/shd.class.php
on line
1384
Warning
: preg_match(): Compilation failed: invalid range in character class at offset 4 in
/wp-content/plugins/lightbox-plus/classes/shd.class.php
on line
1384
Warning
: preg_match(): Compilation failed: invalid range in character class at offset 4 in
/wp-content/plugins/lightbox-plus/classes/shd.class.php
on line
1384
Warning
: preg_match(): Compilation failed: invalid range in character class at offset 4 in
/wp-content/plugins/lightbox-plus/classes/shd.class.php
on line
1384
Warning
: preg_match(): Compilation failed: invalid range in character class at offset 4 in
/wp-content/plugins/lightbox-plus/classes/shd.class.php
on line
1384
Warning
: preg_match(): Compilation failed: invalid range in character class at offset 4 in
/wp-content/plugins/lightbox-plus/classes/shd.class.php
on line
1384
Warning
: preg_match(): Compilation failed: invalid range in character class at offset 4 in
/wp-content/plugins/lightbox-plus/classes/shd.class.php
on line
1384
Warning
: preg_match(): Compilation failed: invalid range in character class at offset 4 in
/wp-content/plugins/lightbox-plus/classes/shd.class.php
on line
1384
Warning
: preg_match(): Compilation failed: invalid range in character class at offset 4 in
/wp-content/plugins/lightbox-plus/classes/shd.class.php
on line
1384
Warning
: preg_match(): Compilation failed: invalid range in character class at offset 4 in
/wp-content/plugins/lightbox-plus/classes/shd.class.php
on line
1384
Warning
: preg_match(): Compilation failed: invalid range in character class at offset 4 in
/wp-content/plugins/lightbox-plus/classes/shd.class.php
on line
1384
Warning
: preg_match(): Compilation failed: invalid range in character class at offset 4 in
/wp-content/plugins/lightbox-plus/classes/shd.class.php
on line
1384
Warning
: preg_match(): Compilation failed: invalid range in character class at offset 4 in
/wp-content/plugins/lightbox-plus/classes/shd.class.php
on line
1384
Warning
: preg_match(): Compilation failed: invalid range in character class at offset 4 in
/wp-content/plugins/lightbox-plus/classes/shd.class.php
on line
1384
Warning
: preg_match(): Compilation failed: invalid range in character class at offset 4 in
/wp-content/plugins/lightbox-plus/classes/shd.class.php
on line
1384
Warning
: preg_match(): Compilation failed: invalid range in character class at offset 4 in
/wp-content/plugins/lightbox-plus/classes/shd.class.php
on line
1384
Warning
: preg_match(): Compilation failed: invalid range in character class at offset 4 in
/wp-content/plugins/lightbox-plus/classes/shd.class.php
on line
1384
Warning
: preg_match(): Compilation failed: invalid range in character class at offset 4 in
/wp-content/plugins/lightbox-plus/classes/shd.class.php
on line
1384
Warning
: preg_match(): Compilation failed: invalid range in character class at offset 4 in
/wp-content/plugins/lightbox-plus/classes/shd.class.php
on line
1384
Warning
: preg_match(): Compilation failed: invalid range in character class at offset 4 in
/wp-content/plugins/lightbox-plus/classes/shd.class.php
on line
1384
Warning
: preg_match(): Compilation failed: invalid range in character class at offset 4 in
/wp-content/plugins/lightbox-plus/classes/shd.class.php
on line
1384
Warning
: preg_match(): Compilation failed: invalid range in character class at offset 4 in
/wp-content/plugins/lightbox-plus/classes/shd.class.php
on line
1384
Warning
: preg_match(): Compilation failed: invalid range in character class at offset 4 in
/wp-content/plugins/lightbox-plus/classes/shd.class.php
on line
1384
Warning
: preg_match(): Compilation failed: invalid range in character class at offset 4 in
/wp-content/plugins/lightbox-plus/classes/shd.class.php
on line
1384
Warning
: preg_match(): Compilation failed: invalid range in character class at offset 4 in
/wp-content/plugins/lightbox-plus/classes/shd.class.php
on line
1384
Warning
: preg_match(): Compilation failed: invalid range in character class at offset 4 in
/wp-content/plugins/lightbox-plus/classes/shd.class.php
on line
1384
Warning
: preg_match(): Compilation failed: invalid range in character class at offset 4 in
/wp-content/plugins/lightbox-plus/classes/shd.class.php
on line
1384
Warning
: preg_match(): Compilation failed: invalid range in character class at offset 4 in
/wp-content/plugins/lightbox-plus/classes/shd.class.php
on line
1384
Warning
: preg_match(): Compilation failed: invalid range in character class at offset 4 in
/wp-content/plugins/lightbox-plus/classes/shd.class.php
on line
1384
Warning
: preg_match(): Compilation failed: invalid range in character class at offset 4 in
/wp-content/plugins/lightbox-plus/classes/shd.class.php
on line
1384
Warning
: preg_match(): Compilation failed: invalid range in character class at offset 4 in
/wp-content/plugins/lightbox-plus/classes/shd.class.php
on line
1384
Warning
: preg_match(): Compilation failed: invalid range in character class at offset 4 in
/wp-content/plugins/lightbox-plus/classes/shd.class.php
on line
1384
Warning
: preg_match(): Compilation failed: invalid range in character class at offset 4 in
/wp-content/plugins/lightbox-plus/classes/shd.class.php
on line
1384
Warning
: preg_match(): Compilation failed: invalid range in character class at offset 4 in
/wp-content/plugins/lightbox-plus/classes/shd.class.php
on line
1384
Warning
: preg_match(): Compilation failed: invalid range in character class at offset 4 in
/wp-content/plugins/lightbox-plus/classes/shd.class.php
on line
1384
Warning
: preg_match(): Compilation failed: invalid range in character class at offset 4 in
/wp-content/plugins/lightbox-plus/classes/shd.class.php
on line
1384
Warning
: preg_match(): Compilation failed: invalid range in character class at offset 4 in
/wp-content/plugins/lightbox-plus/classes/shd.class.php
on line
1384
Warning
: preg_match(): Compilation failed: invalid range in character class at offset 4 in
/wp-content/plugins/lightbox-plus/classes/shd.class.php
on line
1384
Warning
: preg_match(): Compilation failed: invalid range in character class at offset 4 in
/wp-content/plugins/lightbox-plus/classes/shd.class.php
on line
1384
Warning
: preg_match(): Compilation failed: invalid range in character class at offset 4 in
/wp-content/plugins/lightbox-plus/classes/shd.class.php
on line
1384
Warning
: preg_match(): Compilation failed: invalid range in character class at offset 4 in
/wp-content/plugins/lightbox-plus/classes/shd.class.php
on line
1384
Warning
: preg_match(): Compilation failed: invalid range in character class at offset 4 in
/wp-content/plugins/lightbox-plus/classes/shd.class.php
on line
1384
Warning
: preg_match(): Compilation failed: invalid range in character class at offset 4 in
/wp-content/plugins/lightbox-plus/classes/shd.class.php
on line
1384
Warning
: preg_match(): Compilation failed: invalid range in character class at offset 4 in
/wp-content/plugins/lightbox-plus/classes/shd.class.php
on line
1384
Warning
: preg_match(): Compilation failed: invalid range in character class at offset 4 in
/wp-content/plugins/lightbox-plus/classes/shd.class.php
on line
1384
Warning
: preg_match(): Compilation failed: invalid range in character class at offset 4 in
/wp-content/plugins/lightbox-plus/classes/shd.class.php
on line
1384
Warning
: preg_match(): Compilation failed: invalid range in character class at offset 4 in
/wp-content/plugins/lightbox-plus/classes/shd.class.php
on line
1384
Warning
: preg_match(): Compilation failed: invalid range in character class at offset 4 in
/wp-content/plugins/lightbox-plus/classes/shd.class.php
on line
1384
Warning
: preg_match(): Compilation failed: invalid range in character class at offset 4 in
/wp-content/plugins/lightbox-plus/classes/shd.class.php
on line
1384
Warning
: preg_match(): Compilation failed: invalid range in character class at offset 4 in
/wp-content/plugins/lightbox-plus/classes/shd.class.php
on line
1384
Warning
: preg_match(): Compilation failed: invalid range in character class at offset 4 in
/wp-content/plugins/lightbox-plus/classes/shd.class.php
on line
1384
Warning
: preg_match(): Compilation failed: invalid range in character class at offset 4 in
/wp-content/plugins/lightbox-plus/classes/shd.class.php
on line
1384
Warning
: preg_match(): Compilation failed: invalid range in character class at offset 4 in
/wp-content/plugins/lightbox-plus/classes/shd.class.php
on line
1384
Warning
: preg_match(): Compilation failed: invalid range in character class at offset 4 in
/wp-content/plugins/lightbox-plus/classes/shd.class.php
on line
1384
Warning
: preg_match(): Compilation failed: invalid range in character class at offset 4 in
/wp-content/plugins/lightbox-plus/classes/shd.class.php
on line
1384
Warning
: preg_match(): Compilation failed: invalid range in character class at offset 4 in
/wp-content/plugins/lightbox-plus/classes/shd.class.php
on line
1384
Warning
: preg_match(): Compilation failed: invalid range in character class at offset 4 in
/wp-content/plugins/lightbox-plus/classes/shd.class.php
on line
1384
Warning
: preg_match(): Compilation failed: invalid range in character class at offset 4 in
/wp-content/plugins/lightbox-plus/classes/shd.class.php
on line
1384
Warning
: preg_match(): Compilation failed: invalid range in character class at offset 4 in
/wp-content/plugins/lightbox-plus/classes/shd.class.php
on line
1384
Warning
: preg_match(): Compilation failed: invalid range in character class at offset 4 in
/wp-content/plugins/lightbox-plus/classes/shd.class.php
on line
1384
Warning
: preg_match(): Compilation failed: invalid range in character class at offset 4 in
/wp-content/plugins/lightbox-plus/classes/shd.class.php
on line
1384
Warning
: preg_match(): Compilation failed: invalid range in character class at offset 4 in
/wp-content/plugins/lightbox-plus/classes/shd.class.php
on line
1384
Warning
: preg_match(): Compilation failed: invalid range in character class at offset 4 in
/wp-content/plugins/lightbox-plus/classes/shd.class.php
on line
1384
Warning
: preg_match(): Compilation failed: invalid range in character class at offset 4 in
/wp-content/plugins/lightbox-plus/classes/shd.class.php
on line
1384
Warning
: preg_match(): Compilation failed: invalid range in character class at offset 4 in
/wp-content/plugins/lightbox-plus/classes/shd.class.php
on line
1384
Warning
: preg_match(): Compilation failed: invalid range in character class at offset 4 in
/wp-content/plugins/lightbox-plus/classes/shd.class.php
on line
1384
Warning
: preg_match(): Compilation failed: invalid range in character class at offset 4 in
/wp-content/plugins/lightbox-plus/classes/shd.class.php
on line
1384
Warning
: preg_match(): Compilation failed: invalid range in character class at offset 4 in
/wp-content/plugins/lightbox-plus/classes/shd.class.php
on line
1384
Warning
: preg_match(): Compilation failed: invalid range in character class at offset 4 in
/wp-content/plugins/lightbox-plus/classes/shd.class.php
on line
1384
Warning
: preg_match(): Compilation failed: invalid range in character class at offset 4 in
/wp-content/plugins/lightbox-plus/classes/shd.class.php
on line
1384
Warning
: preg_match(): Compilation failed: invalid range in character class at offset 4 in
/wp-content/plugins/lightbox-plus/classes/shd.class.php
on line
1384
Warning
: preg_match(): Compilation failed: invalid range in character class at offset 4 in
/wp-content/plugins/lightbox-plus/classes/shd.class.php
on line
1384
Warning
: preg_match(): Compilation failed: invalid range in character class at offset 4 in
/wp-content/plugins/lightbox-plus/classes/shd.class.php
on line
1384
Warning
: preg_match(): Compilation failed: invalid range in character class at offset 4 in
/wp-content/plugins/lightbox-plus/classes/shd.class.php
on line
1384
Warning
: preg_match(): Compilation failed: invalid range in character class at offset 4 in
/wp-content/plugins/lightbox-plus/classes/shd.class.php
on line
1384
Warning
: preg_match(): Compilation failed: invalid range in character class at offset 4 in
/wp-content/plugins/lightbox-plus/classes/shd.class.php
on line
1384
Warning
: preg_match(): Compilation failed: invalid range in character class at offset 4 in
/wp-content/plugins/lightbox-plus/classes/shd.class.php
on line
1384
Warning
: preg_match(): Compilation failed: invalid range in character class at offset 4 in
/wp-content/plugins/lightbox-plus/classes/shd.class.php
on line
1384
Warning
: preg_match(): Compilation failed: invalid range in character class at offset 4 in
/wp-content/plugins/lightbox-plus/classes/shd.class.php
on line
1384
Warning
: preg_match(): Compilation failed: invalid range in character class at offset 4 in
/wp-content/plugins/lightbox-plus/classes/shd.class.php
on line
1384
Warning
: preg_match(): Compilation failed: invalid range in character class at offset 4 in
/wp-content/plugins/lightbox-plus/classes/shd.class.php
on line
1384
Warning
: preg_match(): Compilation failed: invalid range in character class at offset 4 in
/wp-content/plugins/lightbox-plus/classes/shd.class.php
on line
1384
Warning
: preg_match(): Compilation failed: invalid range in character class at offset 4 in
/wp-content/plugins/lightbox-plus/classes/shd.class.php
on line
1384
Warning
: preg_match(): Compilation failed: invalid range in character class at offset 4 in
/wp-content/plugins/lightbox-plus/classes/shd.class.php
on line
1384
Warning
: preg_match(): Compilation failed: invalid range in character class at offset 4 in
/wp-content/plugins/lightbox-plus/classes/shd.class.php
on line
1384
Warning
: preg_match(): Compilation failed: invalid range in character class at offset 4 in
/wp-content/plugins/lightbox-plus/classes/shd.class.php
on line
1384
Warning
: preg_match(): Compilation failed: invalid range in character class at offset 4 in
/wp-content/plugins/lightbox-plus/classes/shd.class.php
on line
1384
Warning
: preg_match(): Compilation failed: invalid range in character class at offset 4 in
/wp-content/plugins/lightbox-plus/classes/shd.class.php
on line
1384
Warning
: preg_match(): Compilation failed: invalid range in character class at offset 4 in
/wp-content/plugins/lightbox-plus/classes/shd.class.php
on line
1384
Warning
: preg_match(): Compilation failed: invalid range in character class at offset 4 in
/wp-content/plugins/lightbox-plus/classes/shd.class.php
on line
1384
Warning
: preg_match(): Compilation failed: invalid range in character class at offset 4 in
/wp-content/plugins/lightbox-plus/classes/shd.class.php
on line
1384
Warning
: preg_match(): Compilation failed: invalid range in character class at offset 4 in
/wp-content/plugins/lightbox-plus/classes/shd.class.php
on line
1384
Warning
: preg_match(): Compilation failed: invalid range in character class at offset 4 in
/wp-content/plugins/lightbox-plus/classes/shd.class.php
on line
1384
Warning
: preg_match(): Compilation failed: invalid range in character class at offset 4 in
/wp-content/plugins/lightbox-plus/classes/shd.class.php
on line
1384
Warning
: preg_match(): Compilation failed: invalid range in character class at offset 4 in
/wp-content/plugins/lightbox-plus/classes/shd.class.php
on line
1384
Warning
: preg_match(): Compilation failed: invalid range in character class at offset 4 in
/wp-content/plugins/lightbox-plus/classes/shd.class.php
on line
1384
Warning
: preg_match(): Compilation failed: invalid range in character class at offset 4 in
/wp-content/plugins/lightbox-plus/classes/shd.class.php
on line
1384
Warning
: preg_match(): Compilation failed: invalid range in character class at offset 4 in
/wp-content/plugins/lightbox-plus/classes/shd.class.php
on line
1384
Warning
: preg_match(): Compilation failed: invalid range in character class at offset 4 in
/wp-content/plugins/lightbox-plus/classes/shd.class.php
on line
1384
Warning
: preg_match(): Compilation failed: invalid range in character class at offset 4 in
/wp-content/plugins/lightbox-plus/classes/shd.class.php
on line
1384
Warning
: preg_match(): Compilation failed: invalid range in character class at offset 4 in
/wp-content/plugins/lightbox-plus/classes/shd.class.php
on line
1384
Warning
: preg_match(): Compilation failed: invalid range in character class at offset 4 in
/wp-content/plugins/lightbox-plus/classes/shd.class.php
on line
1384
Warning
: preg_match(): Compilation failed: invalid range in character class at offset 4 in
/wp-content/plugins/lightbox-plus/classes/shd.class.php
on line
1384
Warning
: preg_match(): Compilation failed: invalid range in character class at offset 4 in
/wp-content/plugins/lightbox-plus/classes/shd.class.php
on line
1384
Warning
: preg_match(): Compilation failed: invalid range in character class at offset 4 in
/wp-content/plugins/lightbox-plus/classes/shd.class.php
on line
1384
Warning
: preg_match(): Compilation failed: invalid range in character class at offset 4 in
/wp-content/plugins/lightbox-plus/classes/shd.class.php
on line
1384
Warning
: preg_match(): Compilation failed: invalid range in character class at offset 4 in
/wp-content/plugins/lightbox-plus/classes/shd.class.php
on line
1384
Warning
: preg_match(): Compilation failed: invalid range in character class at offset 4 in
/wp-content/plugins/lightbox-plus/classes/shd.class.php
on line
1384
Warning
: preg_match(): Compilation failed: invalid range in character class at offset 4 in
/wp-content/plugins/lightbox-plus/classes/shd.class.php
on line
1384
Warning
: preg_match(): Compilation failed: invalid range in character class at offset 4 in
/wp-content/plugins/lightbox-plus/classes/shd.class.php
on line
1384
Warning
: preg_match(): Compilation failed: invalid range in character class at offset 4 in
/wp-content/plugins/lightbox-plus/classes/shd.class.php
on line
1384
Warning
: preg_match(): Compilation failed: invalid range in character class at offset 4 in
/wp-content/plugins/lightbox-plus/classes/shd.class.php
on line
1384
Warning
: preg_match_all(): Compilation failed: invalid range in character class at offset 4 in
/wp-content/plugins/lightbox-plus/classes/shd.class.php
on line
700
Warning
: Invalid argument supplied for foreach() in
/wp-content/plugins/lightbox-plus/classes/shd.class.php
on line
707
Warning
: preg_match_all(): Compilation failed: invalid range in character class at offset 4 in
/wp-content/plugins/lightbox-plus/classes/shd.class.php
on line
700
Warning
: Invalid argument supplied for foreach() in
/wp-content/plugins/lightbox-plus/classes/shd.class.php
on line
707
Pewnego późnego wieczoru, otwierając i zamykając kolejne strony, przysypiając nad klawiaturą, natknęłam się na ranking bezglutenowych knajpek w Kopenhadze. Propozycje wyglądały na tyle zachęcająco, że szybko chwyciłam za telefon by spytać siostrę czy w swoich szalonych podróżach dotarła już do stolicy Danii. Krótko po zabukowaniu biletów okazało się, że znajomi Kasi właśnie przeprowadzają się do większego mieszkania i z przyjemnością nas przenocują. Odłożyłyśmy temat na później i wróciłyśmy do swoich zajęć.
Dzień przed wylotem ponownie zajrzałam do wspomnianej top listy, by ją zaktualizować. Buszując po blogach natknęłam się na zniechęcające informacje mówiące o tym, że w jednym lokalu panoszy się mąka pszenna, w obiecująco wyglądającej piekarni można kupić tylko jedną czerstwą bułkę bezglutenową, a w innej, na małe ciastko trzeba przygotować iście bajońską sumę. Zawiedziona spisałam kilka adresów, spakowałam aparat i miałam nadzieję, że od czasu publikacji postów, coś mogło się przecież zmienić.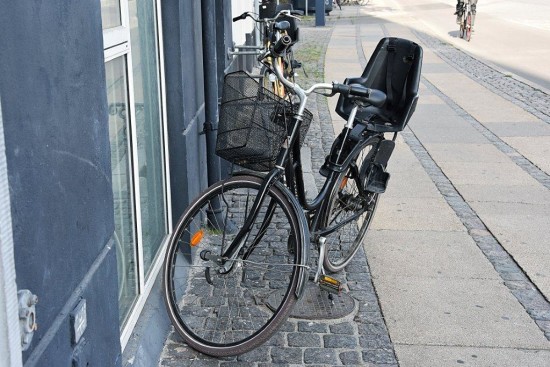 Spędziłyśmy w Kopenhadze trzy pełne dni. Gościłyśmy w ślicznym, typowo duńskim mieszkaniu. Pobiłyśmy rekordy w aplikacji mierzącej kroki. Miałyśmy okazję wziąć udział w wielkiej imprezie organizowanej dla wschodzących przedsiębiorstw. Z radością skorzystałyśmy z możliwości zjedzenia kolacji z koleżanką z Australii i porozmawiania o różnicach kulturowych. Wiecie, że na przykład Duńczycy słysząc odgłos kroków na klatce schodowej, obracają się na pięcie i czym prędzej wracają do domu by przypadkiem nie spotkać sąsiada? Ba, często nawet nie wiedzą kto mieszka za ścianą. :). Alina, która pochodzi z Białorusi opowiadała nam też o zefirach i kwasie chlebowym.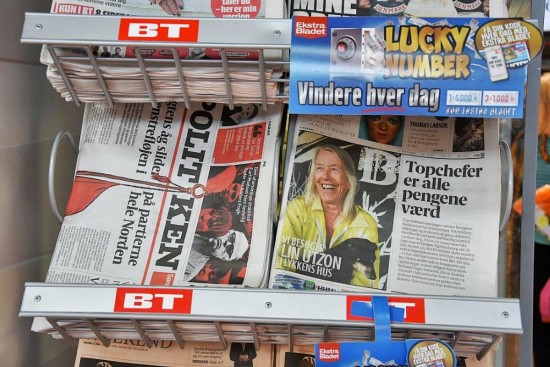 Pierwszego dnia opalałyśmy się w parku Tivoli, a kolejnego ogrzewałyśmy gorącą herbatą. Do Kopenhagi warto zabrać parasolkę, wygodne buty, ciepłe ubrania, ale i okulary przeciwsłoneczne. Pogoda potrafi zaskoczyć, a mała powierzchnia miasta zachęca do pieszych wycieczek. Na każdym kroku można spotkać oczywiście mnóstwo rowerów, które w wielu miejscach czekają również na turystów. Komunikacja miejska funkcjonuje bez zarzutu, a bilet na cały dzień kosztuje 80 DKK. Atutem jest też położenie lotniska, z którego do centrum można dostać się bezpośrednio metrem, a podróż nie zajmuje więcej niż 30 minut!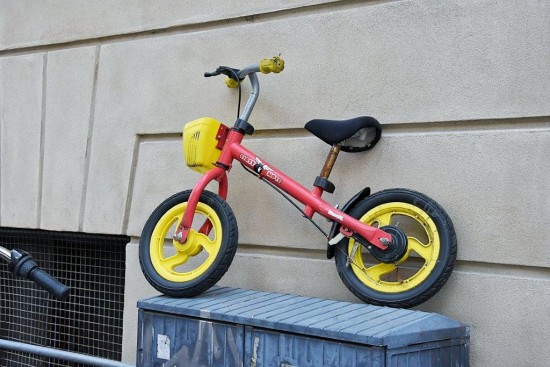 Mieszkańcy Kopenhagi wyróżniają się na pewno bardzo dobrą znajomością angielskiego. Po samotnej podróży do Mediolanu przekonałam się jak bardzo można zabłądzić kiedy ani jedna osoba w całym tramwaju nie jest w stanie sklecić dwóch zdań w międzynarodowym języku. W stolicy Dani czułyśmy się natomiast bardzo komfortowo i bezpiecznie. Odwiedziłyśmy różne miejsca i nigdzie nie napotkałyśmy na trudności z komunikacją.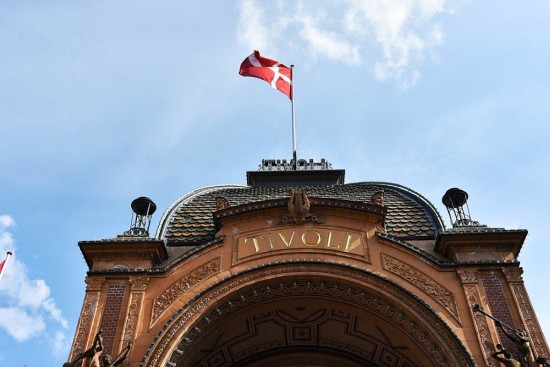 Podczas pobytu miałam na uwadze przede wszystkim aspekty kulinarne i te też poniżej przybliżam.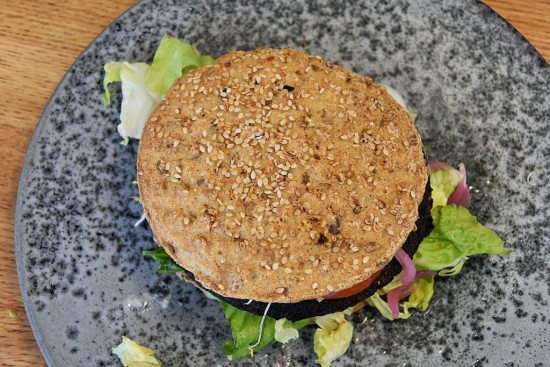 Biorąc pod uwagę ceny, knajpkę można uznać za dość ekskluzywną. Wszystkie pozycje z menu przygotowane są z bezglutenowych, roślinnych składników i podane w pięknej, oryginalnej zastawie.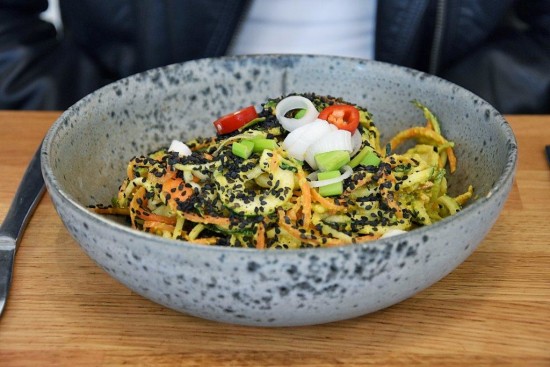 Lokal jest bardzo zatłoczony, więc w porze lunchu trudno znaleźć w nim wolne miejsce. Mnóstwo osób przychodzi też po posiłek na wynos, wychodząc z papierowymi torbami albo chwytając ładne, jednorazowe kubki z kolorowymi koktajlami. Skusiłyśmy się na burgera, tajski "makaron" z surowych warzyw i sok z buraka. Słodki, aksamitny, z wyraźnie dominującym imbirem.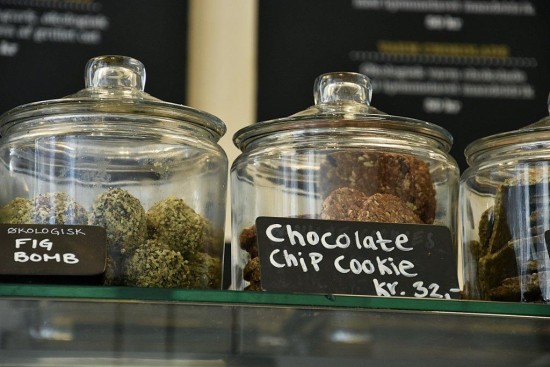 Ku naszemu zdziwieniu, mimo stosunkowo małych porcji, jedzenie było bardzo sycące, a my zdrowo najedzone i zadowolone. Cena prezentowanego powyżej burgera to jednak 129 DKK więc trudno byłoby stołować się tutaj codziennie. Za ladą piętrzyły się też kuszące ciasta, kulki mocy i batoniki, na które miałam wielką ochotę, ale do 42°Raw nie było nam już po drodze.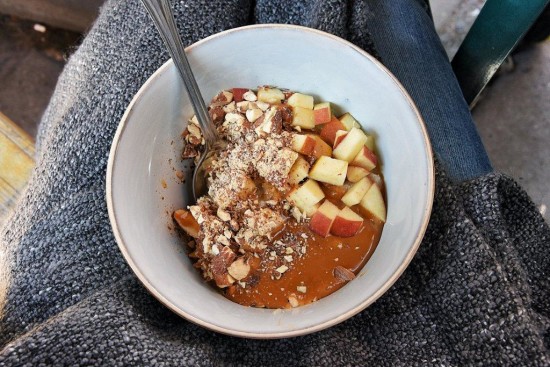 Malutki lokal szczycący się rozmaitymi owsiankami. Wybrałyśmy się tutaj na sobotni brunch. Mimo niesprzyjającej pogody, gęstych chmur i silnego wiatru, mieszkańcy tłoczyli się by załapać się na miseczkę ciepłej papki.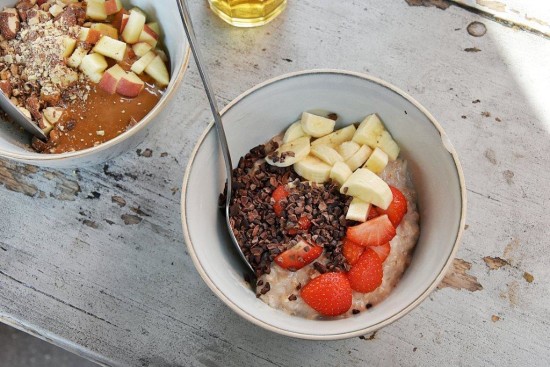 W porze śniadaniowej można tu zamówić jedną propozycję owsianki bezglutenowej z komosą ryżową, do której dobiera się rozmaite dodatki. Zdecydowałam się na sos karmelowy, jabłko i orzechy. Opatuliłyśmy się ciepłymi kocami i piłyśmy pyszną, słodką herbatę. Podejrzewam, że charakterystyczną słodycz zawdzięcza popularnej w Danii lukrecji.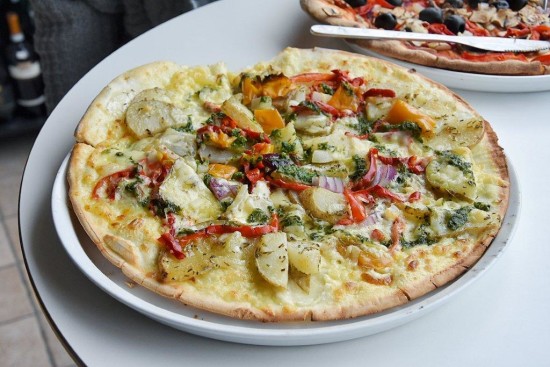 Jakiś czas temu, przy okazji przepisu na pizzę z bakłażanem, którą popełniłam, napisałam, że żałuję, że tak niewiele pizzerii oferuje nadający się do zjedzenia, bezglutenowy placek. Całe szczęście, ta która pyszni się na zdjęciu była jedną z najlepszych jakie jadłam. Jako, że pizzeria otwierała się w niedzielę o 16.00, byłyśmy pierwszymi klientkami. Lokal okazał się malutki i przeznaczony głównie do składania zamówień na wynos. Przemiły Pan użyczył nam jednak dodatkowe krzesło, byśmy mogły skonsumować posiłek na miejscu.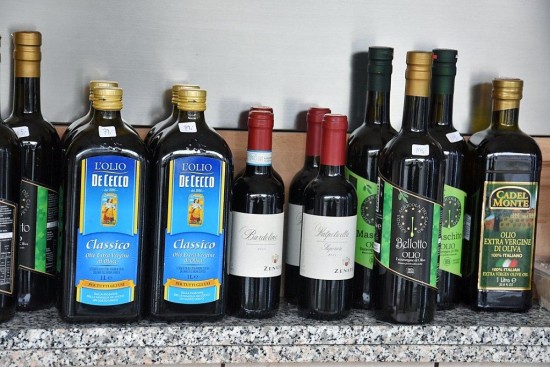 Bezglutenowe ciasto jest przygotowywane bezpośrednio przed pieczeniem, a nie (jak w większości lokali) gotowe. Choć wydaje się kruche, w środku jest puszyste i pyszne. Skusiłam się na dość typowy duński specjał, czyli pizzę z ziemniakami. Jak można się spodziewać, danie jest szalenie sycące, więc szybko pożałowałam, że nie byłam na tyle asertywna by nie pozostać przy poczciwej marghericie.

Pizzerman był jednak bardzo sympatyczny i zachęcał do spróbowania czegoś nowego. Miejsce to znajduje się z dala od centrum, ale z łatwością można tu dotrzeć z pomocą komunikacji miejskiej. Przystanek autobusowy szczęśliwie ulokowany jest pod samą pizzerią. Nie wyobrażam sobie nie wrócić tutaj przy kolejnej wizycie, zwłaszcza, że koszt pizzy to około 75 DKK czyli jak na Kopenhagę to absolutna taniocha.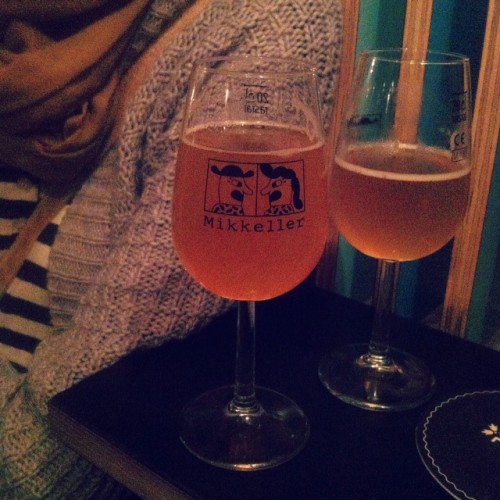 Wizyty w lokalu serwującym piwo z jednego z najlepszych browarów na świecie, nie miałyśmy w planach, jednak nasz gospodarz Kamil- koneser, zachęcił nas do degustacji. Spośród kilkudziesięciu opcji zawsze można wybrać jedną lub dwie  bez glutenu. Za małą lampkę takowej zapłaciłam 30 DKK. Glutenowi przyjaciele mogą zaszaleć i spróbować kompozycji sięgających nawet ponad 100 DKK za 200 ml. Nie pytajcie mnie jednak o wrażenia, w tym temacie jestem kompletną amatorką.

O historii i filozofii możecie przeczytać na podlinkowanej nad zdjęciem stronie.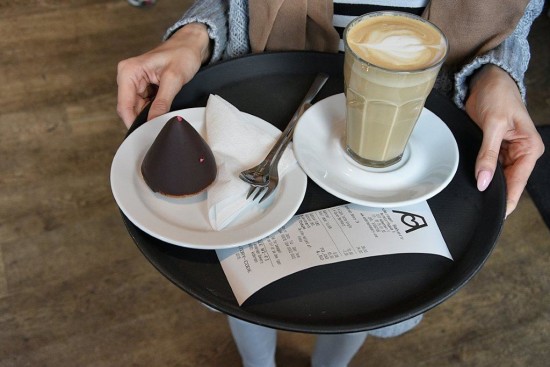 Andersen był jedną z tych pozycji, którą wykreśliłam jeszcze przed wyjazdem, jednak studiując mapkę Tivoli natknęłam się na numerek z odniesieniem do piekarni. Z ciekawości zajrzałyśmy więc i wypatrzyłyśmy tylko bezglutenowy bochenek chleba z ziarnami i jedno ciastko. Mając w planach wizytę w pobliskim muzeum, wróciłyśmy tu jednak ostatniego dnia bo coś mówiło mi, że warto. I rzeczywiście, za ladą pyszniło się więcej propozycji godnych uwagi.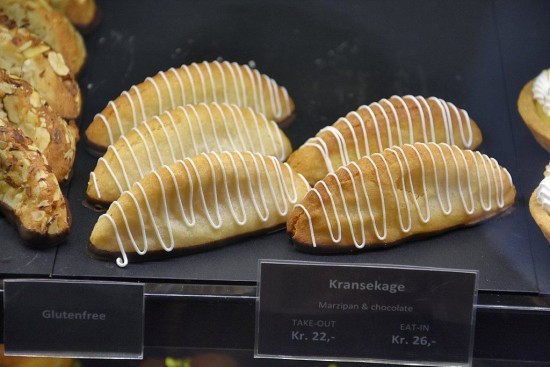 Lokal jest duży. Wchodząc tutaj, należy pobrać numerek i poczekać na swoją kolej. Panie pracujące w piekarni sprawnie się uwijają i służą pomocą. Zamówiłam pyszne, ale bardzo słodkie ciastko Sarah Bernard- mus czekoladowy na kruchym ciastku, zwieńczony polewą.
Można znaleźć tu więcej typowo duńskich pyszności, szczególnie na bazie marcepanu.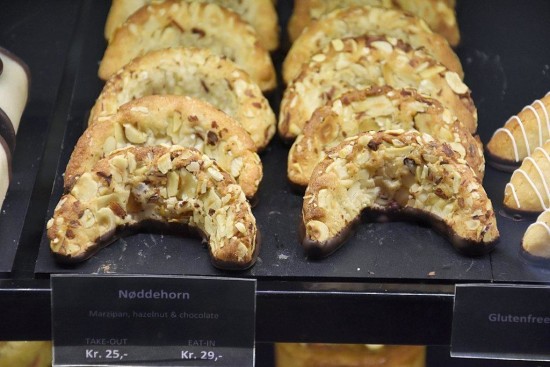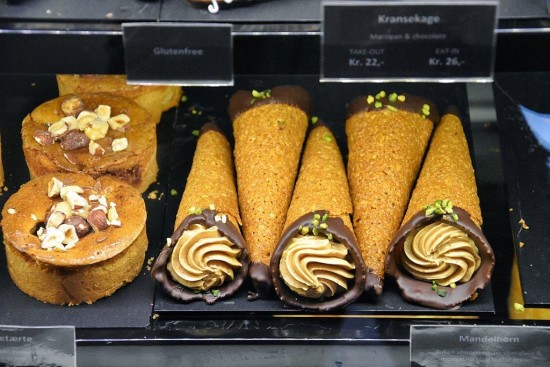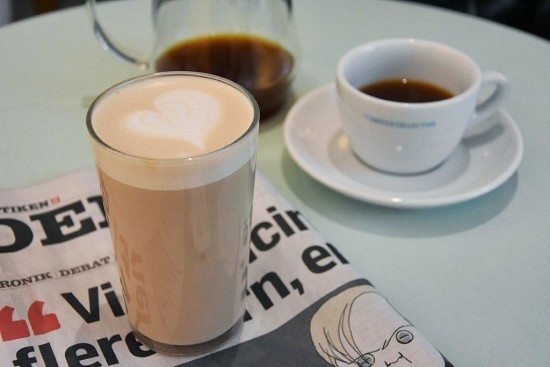 Alina jest wielką fanką dobrej kawy. Dba o to by kupować tylko ziarna ze sprawiedliwego handlu, dużo degustuje i eksperymentuje z alternatywnymi metodami parzenia. Adresem pod który nas skierowała był lokal o nazwie The Coffee Collective czyli miejscówka z najlepszą kawą w mieście. Niewątpliwie warto się tu wybrać i spróbować. Jeżeli zajrzycie na wyżej wspomnianą owsiankę do Grod, po drodze traficie właśnie tutaj. Knajpki dzielą 2 minuty spaceru

Alina też parzyła nam codziennie kawę, a ja przyglądałam się, obiecałam sobie, że sama zainteresuję się tematem i żartowałam, że na blogu napiszę, że na filiżankę można wpaść pod ich adres

Po niemal błyskawicznym locie (zaledwie 45 minut!), musiałyśmy jeszcze przemieścić się z Berlina do swoich łóżek, by kilka godzin później przywitać kolejny pracowity poniedziałek. Weekendowe bumelowanie przypłaciłyśmy podkrążonymi oczami, ale było warto, bo przecież została całkiem spora garść wspaniałych wspomnień i wcale niemały plik zdjęć.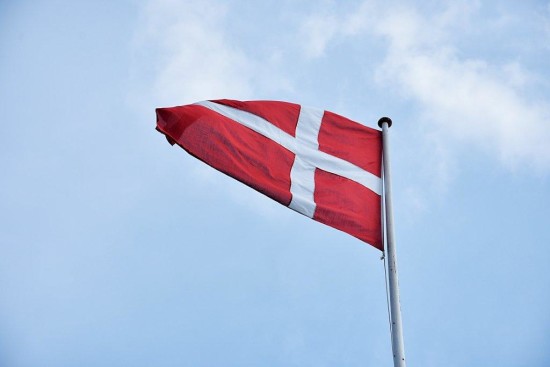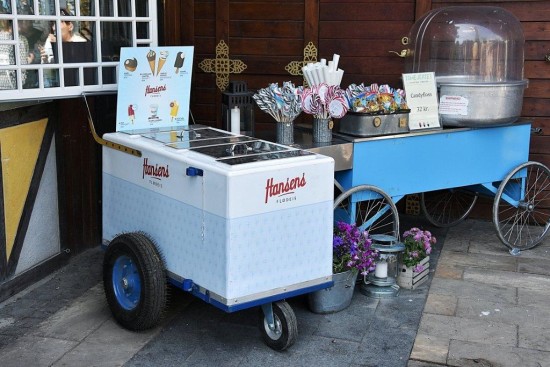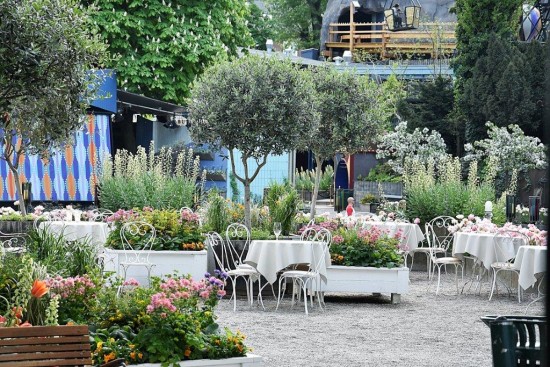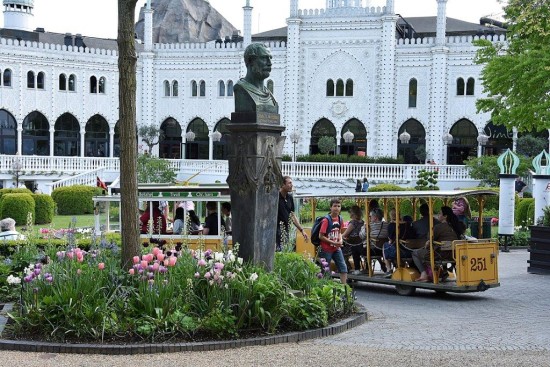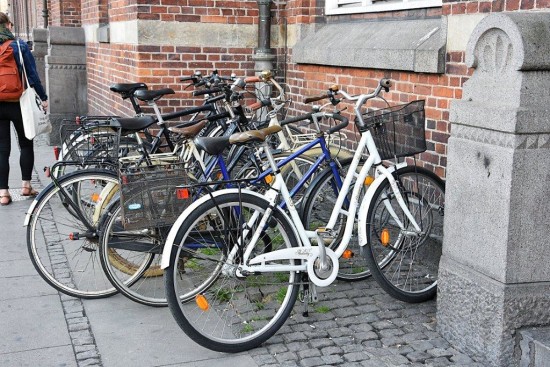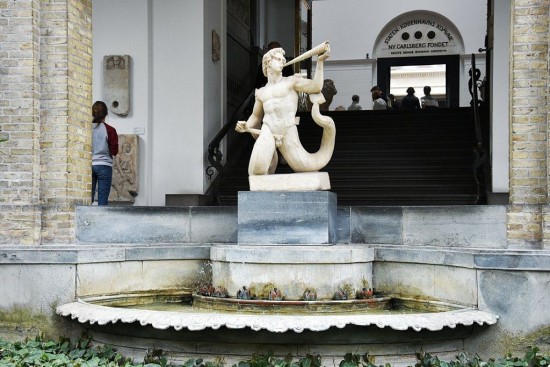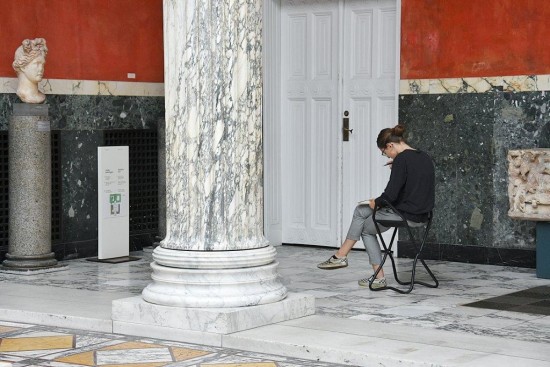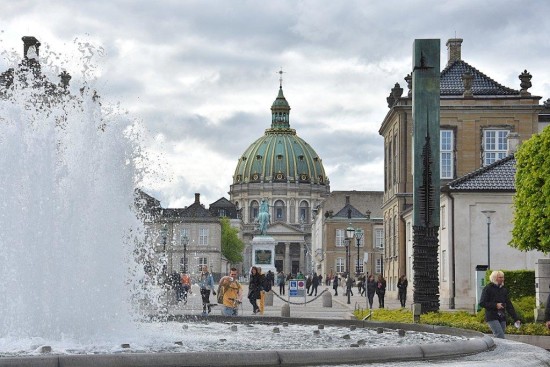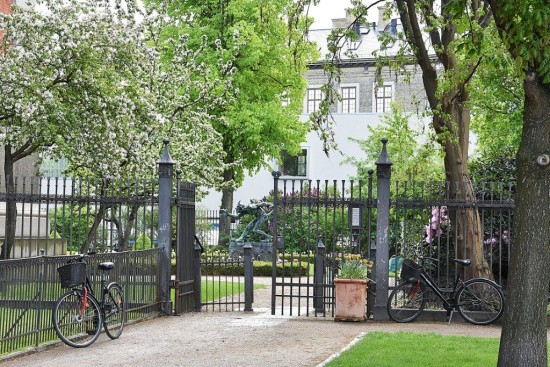 Drukuj przepis