Warning
: preg_match(): Compilation failed: invalid range in character class at offset 4 in
/wp-content/plugins/lightbox-plus/classes/shd.class.php
on line
1384
Warning
: preg_match(): Compilation failed: invalid range in character class at offset 4 in
/wp-content/plugins/lightbox-plus/classes/shd.class.php
on line
1384
Warning
: preg_match(): Compilation failed: invalid range in character class at offset 4 in
/wp-content/plugins/lightbox-plus/classes/shd.class.php
on line
1384
Warning
: preg_match(): Compilation failed: invalid range in character class at offset 4 in
/wp-content/plugins/lightbox-plus/classes/shd.class.php
on line
1384
Warning
: preg_match(): Compilation failed: invalid range in character class at offset 4 in
/wp-content/plugins/lightbox-plus/classes/shd.class.php
on line
1384
Warning
: preg_match(): Compilation failed: invalid range in character class at offset 4 in
/wp-content/plugins/lightbox-plus/classes/shd.class.php
on line
1384
Warning
: preg_match(): Compilation failed: invalid range in character class at offset 4 in
/wp-content/plugins/lightbox-plus/classes/shd.class.php
on line
1384
Warning
: preg_match(): Compilation failed: invalid range in character class at offset 4 in
/wp-content/plugins/lightbox-plus/classes/shd.class.php
on line
1384
Warning
: preg_match(): Compilation failed: invalid range in character class at offset 4 in
/wp-content/plugins/lightbox-plus/classes/shd.class.php
on line
1384
Warning
: preg_match(): Compilation failed: invalid range in character class at offset 4 in
/wp-content/plugins/lightbox-plus/classes/shd.class.php
on line
1384
Warning
: preg_match(): Compilation failed: invalid range in character class at offset 4 in
/wp-content/plugins/lightbox-plus/classes/shd.class.php
on line
1384
Warning
: preg_match(): Compilation failed: invalid range in character class at offset 4 in
/wp-content/plugins/lightbox-plus/classes/shd.class.php
on line
1384
Warning
: preg_match(): Compilation failed: invalid range in character class at offset 4 in
/wp-content/plugins/lightbox-plus/classes/shd.class.php
on line
1384
Warning
: preg_match(): Compilation failed: invalid range in character class at offset 4 in
/wp-content/plugins/lightbox-plus/classes/shd.class.php
on line
1384
Warning
: preg_match(): Compilation failed: invalid range in character class at offset 4 in
/wp-content/plugins/lightbox-plus/classes/shd.class.php
on line
1384
Warning
: preg_match(): Compilation failed: invalid range in character class at offset 4 in
/wp-content/plugins/lightbox-plus/classes/shd.class.php
on line
1384
Warning
: preg_match(): Compilation failed: invalid range in character class at offset 4 in
/wp-content/plugins/lightbox-plus/classes/shd.class.php
on line
1384
Warning
: preg_match(): Compilation failed: invalid range in character class at offset 4 in
/wp-content/plugins/lightbox-plus/classes/shd.class.php
on line
1384
Warning
: preg_match(): Compilation failed: invalid range in character class at offset 4 in
/wp-content/plugins/lightbox-plus/classes/shd.class.php
on line
1384
Warning
: preg_match(): Compilation failed: invalid range in character class at offset 4 in
/wp-content/plugins/lightbox-plus/classes/shd.class.php
on line
1384
Warning
: preg_match(): Compilation failed: invalid range in character class at offset 4 in
/wp-content/plugins/lightbox-plus/classes/shd.class.php
on line
1384
Warning
: preg_match(): Compilation failed: invalid range in character class at offset 4 in
/wp-content/plugins/lightbox-plus/classes/shd.class.php
on line
1384
Warning
: preg_match(): Compilation failed: invalid range in character class at offset 4 in
/wp-content/plugins/lightbox-plus/classes/shd.class.php
on line
1384
Warning
: preg_match(): Compilation failed: invalid range in character class at offset 4 in
/wp-content/plugins/lightbox-plus/classes/shd.class.php
on line
1384
Warning
: preg_match(): Compilation failed: invalid range in character class at offset 4 in
/wp-content/plugins/lightbox-plus/classes/shd.class.php
on line
1384
Warning
: preg_match(): Compilation failed: invalid range in character class at offset 4 in
/wp-content/plugins/lightbox-plus/classes/shd.class.php
on line
1384
Warning
: preg_match(): Compilation failed: invalid range in character class at offset 4 in
/wp-content/plugins/lightbox-plus/classes/shd.class.php
on line
1384
Warning
: preg_match(): Compilation failed: invalid range in character class at offset 4 in
/wp-content/plugins/lightbox-plus/classes/shd.class.php
on line
1384
Warning
: preg_match(): Compilation failed: invalid range in character class at offset 4 in
/wp-content/plugins/lightbox-plus/classes/shd.class.php
on line
1384
Warning
: preg_match(): Compilation failed: invalid range in character class at offset 4 in
/wp-content/plugins/lightbox-plus/classes/shd.class.php
on line
1384
Warning
: preg_match_all(): Compilation failed: invalid range in character class at offset 4 in
/wp-content/plugins/lightbox-plus/classes/shd.class.php
on line
700
Warning
: Invalid argument supplied for foreach() in
/wp-content/plugins/lightbox-plus/classes/shd.class.php
on line
707
Warning
: preg_match_all(): Compilation failed: invalid range in character class at offset 4 in
/wp-content/plugins/lightbox-plus/classes/shd.class.php
on line
700
Warning
: Invalid argument supplied for foreach() in
/wp-content/plugins/lightbox-plus/classes/shd.class.php
on line
707
Przyznam, że samo słowo dieta wzbudza we mnie odrazę. Skręca mnie kiedy słyszę, że ktoś przeszedł właśnie na dietę cud, zajadając pół pomarańczy rano, kubeczek jogurtu w południe i kromkę razowego pieczywa na kolację. Pewnie każdy z nas zna kogoś, kto na dietę przechodzi od każdego poniedziałku, następnego tygodnia albo od stycznia i przyzna, że słuchanie o odchudzaniu to prawdziwa katorga. Uważam, że odpowiednia masa ciała powinna być zaledwie skutkiem ubocznym rozsądnego menu i szeroko pojętego stylu życia w ogóle. Dieta dr Dąbrowskiej ma całe szczęście swoją drugą nazwę- post owocowo- warzywny, a jej głównym celem powinno być przede wszystkim oczyszczenie organizmu. Metoda ta ma ponad dwadzieścia lat i przez ten cały czas regularnie uzdrawia rzesze ludzi.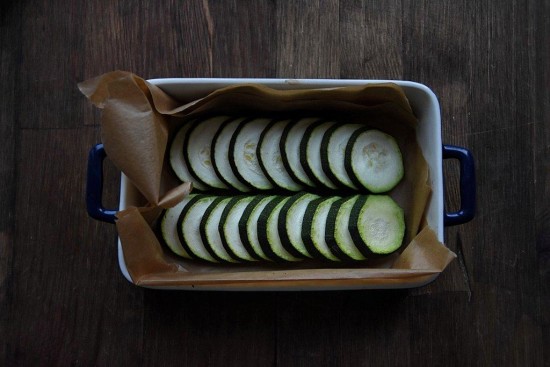 Na post zdecydowało się już kilka osób wśród naszej rodziny, znajomych. Temat przewinął się kilka razy na warsztatach, a kiedy w końcu sama postanowiłam spróbować, okazało się, że sporo osób, z którymi rozmawiałam- zna, stosowało albo przynajmniej czytało jakieś informacje. Nie będę zatem rozwodzić się nad teorią. Cała metoda została opisana tutaj, a ja jak zawsze postaram się przybliżyć praktyczny aspekt i podpowiedzieć jak łączyć produkty żeby nie zwariować z nudy i głodu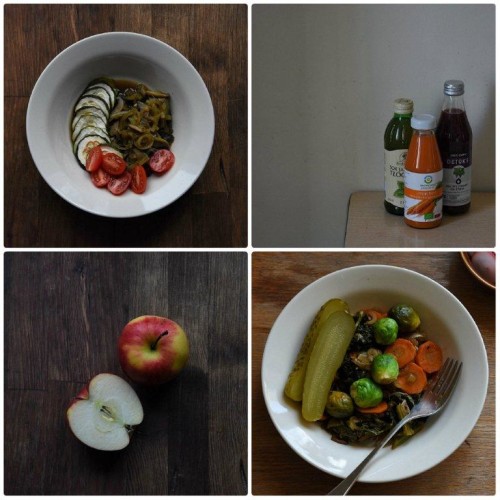 Myślę, że trudno mówić o jakiś wyrafinowanych przepisach i dokładnych proporcjach. Posiłki powinny być proste, bazować na warzywach. Z racji pory roku dobrze byłoby pić nie tylko dużo, dużo gorącej wody z imbirem, ale też przygotowywać ciepłe potrawki. Moim sposobem na przetrwanie było codzienne gotowanie świeżego bulionu korzeniowego, na którym dusiłam cebulę, jarmuż, cukinię, brukselkę, bakłażany, pomidory czy marchewkę. Czasami smak przełamywałam kawałkiem kwaśnego jabłka. Intensywny, pieprzny bulion piłam też codziennie przed posiłkami.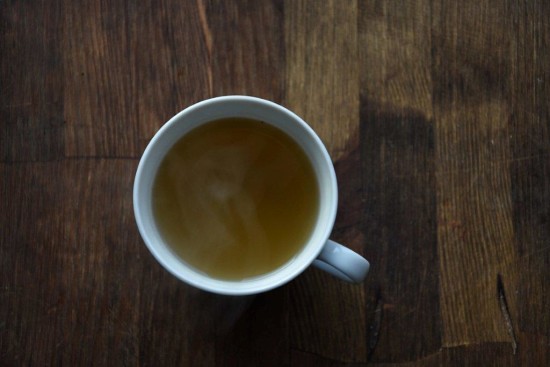 W okresie postu nie stosuje się soli, cukru czy najlepszych nawet tłuszczów, ale dozwolone są liczne, naturalne przyprawy. Do warzyw sypałam więc cynamon, imbir, pieprz Cayenne, gałkę muszkatołową, pieprz ziołowy, tymianek, rozmaryn, curry. (Bezpieczne mieszanki znajdziesz tutaj.) Dwa razy zdarzyło mi się dodać na patelnię kilka namoczonych uprzednio rodzynek, a także jednoskładnikową passatę z pomidorów. Nieustannie i hojnie aplikowałam natomiast czosnek przeciśnięty przez praskę.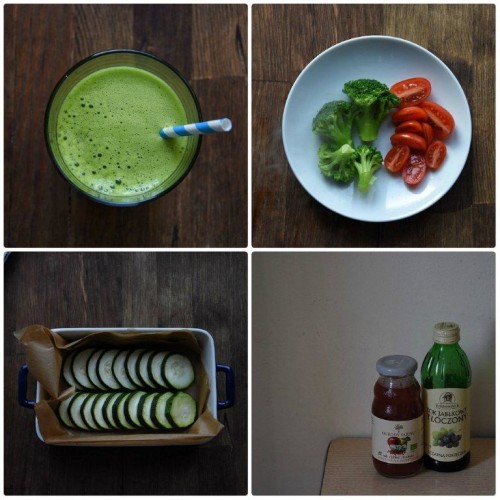 Pysznym i miłym akcentem są niewątpliwie owoce, które jednak powinny stanowić jedynie dodatek. Nadadzą się jabłka, grejpfruty, kiwi, owoce jagodowe, kawałek niezbyt słodkiego melona. Czasami miksowałam je z zieleniną na koktajle, a innym razem przygotowywałam sok z natki pietruszki i dużej dawki cytryny. Można wspomóc się tłoczonymi sokami dobrej jakości, jednak te- mimo, że stuprocentowe- potrafią być zbyt słodkie. Należy więc uważać. Znacznie korzystniej będzie sięgnąć po napoje wytrawne- szczególnie te z kiszonych warzyw. Prawdziwą rozpustę stanowi kawałek jabłka upieczonego z cynamonem lub zmiksowanego na mus.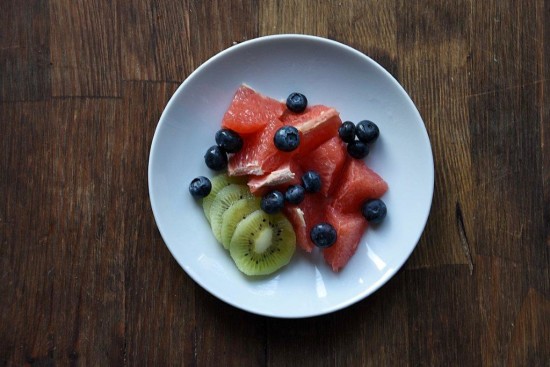 W zależności od problemu, post może trwać nawet sześć tygodni. Ja z góry zakładałam, że będzie to około siedmiu dni. Nie cierpię na żadne przewlekłe choroby, nie czuję się źle, ale od dłuższego czasu chciałam zmienić coś na lepsze, wskoczyć na trochę wyższy poziom. Miesiąc przed dwudziestymi pierwszymi urodzinami wydał się dobrym momentem na przeprowadzenie małych porządków, a post punktem odniesienia i pretekstem do wprowadzenia dobrych przyzwyczajeń. Zauważyłam poprawę cery (choć w pierwszych dniach działy się z nią bardzo dziwne rzeczy), spory przypływ energii, a w czwartym dniu poczułam, że jest mnie mniej. Niewątpliwie powrócę do postu ponownie, jednak zdecydowanie późną wiosną, a najchętniej w duecie

Ważną kwestią jest oczywiście powrót do normalnych posiłków. Nie powinno sprawić to kłopotu tym, którzy na co dzień spożywają niewiele produktów zwierzęcych, jedzą dobrej jakości produkty, kasze, strączki, przyjazne tłuszcze. Jednak pomysłami na pyszne, wartościowe posiłki będę dzielić się regularnie, w kolejnych postach. Do napisania!

Drukuj przepis