Warning
: preg_match(): Compilation failed: invalid range in character class at offset 4 in
/wp-content/plugins/lightbox-plus/classes/shd.class.php
on line
1384
Warning
: preg_match(): Compilation failed: invalid range in character class at offset 4 in
/wp-content/plugins/lightbox-plus/classes/shd.class.php
on line
1384
Warning
: preg_match(): Compilation failed: invalid range in character class at offset 4 in
/wp-content/plugins/lightbox-plus/classes/shd.class.php
on line
1384
Warning
: preg_match(): Compilation failed: invalid range in character class at offset 4 in
/wp-content/plugins/lightbox-plus/classes/shd.class.php
on line
1384
Warning
: preg_match(): Compilation failed: invalid range in character class at offset 4 in
/wp-content/plugins/lightbox-plus/classes/shd.class.php
on line
1384
Warning
: preg_match(): Compilation failed: invalid range in character class at offset 4 in
/wp-content/plugins/lightbox-plus/classes/shd.class.php
on line
1384
Warning
: preg_match(): Compilation failed: invalid range in character class at offset 4 in
/wp-content/plugins/lightbox-plus/classes/shd.class.php
on line
1384
Warning
: preg_match(): Compilation failed: invalid range in character class at offset 4 in
/wp-content/plugins/lightbox-plus/classes/shd.class.php
on line
1384
Warning
: preg_match(): Compilation failed: invalid range in character class at offset 4 in
/wp-content/plugins/lightbox-plus/classes/shd.class.php
on line
1384
Warning
: preg_match(): Compilation failed: invalid range in character class at offset 4 in
/wp-content/plugins/lightbox-plus/classes/shd.class.php
on line
1384
Warning
: preg_match(): Compilation failed: invalid range in character class at offset 4 in
/wp-content/plugins/lightbox-plus/classes/shd.class.php
on line
1384
Warning
: preg_match(): Compilation failed: invalid range in character class at offset 4 in
/wp-content/plugins/lightbox-plus/classes/shd.class.php
on line
1384
Warning
: preg_match(): Compilation failed: invalid range in character class at offset 4 in
/wp-content/plugins/lightbox-plus/classes/shd.class.php
on line
1384
Warning
: preg_match(): Compilation failed: invalid range in character class at offset 4 in
/wp-content/plugins/lightbox-plus/classes/shd.class.php
on line
1384
Warning
: preg_match(): Compilation failed: invalid range in character class at offset 4 in
/wp-content/plugins/lightbox-plus/classes/shd.class.php
on line
1384
Warning
: preg_match(): Compilation failed: invalid range in character class at offset 4 in
/wp-content/plugins/lightbox-plus/classes/shd.class.php
on line
1384
Warning
: preg_match(): Compilation failed: invalid range in character class at offset 4 in
/wp-content/plugins/lightbox-plus/classes/shd.class.php
on line
1384
Warning
: preg_match(): Compilation failed: invalid range in character class at offset 4 in
/wp-content/plugins/lightbox-plus/classes/shd.class.php
on line
1384
Warning
: preg_match(): Compilation failed: invalid range in character class at offset 4 in
/wp-content/plugins/lightbox-plus/classes/shd.class.php
on line
1384
Warning
: preg_match(): Compilation failed: invalid range in character class at offset 4 in
/wp-content/plugins/lightbox-plus/classes/shd.class.php
on line
1384
Warning
: preg_match(): Compilation failed: invalid range in character class at offset 4 in
/wp-content/plugins/lightbox-plus/classes/shd.class.php
on line
1384
Warning
: preg_match(): Compilation failed: invalid range in character class at offset 4 in
/wp-content/plugins/lightbox-plus/classes/shd.class.php
on line
1384
Warning
: preg_match(): Compilation failed: invalid range in character class at offset 4 in
/wp-content/plugins/lightbox-plus/classes/shd.class.php
on line
1384
Warning
: preg_match(): Compilation failed: invalid range in character class at offset 4 in
/wp-content/plugins/lightbox-plus/classes/shd.class.php
on line
1384
Warning
: preg_match(): Compilation failed: invalid range in character class at offset 4 in
/wp-content/plugins/lightbox-plus/classes/shd.class.php
on line
1384
Warning
: preg_match(): Compilation failed: invalid range in character class at offset 4 in
/wp-content/plugins/lightbox-plus/classes/shd.class.php
on line
1384
Warning
: preg_match(): Compilation failed: invalid range in character class at offset 4 in
/wp-content/plugins/lightbox-plus/classes/shd.class.php
on line
1384
Warning
: preg_match(): Compilation failed: invalid range in character class at offset 4 in
/wp-content/plugins/lightbox-plus/classes/shd.class.php
on line
1384
Warning
: preg_match(): Compilation failed: invalid range in character class at offset 4 in
/wp-content/plugins/lightbox-plus/classes/shd.class.php
on line
1384
Warning
: preg_match(): Compilation failed: invalid range in character class at offset 4 in
/wp-content/plugins/lightbox-plus/classes/shd.class.php
on line
1384
Warning
: preg_match(): Compilation failed: invalid range in character class at offset 4 in
/wp-content/plugins/lightbox-plus/classes/shd.class.php
on line
1384
Warning
: preg_match(): Compilation failed: invalid range in character class at offset 4 in
/wp-content/plugins/lightbox-plus/classes/shd.class.php
on line
1384
Warning
: preg_match(): Compilation failed: invalid range in character class at offset 4 in
/wp-content/plugins/lightbox-plus/classes/shd.class.php
on line
1384
Warning
: preg_match(): Compilation failed: invalid range in character class at offset 4 in
/wp-content/plugins/lightbox-plus/classes/shd.class.php
on line
1384
Warning
: preg_match(): Compilation failed: invalid range in character class at offset 4 in
/wp-content/plugins/lightbox-plus/classes/shd.class.php
on line
1384
Warning
: preg_match(): Compilation failed: invalid range in character class at offset 4 in
/wp-content/plugins/lightbox-plus/classes/shd.class.php
on line
1384
Warning
: preg_match(): Compilation failed: invalid range in character class at offset 4 in
/wp-content/plugins/lightbox-plus/classes/shd.class.php
on line
1384
Warning
: preg_match(): Compilation failed: invalid range in character class at offset 4 in
/wp-content/plugins/lightbox-plus/classes/shd.class.php
on line
1384
Warning
: preg_match(): Compilation failed: invalid range in character class at offset 4 in
/wp-content/plugins/lightbox-plus/classes/shd.class.php
on line
1384
Warning
: preg_match(): Compilation failed: invalid range in character class at offset 4 in
/wp-content/plugins/lightbox-plus/classes/shd.class.php
on line
1384
Warning
: preg_match(): Compilation failed: invalid range in character class at offset 4 in
/wp-content/plugins/lightbox-plus/classes/shd.class.php
on line
1384
Warning
: preg_match(): Compilation failed: invalid range in character class at offset 4 in
/wp-content/plugins/lightbox-plus/classes/shd.class.php
on line
1384
Warning
: preg_match_all(): Compilation failed: invalid range in character class at offset 4 in
/wp-content/plugins/lightbox-plus/classes/shd.class.php
on line
700
Warning
: Invalid argument supplied for foreach() in
/wp-content/plugins/lightbox-plus/classes/shd.class.php
on line
707
Warning
: preg_match_all(): Compilation failed: invalid range in character class at offset 4 in
/wp-content/plugins/lightbox-plus/classes/shd.class.php
on line
700
Warning
: Invalid argument supplied for foreach() in
/wp-content/plugins/lightbox-plus/classes/shd.class.php
on line
707
O moich francuskich sympatiach wspominałam nie raz. Nie macie pojęcia jak wielkim obiektem pożądania były dla mnie od dawien dawna makaroniki. Raz po raz widywałam je na stronach kobiecych magazynów, kolorowe, we wszystkich smakach świata. Kiedy stoisko Le Roy&Louis pojawiło się w warszawskich Złotych Tarasach przy najbliżej okazji wyjazdu do stolicy wysłałam tam  mamę i z zapartym tchem wyczekiwałam różowego pudełeczka przewiązanego kokardką. 
Nie przyznam się ile prób podjęłam, by moje makaroniki wyszły bez większego zarzutu.
W minioną niedzielę czułam, że nadszedł moment, kiedy przy odrobinie cierpliwości podołam wyzwaniu. Uczciwie przesiewaliśmy z tatą migdały zastanawiając się oboje czy sitko to zniesie.
Nie mogę się zgodzić z tymi, którzy bezy stawiają na pierwszym miejscu listy wypieków łatwych. Mnie zaskoczyły już nie raz, nie dwa. Makaroniki zdecydowanie powstawać muszą pod czujnym okiem i twardą ręką.
Powodzenia! Dla choćby i nastu prób- warto!
ok 30 ciasteczek
Makaroniki
Potrzebne składniki:
– 100 g białek w temp. pokojowej (z ok 3 jajek), 2 łyżki cukru, szczypta soli
– mąka migdałowa: 100 g płatków z migdałowych, 200 g cukru pudru
– krem: czekolada rozpuszczona z kremówką/ mascarpone + truskawki/ karmel/ lemon curd
Sposób przygotowania:
Zanim ubijesz pianę, upewnij się, że wszystkie składniki są w absolutnej gotowości. Działamy z głową, zwinnie i stanowczo.
Z migdałami rozpraw się najlepiej używając blendera. Opcjonalnie zawsze możesz wsypać je do woreczka, w który emocjonalnie będziesz stukać młotkiem. Rozdrobnione orzechy przesiej koniecznie przez sito. Wykaż się cierpliwością i siłą!
Następnie raz jeszcze przesiej migdały, tym razem w duecie z cukrem pudrem. Mieszankę o strukturze mąki wymieszaj jeszcze dobrze łyżką. Gotowe! Dwie blachy wyłóż papierem do pieczenia. Żadnego tłuszczu!
Odważone białka ubij na pianę ze szczyptą soli. Niech będzie sztywna, lśniąca, śnieżnobiała. Test z odwróceniem miski do góry dnem jest obowiązkowy. Nie wypłynęła? Idziemy dalej.
Do miski z mąką migdałową ( i raczej nie odwrotnie) dodaj pianę. Mieszaj łyżką (najlepiej sprawdzą się te wszystkie duże drewniane lub silikonowe). Masa powoli zmienia konsystencję. Chodzi o to by bardzo dokładnie połączyć składniki, nie doprowadzając do rozlania białek. Piana ma być gęsta. Zanurz łyżkę w masie, unieś nad miskę. Jeżeli piana będzie oblepiać łyżkę, a odrobina masy spadnie do miski jest idealnie. Trzeba wyczuć moment. Nie mieszać za długo, ale i za krótko.
W szklance umieść foliowy woreczek i napełnij go masą. Obetnij róg i powstałym otworem wyciskaj pianę na blachy. Staraj się by krążki miały podobny rozmiar by po upieczeniu zgrabnie łączyły się w pary. Zachowaj mały odstęp.
Wypełnionymi blachami kilkakrotnie uderz o blat. Jeżeli na którymś z przyszłych makaroników pojawił się mały pęcherzyk, przestań.
Odłóż blachy na 25 minut by piana obeschła.
Piekarnik nagrzej do temp. 130 stopni C i piecz najlepiej po jednej blasze 10-12 minut.
Ciasteczka nie mają prawa rozlać się, pęknąć. Powinny odrobinę podrosnąć, wysuszyć się z zewnątrz, natomiast pozostać mięciutkie w środku. Najważniejszy element- charakterystyczna obwódka, która powstaje w procesie pieczenia.
Makaroniki zostaw na papierze 5 minut, a następnie zdejmij je z blachy.
Łącz po dwa ulubionym kremem.
Smacznego!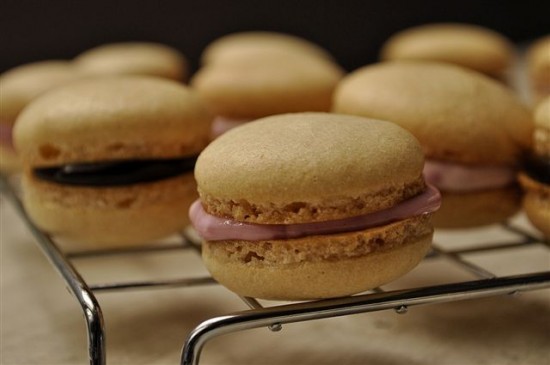 Drukuj przepis