Warning
: preg_match(): Compilation failed: invalid range in character class at offset 4 in
/wp-content/plugins/lightbox-plus/classes/shd.class.php
on line
1384
Warning
: preg_match(): Compilation failed: invalid range in character class at offset 4 in
/wp-content/plugins/lightbox-plus/classes/shd.class.php
on line
1384
Warning
: preg_match(): Compilation failed: invalid range in character class at offset 4 in
/wp-content/plugins/lightbox-plus/classes/shd.class.php
on line
1384
Warning
: preg_match(): Compilation failed: invalid range in character class at offset 4 in
/wp-content/plugins/lightbox-plus/classes/shd.class.php
on line
1384
Warning
: preg_match(): Compilation failed: invalid range in character class at offset 4 in
/wp-content/plugins/lightbox-plus/classes/shd.class.php
on line
1384
Warning
: preg_match(): Compilation failed: invalid range in character class at offset 4 in
/wp-content/plugins/lightbox-plus/classes/shd.class.php
on line
1384
Warning
: preg_match(): Compilation failed: invalid range in character class at offset 4 in
/wp-content/plugins/lightbox-plus/classes/shd.class.php
on line
1384
Warning
: preg_match(): Compilation failed: invalid range in character class at offset 4 in
/wp-content/plugins/lightbox-plus/classes/shd.class.php
on line
1384
Warning
: preg_match(): Compilation failed: invalid range in character class at offset 4 in
/wp-content/plugins/lightbox-plus/classes/shd.class.php
on line
1384
Warning
: preg_match(): Compilation failed: invalid range in character class at offset 4 in
/wp-content/plugins/lightbox-plus/classes/shd.class.php
on line
1384
Warning
: preg_match(): Compilation failed: invalid range in character class at offset 4 in
/wp-content/plugins/lightbox-plus/classes/shd.class.php
on line
1384
Warning
: preg_match(): Compilation failed: invalid range in character class at offset 4 in
/wp-content/plugins/lightbox-plus/classes/shd.class.php
on line
1384
Warning
: preg_match(): Compilation failed: invalid range in character class at offset 4 in
/wp-content/plugins/lightbox-plus/classes/shd.class.php
on line
1384
Warning
: preg_match(): Compilation failed: invalid range in character class at offset 4 in
/wp-content/plugins/lightbox-plus/classes/shd.class.php
on line
1384
Warning
: preg_match(): Compilation failed: invalid range in character class at offset 4 in
/wp-content/plugins/lightbox-plus/classes/shd.class.php
on line
1384
Warning
: preg_match(): Compilation failed: invalid range in character class at offset 4 in
/wp-content/plugins/lightbox-plus/classes/shd.class.php
on line
1384
Warning
: preg_match(): Compilation failed: invalid range in character class at offset 4 in
/wp-content/plugins/lightbox-plus/classes/shd.class.php
on line
1384
Warning
: preg_match(): Compilation failed: invalid range in character class at offset 4 in
/wp-content/plugins/lightbox-plus/classes/shd.class.php
on line
1384
Warning
: preg_match(): Compilation failed: invalid range in character class at offset 4 in
/wp-content/plugins/lightbox-plus/classes/shd.class.php
on line
1384
Warning
: preg_match(): Compilation failed: invalid range in character class at offset 4 in
/wp-content/plugins/lightbox-plus/classes/shd.class.php
on line
1384
Warning
: preg_match(): Compilation failed: invalid range in character class at offset 4 in
/wp-content/plugins/lightbox-plus/classes/shd.class.php
on line
1384
Warning
: preg_match(): Compilation failed: invalid range in character class at offset 4 in
/wp-content/plugins/lightbox-plus/classes/shd.class.php
on line
1384
Warning
: preg_match(): Compilation failed: invalid range in character class at offset 4 in
/wp-content/plugins/lightbox-plus/classes/shd.class.php
on line
1384
Warning
: preg_match(): Compilation failed: invalid range in character class at offset 4 in
/wp-content/plugins/lightbox-plus/classes/shd.class.php
on line
1384
Warning
: preg_match(): Compilation failed: invalid range in character class at offset 4 in
/wp-content/plugins/lightbox-plus/classes/shd.class.php
on line
1384
Warning
: preg_match(): Compilation failed: invalid range in character class at offset 4 in
/wp-content/plugins/lightbox-plus/classes/shd.class.php
on line
1384
Warning
: preg_match(): Compilation failed: invalid range in character class at offset 4 in
/wp-content/plugins/lightbox-plus/classes/shd.class.php
on line
1384
Warning
: preg_match(): Compilation failed: invalid range in character class at offset 4 in
/wp-content/plugins/lightbox-plus/classes/shd.class.php
on line
1384
Warning
: preg_match(): Compilation failed: invalid range in character class at offset 4 in
/wp-content/plugins/lightbox-plus/classes/shd.class.php
on line
1384
Warning
: preg_match(): Compilation failed: invalid range in character class at offset 4 in
/wp-content/plugins/lightbox-plus/classes/shd.class.php
on line
1384
Warning
: preg_match(): Compilation failed: invalid range in character class at offset 4 in
/wp-content/plugins/lightbox-plus/classes/shd.class.php
on line
1384
Warning
: preg_match(): Compilation failed: invalid range in character class at offset 4 in
/wp-content/plugins/lightbox-plus/classes/shd.class.php
on line
1384
Warning
: preg_match(): Compilation failed: invalid range in character class at offset 4 in
/wp-content/plugins/lightbox-plus/classes/shd.class.php
on line
1384
Warning
: preg_match(): Compilation failed: invalid range in character class at offset 4 in
/wp-content/plugins/lightbox-plus/classes/shd.class.php
on line
1384
Warning
: preg_match(): Compilation failed: invalid range in character class at offset 4 in
/wp-content/plugins/lightbox-plus/classes/shd.class.php
on line
1384
Warning
: preg_match_all(): Compilation failed: invalid range in character class at offset 4 in
/wp-content/plugins/lightbox-plus/classes/shd.class.php
on line
700
Warning
: Invalid argument supplied for foreach() in
/wp-content/plugins/lightbox-plus/classes/shd.class.php
on line
707
Warning
: preg_match_all(): Compilation failed: invalid range in character class at offset 4 in
/wp-content/plugins/lightbox-plus/classes/shd.class.php
on line
700
Warning
: Invalid argument supplied for foreach() in
/wp-content/plugins/lightbox-plus/classes/shd.class.php
on line
707
Używam do nich mąki owsianej bezglutenowej. Zdarzyło Ci się słyszeć o takiej?
Muszę przyznać, że pierwszy raz kiedy zobaczyłam ją w swoim ulubionym sklepie, byłam zaskoczona…  Kto widział takie rzeczy?! Przecież owies ma gluten!
Jednak producent owego wynalazku dobrze przygotował się na spotkanie z osobami nie tyle niedowierzającymi, co ostrożnymi. Na  sklepowej stronie została zamieszczona prezentacja jak to się tą niechcianą substancję zabiera z ziaren, żeby na opakowaniu mógł widnieć znaczek z przekreślonym kłosem. Trudno mi było uwierzyć ale pomyślałam, że nie będę się długo opierać skoro ktoś dla mojego dobra opracował tak fantastyczne rozwiązanie. 

Z serii owsianej, można nabyć nie tylko mąkę, ale również płatki. Można skosztować zarówno tych uniwersalnych, jak i z suszonymi owocami.
Mąkę wykorzystuję na razie powoli, choć podoba mi się coraz bardziej i możliwe, że to właśnie ona zajmie czołowe miejsce w mojej spiżarni. Zachęcam do jej kupienia! Nie w celu promocji sklepu ale po prostu ułatwienia sobie pracy. Jeżeli nie posiadasz jeszcze tej mąki możesz użyć do babeczek używanej dotychczas.
Na zasadzie testowania owego produktu powstał właśnie ten dzisiejszy deser,  którym chcę Ciebie "poczęstować." Ciasto na nie jest zupełnie inne. Nie wiem jak to zrobiłam ale trzeba przyznać, że ma piękny zapach i delikatny smak. Domowy krem i owoce dopełniają całości.
Zakładasz już fartuch?

Spodki z kremem i owocami:
Potrzebne składniki:
¨      100 g maki bezglutenowej, 100 g mąki owsianej bezglutenowej
¨      70 g cukru trzcinowego, 100 g zimnego masła, kilka łyżek zimnej wody
¨      250 g mleka, 2 żółtka, 20 g skrobi kukurydzianej, 50 g cukru
¨      Owoce: kiwi, mandarynki, truskawki (użyłam z puszki), winogrona lub inne
Sposób przygotowania:
Mąkę, cukier i masło połącz. Dodaj wodę i krótko zagniataj. Uformuj w kulę i włóż do lodówki na pół godziny. W tym czasie rozgrzej piekarnik i wysmaruj tłuszczem papilotki. Ciasto wyjmij, rozwałkuj i szklanką wytnij koła. Jeżeli będzie sprawiało problemy, dolej jeszcze trochę wody lub przeciwnie dosyp mąki. W zależności od konsystencji. Wylep nimi foremki papierowe do muffin. Nakłuj ciasto widelcem w kilku miejscach.  Piecz ok. 35 min w temp. 160 stopni C. W tym czasie pokrój owoce i przygotuj budyń:
Żółtka ubij z cukrem, dodaj skrobię. Mleko zagotuj. Gorącym zalej żółtka i utrzyj. Masę przelej do garnka i zagotuj ponownie. Ewentualne grudki rozetrzyj mikserem. Wyjmij spodki z piekarnika. Po chwilowym przestygnięciu do środka nałóż krem i udekoruj owocami.
Smacznego!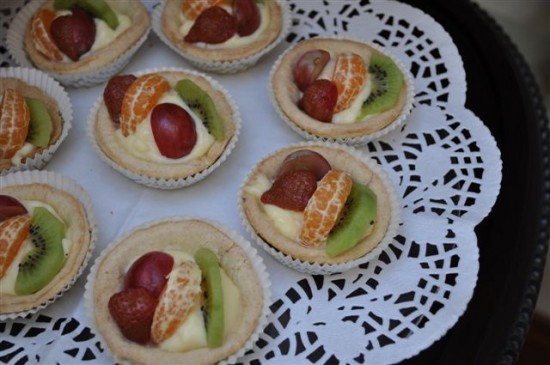 Drukuj przepis