Warning
: preg_match(): Compilation failed: invalid range in character class at offset 4 in
/wp-content/plugins/lightbox-plus/classes/shd.class.php
on line
1384
Warning
: preg_match(): Compilation failed: invalid range in character class at offset 4 in
/wp-content/plugins/lightbox-plus/classes/shd.class.php
on line
1384
Warning
: preg_match(): Compilation failed: invalid range in character class at offset 4 in
/wp-content/plugins/lightbox-plus/classes/shd.class.php
on line
1384
Warning
: preg_match(): Compilation failed: invalid range in character class at offset 4 in
/wp-content/plugins/lightbox-plus/classes/shd.class.php
on line
1384
Warning
: preg_match(): Compilation failed: invalid range in character class at offset 4 in
/wp-content/plugins/lightbox-plus/classes/shd.class.php
on line
1384
Warning
: preg_match(): Compilation failed: invalid range in character class at offset 4 in
/wp-content/plugins/lightbox-plus/classes/shd.class.php
on line
1384
Warning
: preg_match(): Compilation failed: invalid range in character class at offset 4 in
/wp-content/plugins/lightbox-plus/classes/shd.class.php
on line
1384
Warning
: preg_match(): Compilation failed: invalid range in character class at offset 4 in
/wp-content/plugins/lightbox-plus/classes/shd.class.php
on line
1384
Warning
: preg_match(): Compilation failed: invalid range in character class at offset 4 in
/wp-content/plugins/lightbox-plus/classes/shd.class.php
on line
1384
Warning
: preg_match(): Compilation failed: invalid range in character class at offset 4 in
/wp-content/plugins/lightbox-plus/classes/shd.class.php
on line
1384
Warning
: preg_match(): Compilation failed: invalid range in character class at offset 4 in
/wp-content/plugins/lightbox-plus/classes/shd.class.php
on line
1384
Warning
: preg_match(): Compilation failed: invalid range in character class at offset 4 in
/wp-content/plugins/lightbox-plus/classes/shd.class.php
on line
1384
Warning
: preg_match(): Compilation failed: invalid range in character class at offset 4 in
/wp-content/plugins/lightbox-plus/classes/shd.class.php
on line
1384
Warning
: preg_match(): Compilation failed: invalid range in character class at offset 4 in
/wp-content/plugins/lightbox-plus/classes/shd.class.php
on line
1384
Warning
: preg_match(): Compilation failed: invalid range in character class at offset 4 in
/wp-content/plugins/lightbox-plus/classes/shd.class.php
on line
1384
Warning
: preg_match(): Compilation failed: invalid range in character class at offset 4 in
/wp-content/plugins/lightbox-plus/classes/shd.class.php
on line
1384
Warning
: preg_match(): Compilation failed: invalid range in character class at offset 4 in
/wp-content/plugins/lightbox-plus/classes/shd.class.php
on line
1384
Warning
: preg_match(): Compilation failed: invalid range in character class at offset 4 in
/wp-content/plugins/lightbox-plus/classes/shd.class.php
on line
1384
Warning
: preg_match(): Compilation failed: invalid range in character class at offset 4 in
/wp-content/plugins/lightbox-plus/classes/shd.class.php
on line
1384
Warning
: preg_match(): Compilation failed: invalid range in character class at offset 4 in
/wp-content/plugins/lightbox-plus/classes/shd.class.php
on line
1384
Warning
: preg_match(): Compilation failed: invalid range in character class at offset 4 in
/wp-content/plugins/lightbox-plus/classes/shd.class.php
on line
1384
Warning
: preg_match(): Compilation failed: invalid range in character class at offset 4 in
/wp-content/plugins/lightbox-plus/classes/shd.class.php
on line
1384
Warning
: preg_match(): Compilation failed: invalid range in character class at offset 4 in
/wp-content/plugins/lightbox-plus/classes/shd.class.php
on line
1384
Warning
: preg_match(): Compilation failed: invalid range in character class at offset 4 in
/wp-content/plugins/lightbox-plus/classes/shd.class.php
on line
1384
Warning
: preg_match(): Compilation failed: invalid range in character class at offset 4 in
/wp-content/plugins/lightbox-plus/classes/shd.class.php
on line
1384
Warning
: preg_match(): Compilation failed: invalid range in character class at offset 4 in
/wp-content/plugins/lightbox-plus/classes/shd.class.php
on line
1384
Warning
: preg_match(): Compilation failed: invalid range in character class at offset 4 in
/wp-content/plugins/lightbox-plus/classes/shd.class.php
on line
1384
Warning
: preg_match(): Compilation failed: invalid range in character class at offset 4 in
/wp-content/plugins/lightbox-plus/classes/shd.class.php
on line
1384
Warning
: preg_match(): Compilation failed: invalid range in character class at offset 4 in
/wp-content/plugins/lightbox-plus/classes/shd.class.php
on line
1384
Warning
: preg_match(): Compilation failed: invalid range in character class at offset 4 in
/wp-content/plugins/lightbox-plus/classes/shd.class.php
on line
1384
Warning
: preg_match(): Compilation failed: invalid range in character class at offset 4 in
/wp-content/plugins/lightbox-plus/classes/shd.class.php
on line
1384
Warning
: preg_match(): Compilation failed: invalid range in character class at offset 4 in
/wp-content/plugins/lightbox-plus/classes/shd.class.php
on line
1384
Warning
: preg_match(): Compilation failed: invalid range in character class at offset 4 in
/wp-content/plugins/lightbox-plus/classes/shd.class.php
on line
1384
Warning
: preg_match(): Compilation failed: invalid range in character class at offset 4 in
/wp-content/plugins/lightbox-plus/classes/shd.class.php
on line
1384
Warning
: preg_match(): Compilation failed: invalid range in character class at offset 4 in
/wp-content/plugins/lightbox-plus/classes/shd.class.php
on line
1384
Warning
: preg_match(): Compilation failed: invalid range in character class at offset 4 in
/wp-content/plugins/lightbox-plus/classes/shd.class.php
on line
1384
Warning
: preg_match(): Compilation failed: invalid range in character class at offset 4 in
/wp-content/plugins/lightbox-plus/classes/shd.class.php
on line
1384
Warning
: preg_match_all(): Compilation failed: invalid range in character class at offset 4 in
/wp-content/plugins/lightbox-plus/classes/shd.class.php
on line
700
Warning
: Invalid argument supplied for foreach() in
/wp-content/plugins/lightbox-plus/classes/shd.class.php
on line
707
Warning
: preg_match_all(): Compilation failed: invalid range in character class at offset 4 in
/wp-content/plugins/lightbox-plus/classes/shd.class.php
on line
700
Warning
: Invalid argument supplied for foreach() in
/wp-content/plugins/lightbox-plus/classes/shd.class.php
on line
707
Ostatnie dni czerwca zawsze są niczym obietnica pięknej przygody, ale w tym roku (nie pierwszy już raz) niemal wszystkie z wakacyjnych tygodni upłynęły na pracy, a dni nie wiedzieć kiedy, stały się takie krótkie, szare i zimne. Jesień niezmiennie ma w sobie jednak coś pięknego i odświeża rozleniwiony, przegrzany nieco umysł. Kiedy młodzież w godzinach szczytu wyłania się zza co drugiego rogu z plecakami, a na targach pojawiają się okazy złocistej dyni, nie potrafię przeklinać chłodu mimo deszczu i zatłoczonych tramwajów. Do zimy jeszcze daleko, a liście póki co nie spadają tak obficie. Jesienią lubię dobrze i czysto jeść (zupy!, warzywa, gorące wywary, duuużo imbiru, ciepła woda, mało cukru) i mieć poczucie odporności. Czasami jednak miło jest sprawić sobie mały prezent w postaci czegoś słodkiego- oblizać łyżkę czekolady rozpuszczonej z masłem albo zapiec śliwki pod cynamonową kruszonką. Jakiś czas temu, kiedy słońce prażyło nas jeszcze nieprzyzwoicie, zabrałam się za pieczenie słynnego flapjacka- szybkich, owsianych batonów. Swego czasu, Redaktorka, z którą miałam wielką przyjemność pracować przy wydaniu na świat pierwszej książki, wspominała często, że znowu i znowu popełniła ten przepis, który podbił serca jej bliskich. Tym razem postawiłam na prostą, bardziej ascetyczną wersję wypieku, z borówkami, których tata po raz pierwszy zbierał na działce tak obfite plony. Pierwszy blok przygotowałam z cukrem muscovado, nadającym batonikom charakterystyczną nutę, która nie każdemu może przypaść do gustu. Kolejny był naprawdę idealny. Zniknął za szybko, a to co udało się uratować zabrałam w pudełko, którego zawartość spałaszowałyśmy wraz z przyjaciółką w samolocie. Po powrocie do Warszawy obiecałam sobie opublikować przepis, jednak proporcje, które zapisałam na jakimś karteluszku oczywiście zniknęły. Przeszukałam książki, notatki w telefonie, prosiłam mamę żeby zerknęła w domu. Te jednak przepadły jak kamień w wodę. O dziwo kompletnie nie mogłam przypomnieć sobie tak banalnej receptury więc postanowiłam na jakiś czas o niej zapomnieć. Zakupione specjalnie płatki szły na owsiankę, borówki tajemniczo znikały, a po syrop było jakoś nie po drodze. Kilka dni temu, kiedy wszystko co potrzebne było akurat pod ręką, przyszedł czas na eksperyment. Przepisów na te słynne batony znajdziecie (szczególnie na brytyjskich blogach) całe mnóstwo dlatego też ten, który dyktuję poniżej, przygotowałam bez dodatku mleka. Początkowo płatki łączyłam z olejem kokosowym więc jeżeli nie sięgacie po produkty pochodzenia mlecznego, możecie śmiało wymienić sklarowane masło. To baaardzo proste w przygotowaniu, a pyszne co nie co, które można zabrać w drogę. Polecam!
5-6 sztuk
Batony owsiane z borówką
składniki
100 g płatków owsianych (bezglutenowych)
50 g syropu klonowego
50 g masła klarowanego (lub oleju kokosowego)
2-3 łyżki cukru trzcinowego
100 g borówek
wykonanie
Płatki wrzuć do naczynia blendera i rozdrobnij bardzo krótko. W Thermo zajmuje mi to sekundę.
Masło rozpuść w garnuszku.
Wszystkie składniki połącz ze sobą za pomocą łyżki. Dodaj borówki, przemieszaj.
Małą kek sówkę natłuść delikatnie masłem i wyściel dokładnie papierem do pieczenia.
Składniki wyłóż do foremki i dokładnie uklep, wyrównaj. Piecz ok. 20-25 minut w temperaturze 170 stopni C. Sprawdzaj co jakiś czas. Na wierzchu powinna utworzyć się skorupka, ale lepiej żeby nie była zbyt twarda. Baton będzie wtedy ciężej się kroił.
Upieczone "ciasto" wystudź zupełnie.
Pokrój ostrym nożem na prostokąty. Przechowuj w zamkniętym pudełku.
Smacznego!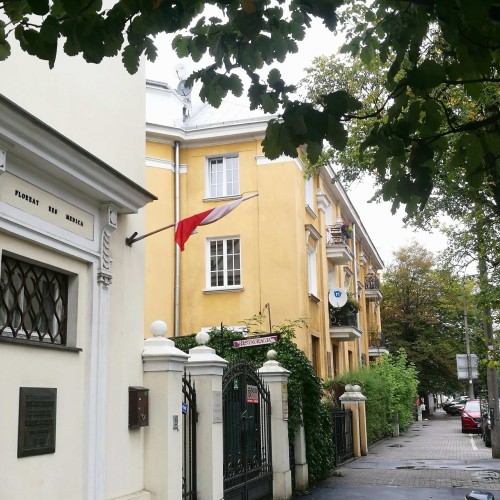 Stara Ochota :), Mieszkańcy Warszawy- gdzie lubicie spacerować?

Drukuj przepis