Warning
: preg_match(): Compilation failed: invalid range in character class at offset 4 in
/wp-content/plugins/lightbox-plus/classes/shd.class.php
on line
1384
Warning
: preg_match(): Compilation failed: invalid range in character class at offset 4 in
/wp-content/plugins/lightbox-plus/classes/shd.class.php
on line
1384
Warning
: preg_match(): Compilation failed: invalid range in character class at offset 4 in
/wp-content/plugins/lightbox-plus/classes/shd.class.php
on line
1384
Warning
: preg_match(): Compilation failed: invalid range in character class at offset 4 in
/wp-content/plugins/lightbox-plus/classes/shd.class.php
on line
1384
Warning
: preg_match(): Compilation failed: invalid range in character class at offset 4 in
/wp-content/plugins/lightbox-plus/classes/shd.class.php
on line
1384
Warning
: preg_match(): Compilation failed: invalid range in character class at offset 4 in
/wp-content/plugins/lightbox-plus/classes/shd.class.php
on line
1384
Warning
: preg_match(): Compilation failed: invalid range in character class at offset 4 in
/wp-content/plugins/lightbox-plus/classes/shd.class.php
on line
1384
Warning
: preg_match(): Compilation failed: invalid range in character class at offset 4 in
/wp-content/plugins/lightbox-plus/classes/shd.class.php
on line
1384
Warning
: preg_match(): Compilation failed: invalid range in character class at offset 4 in
/wp-content/plugins/lightbox-plus/classes/shd.class.php
on line
1384
Warning
: preg_match(): Compilation failed: invalid range in character class at offset 4 in
/wp-content/plugins/lightbox-plus/classes/shd.class.php
on line
1384
Warning
: preg_match(): Compilation failed: invalid range in character class at offset 4 in
/wp-content/plugins/lightbox-plus/classes/shd.class.php
on line
1384
Warning
: preg_match(): Compilation failed: invalid range in character class at offset 4 in
/wp-content/plugins/lightbox-plus/classes/shd.class.php
on line
1384
Warning
: preg_match(): Compilation failed: invalid range in character class at offset 4 in
/wp-content/plugins/lightbox-plus/classes/shd.class.php
on line
1384
Warning
: preg_match(): Compilation failed: invalid range in character class at offset 4 in
/wp-content/plugins/lightbox-plus/classes/shd.class.php
on line
1384
Warning
: preg_match(): Compilation failed: invalid range in character class at offset 4 in
/wp-content/plugins/lightbox-plus/classes/shd.class.php
on line
1384
Warning
: preg_match(): Compilation failed: invalid range in character class at offset 4 in
/wp-content/plugins/lightbox-plus/classes/shd.class.php
on line
1384
Warning
: preg_match(): Compilation failed: invalid range in character class at offset 4 in
/wp-content/plugins/lightbox-plus/classes/shd.class.php
on line
1384
Warning
: preg_match(): Compilation failed: invalid range in character class at offset 4 in
/wp-content/plugins/lightbox-plus/classes/shd.class.php
on line
1384
Warning
: preg_match(): Compilation failed: invalid range in character class at offset 4 in
/wp-content/plugins/lightbox-plus/classes/shd.class.php
on line
1384
Warning
: preg_match(): Compilation failed: invalid range in character class at offset 4 in
/wp-content/plugins/lightbox-plus/classes/shd.class.php
on line
1384
Warning
: preg_match(): Compilation failed: invalid range in character class at offset 4 in
/wp-content/plugins/lightbox-plus/classes/shd.class.php
on line
1384
Warning
: preg_match(): Compilation failed: invalid range in character class at offset 4 in
/wp-content/plugins/lightbox-plus/classes/shd.class.php
on line
1384
Warning
: preg_match(): Compilation failed: invalid range in character class at offset 4 in
/wp-content/plugins/lightbox-plus/classes/shd.class.php
on line
1384
Warning
: preg_match(): Compilation failed: invalid range in character class at offset 4 in
/wp-content/plugins/lightbox-plus/classes/shd.class.php
on line
1384
Warning
: preg_match(): Compilation failed: invalid range in character class at offset 4 in
/wp-content/plugins/lightbox-plus/classes/shd.class.php
on line
1384
Warning
: preg_match(): Compilation failed: invalid range in character class at offset 4 in
/wp-content/plugins/lightbox-plus/classes/shd.class.php
on line
1384
Warning
: preg_match(): Compilation failed: invalid range in character class at offset 4 in
/wp-content/plugins/lightbox-plus/classes/shd.class.php
on line
1384
Warning
: preg_match(): Compilation failed: invalid range in character class at offset 4 in
/wp-content/plugins/lightbox-plus/classes/shd.class.php
on line
1384
Warning
: preg_match(): Compilation failed: invalid range in character class at offset 4 in
/wp-content/plugins/lightbox-plus/classes/shd.class.php
on line
1384
Warning
: preg_match(): Compilation failed: invalid range in character class at offset 4 in
/wp-content/plugins/lightbox-plus/classes/shd.class.php
on line
1384
Warning
: preg_match(): Compilation failed: invalid range in character class at offset 4 in
/wp-content/plugins/lightbox-plus/classes/shd.class.php
on line
1384
Warning
: preg_match(): Compilation failed: invalid range in character class at offset 4 in
/wp-content/plugins/lightbox-plus/classes/shd.class.php
on line
1384
Warning
: preg_match(): Compilation failed: invalid range in character class at offset 4 in
/wp-content/plugins/lightbox-plus/classes/shd.class.php
on line
1384
Warning
: preg_match(): Compilation failed: invalid range in character class at offset 4 in
/wp-content/plugins/lightbox-plus/classes/shd.class.php
on line
1384
Warning
: preg_match(): Compilation failed: invalid range in character class at offset 4 in
/wp-content/plugins/lightbox-plus/classes/shd.class.php
on line
1384
Warning
: preg_match(): Compilation failed: invalid range in character class at offset 4 in
/wp-content/plugins/lightbox-plus/classes/shd.class.php
on line
1384
Warning
: preg_match(): Compilation failed: invalid range in character class at offset 4 in
/wp-content/plugins/lightbox-plus/classes/shd.class.php
on line
1384
Warning
: preg_match(): Compilation failed: invalid range in character class at offset 4 in
/wp-content/plugins/lightbox-plus/classes/shd.class.php
on line
1384
Warning
: preg_match(): Compilation failed: invalid range in character class at offset 4 in
/wp-content/plugins/lightbox-plus/classes/shd.class.php
on line
1384
Warning
: preg_match(): Compilation failed: invalid range in character class at offset 4 in
/wp-content/plugins/lightbox-plus/classes/shd.class.php
on line
1384
Warning
: preg_match(): Compilation failed: invalid range in character class at offset 4 in
/wp-content/plugins/lightbox-plus/classes/shd.class.php
on line
1384
Warning
: preg_match(): Compilation failed: invalid range in character class at offset 4 in
/wp-content/plugins/lightbox-plus/classes/shd.class.php
on line
1384
Warning
: preg_match(): Compilation failed: invalid range in character class at offset 4 in
/wp-content/plugins/lightbox-plus/classes/shd.class.php
on line
1384
Warning
: preg_match_all(): Compilation failed: invalid range in character class at offset 4 in
/wp-content/plugins/lightbox-plus/classes/shd.class.php
on line
700
Warning
: Invalid argument supplied for foreach() in
/wp-content/plugins/lightbox-plus/classes/shd.class.php
on line
707
Warning
: preg_match_all(): Compilation failed: invalid range in character class at offset 4 in
/wp-content/plugins/lightbox-plus/classes/shd.class.php
on line
700
Warning
: Invalid argument supplied for foreach() in
/wp-content/plugins/lightbox-plus/classes/shd.class.php
on line
707
Na początku diety nie wyobrażałam sobie, że drożdżowe ciasto bezglutenowe może w ogóle powstać.  Na swojej drodze stawiałam mnóstwo znaków ostrzegawczych, zwłaszcza tych mówiących "stop".  Jadłam różne trocinki tylko dlatego, że to ja sama stawiałam sobie ograniczenia. Dzisiaj? wszystkie znaki zostawiłam w tyle, pędzę  i mam się świetnie!

Te rogale były moim pierwszym odkryciem, że można inaczej. Odważnie wykonywałam wszystkie czynności związane z ich przygotowaniem i jestem z tego faktu szalenie dumna.  Śmiem twierdzić, że w znacznej części to właśnie ekipa tych przystojniaków przyczyniła się do powstania natchnionej.pl!
Choć dużo z nimi roboty, uwierz- warto zachodu. Możesz je nadziać czym tylko zapragniesz: czekoladą, marmoladą. Są świetne, kruche i pachnące.  Do zjedzenia na jeden raz

dosłownie!
Rogaliki:
Potrzebne składniki:
¨      50 dag mąki bezglutenowej (użyłam bread mix firmy Schar); 2 łyżki cukru pudru;  5 dag świeżych  drożdży , 1/5 szklanki mleka
¨      4 żółtka ; 8 dag masła, 20 dag cukru pudru, 200 ml mleka
¨      Ulubione nadzienie, białko
¨      Papier do pieczenia, mąka do podsypywania
Piekarnik nagrzej do temperatury 170 stopni C. Wyłóż blachę papierem.
Rozprowadź  drożdże w 1/5 szklanki ciepłego mleka i 2 łyżkach cukru pudru. Odstaw na 15 minut.
Żółtka utrzyj z cukrem. Połącz z 1/3 mąki i mlekiem. Rozpuszczone, wystudzone masło wlewaj powoli do masy.   Dodaj uprzednio przygotowany rozczyn (drożdże, cukier, mleko). Stopniowo dosypuj resztę mąki i wyrabiaj aż do uzyskania elastycznego ciasta. Przykryj wilgotną ściereczką i pozostaw w ciepłym miejscu na ok. 45 min. Po tym czasie rozwałkuj ciasto i pokrój na trójkąty. Na każdym ułóż łyżeczkę konfitury i zawiń. Każdy rogalik posmaruj białkiem a następnie piecz ok. 20 min.
Po wystudzeniu możesz posypać cukrem pudrem, lub polać lukrem.
Smacznego!
Radzę przygotować podwójną porcję, jeżeli jesteś łasuchem takim jak ja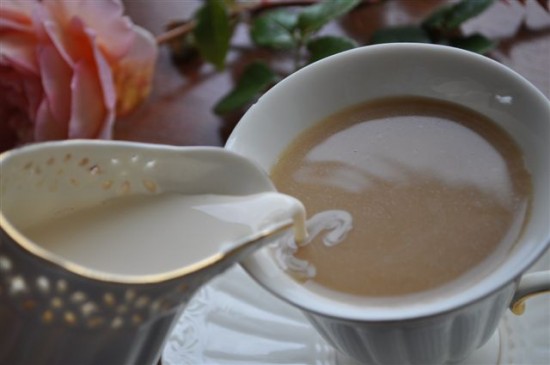 Drukuj przepis