Warning
: preg_match(): Compilation failed: invalid range in character class at offset 4 in
/wp-content/plugins/lightbox-plus/classes/shd.class.php
on line
1384
Warning
: preg_match(): Compilation failed: invalid range in character class at offset 4 in
/wp-content/plugins/lightbox-plus/classes/shd.class.php
on line
1384
Warning
: preg_match(): Compilation failed: invalid range in character class at offset 4 in
/wp-content/plugins/lightbox-plus/classes/shd.class.php
on line
1384
Warning
: preg_match(): Compilation failed: invalid range in character class at offset 4 in
/wp-content/plugins/lightbox-plus/classes/shd.class.php
on line
1384
Warning
: preg_match(): Compilation failed: invalid range in character class at offset 4 in
/wp-content/plugins/lightbox-plus/classes/shd.class.php
on line
1384
Warning
: preg_match(): Compilation failed: invalid range in character class at offset 4 in
/wp-content/plugins/lightbox-plus/classes/shd.class.php
on line
1384
Warning
: preg_match(): Compilation failed: invalid range in character class at offset 4 in
/wp-content/plugins/lightbox-plus/classes/shd.class.php
on line
1384
Warning
: preg_match(): Compilation failed: invalid range in character class at offset 4 in
/wp-content/plugins/lightbox-plus/classes/shd.class.php
on line
1384
Warning
: preg_match(): Compilation failed: invalid range in character class at offset 4 in
/wp-content/plugins/lightbox-plus/classes/shd.class.php
on line
1384
Warning
: preg_match(): Compilation failed: invalid range in character class at offset 4 in
/wp-content/plugins/lightbox-plus/classes/shd.class.php
on line
1384
Warning
: preg_match(): Compilation failed: invalid range in character class at offset 4 in
/wp-content/plugins/lightbox-plus/classes/shd.class.php
on line
1384
Warning
: preg_match(): Compilation failed: invalid range in character class at offset 4 in
/wp-content/plugins/lightbox-plus/classes/shd.class.php
on line
1384
Warning
: preg_match(): Compilation failed: invalid range in character class at offset 4 in
/wp-content/plugins/lightbox-plus/classes/shd.class.php
on line
1384
Warning
: preg_match(): Compilation failed: invalid range in character class at offset 4 in
/wp-content/plugins/lightbox-plus/classes/shd.class.php
on line
1384
Warning
: preg_match(): Compilation failed: invalid range in character class at offset 4 in
/wp-content/plugins/lightbox-plus/classes/shd.class.php
on line
1384
Warning
: preg_match(): Compilation failed: invalid range in character class at offset 4 in
/wp-content/plugins/lightbox-plus/classes/shd.class.php
on line
1384
Warning
: preg_match(): Compilation failed: invalid range in character class at offset 4 in
/wp-content/plugins/lightbox-plus/classes/shd.class.php
on line
1384
Warning
: preg_match(): Compilation failed: invalid range in character class at offset 4 in
/wp-content/plugins/lightbox-plus/classes/shd.class.php
on line
1384
Warning
: preg_match(): Compilation failed: invalid range in character class at offset 4 in
/wp-content/plugins/lightbox-plus/classes/shd.class.php
on line
1384
Warning
: preg_match(): Compilation failed: invalid range in character class at offset 4 in
/wp-content/plugins/lightbox-plus/classes/shd.class.php
on line
1384
Warning
: preg_match(): Compilation failed: invalid range in character class at offset 4 in
/wp-content/plugins/lightbox-plus/classes/shd.class.php
on line
1384
Warning
: preg_match(): Compilation failed: invalid range in character class at offset 4 in
/wp-content/plugins/lightbox-plus/classes/shd.class.php
on line
1384
Warning
: preg_match(): Compilation failed: invalid range in character class at offset 4 in
/wp-content/plugins/lightbox-plus/classes/shd.class.php
on line
1384
Warning
: preg_match(): Compilation failed: invalid range in character class at offset 4 in
/wp-content/plugins/lightbox-plus/classes/shd.class.php
on line
1384
Warning
: preg_match(): Compilation failed: invalid range in character class at offset 4 in
/wp-content/plugins/lightbox-plus/classes/shd.class.php
on line
1384
Warning
: preg_match(): Compilation failed: invalid range in character class at offset 4 in
/wp-content/plugins/lightbox-plus/classes/shd.class.php
on line
1384
Warning
: preg_match(): Compilation failed: invalid range in character class at offset 4 in
/wp-content/plugins/lightbox-plus/classes/shd.class.php
on line
1384
Warning
: preg_match(): Compilation failed: invalid range in character class at offset 4 in
/wp-content/plugins/lightbox-plus/classes/shd.class.php
on line
1384
Warning
: preg_match(): Compilation failed: invalid range in character class at offset 4 in
/wp-content/plugins/lightbox-plus/classes/shd.class.php
on line
1384
Warning
: preg_match(): Compilation failed: invalid range in character class at offset 4 in
/wp-content/plugins/lightbox-plus/classes/shd.class.php
on line
1384
Warning
: preg_match(): Compilation failed: invalid range in character class at offset 4 in
/wp-content/plugins/lightbox-plus/classes/shd.class.php
on line
1384
Warning
: preg_match(): Compilation failed: invalid range in character class at offset 4 in
/wp-content/plugins/lightbox-plus/classes/shd.class.php
on line
1384
Warning
: preg_match(): Compilation failed: invalid range in character class at offset 4 in
/wp-content/plugins/lightbox-plus/classes/shd.class.php
on line
1384
Warning
: preg_match(): Compilation failed: invalid range in character class at offset 4 in
/wp-content/plugins/lightbox-plus/classes/shd.class.php
on line
1384
Warning
: preg_match(): Compilation failed: invalid range in character class at offset 4 in
/wp-content/plugins/lightbox-plus/classes/shd.class.php
on line
1384
Warning
: preg_match(): Compilation failed: invalid range in character class at offset 4 in
/wp-content/plugins/lightbox-plus/classes/shd.class.php
on line
1384
Warning
: preg_match(): Compilation failed: invalid range in character class at offset 4 in
/wp-content/plugins/lightbox-plus/classes/shd.class.php
on line
1384
Warning
: preg_match(): Compilation failed: invalid range in character class at offset 4 in
/wp-content/plugins/lightbox-plus/classes/shd.class.php
on line
1384
Warning
: preg_match(): Compilation failed: invalid range in character class at offset 4 in
/wp-content/plugins/lightbox-plus/classes/shd.class.php
on line
1384
Warning
: preg_match(): Compilation failed: invalid range in character class at offset 4 in
/wp-content/plugins/lightbox-plus/classes/shd.class.php
on line
1384
Warning
: preg_match(): Compilation failed: invalid range in character class at offset 4 in
/wp-content/plugins/lightbox-plus/classes/shd.class.php
on line
1384
Warning
: preg_match(): Compilation failed: invalid range in character class at offset 4 in
/wp-content/plugins/lightbox-plus/classes/shd.class.php
on line
1384
Warning
: preg_match(): Compilation failed: invalid range in character class at offset 4 in
/wp-content/plugins/lightbox-plus/classes/shd.class.php
on line
1384
Warning
: preg_match(): Compilation failed: invalid range in character class at offset 4 in
/wp-content/plugins/lightbox-plus/classes/shd.class.php
on line
1384
Warning
: preg_match(): Compilation failed: invalid range in character class at offset 4 in
/wp-content/plugins/lightbox-plus/classes/shd.class.php
on line
1384
Warning
: preg_match(): Compilation failed: invalid range in character class at offset 4 in
/wp-content/plugins/lightbox-plus/classes/shd.class.php
on line
1384
Warning
: preg_match(): Compilation failed: invalid range in character class at offset 4 in
/wp-content/plugins/lightbox-plus/classes/shd.class.php
on line
1384
Warning
: preg_match(): Compilation failed: invalid range in character class at offset 4 in
/wp-content/plugins/lightbox-plus/classes/shd.class.php
on line
1384
Warning
: preg_match(): Compilation failed: invalid range in character class at offset 4 in
/wp-content/plugins/lightbox-plus/classes/shd.class.php
on line
1384
Warning
: preg_match(): Compilation failed: invalid range in character class at offset 4 in
/wp-content/plugins/lightbox-plus/classes/shd.class.php
on line
1384
Warning
: preg_match(): Compilation failed: invalid range in character class at offset 4 in
/wp-content/plugins/lightbox-plus/classes/shd.class.php
on line
1384
Warning
: preg_match(): Compilation failed: invalid range in character class at offset 4 in
/wp-content/plugins/lightbox-plus/classes/shd.class.php
on line
1384
Warning
: preg_match(): Compilation failed: invalid range in character class at offset 4 in
/wp-content/plugins/lightbox-plus/classes/shd.class.php
on line
1384
Warning
: preg_match(): Compilation failed: invalid range in character class at offset 4 in
/wp-content/plugins/lightbox-plus/classes/shd.class.php
on line
1384
Warning
: preg_match(): Compilation failed: invalid range in character class at offset 4 in
/wp-content/plugins/lightbox-plus/classes/shd.class.php
on line
1384
Warning
: preg_match(): Compilation failed: invalid range in character class at offset 4 in
/wp-content/plugins/lightbox-plus/classes/shd.class.php
on line
1384
Warning
: preg_match(): Compilation failed: invalid range in character class at offset 4 in
/wp-content/plugins/lightbox-plus/classes/shd.class.php
on line
1384
Warning
: preg_match(): Compilation failed: invalid range in character class at offset 4 in
/wp-content/plugins/lightbox-plus/classes/shd.class.php
on line
1384
Warning
: preg_match(): Compilation failed: invalid range in character class at offset 4 in
/wp-content/plugins/lightbox-plus/classes/shd.class.php
on line
1384
Warning
: preg_match(): Compilation failed: invalid range in character class at offset 4 in
/wp-content/plugins/lightbox-plus/classes/shd.class.php
on line
1384
Warning
: preg_match(): Compilation failed: invalid range in character class at offset 4 in
/wp-content/plugins/lightbox-plus/classes/shd.class.php
on line
1384
Warning
: preg_match(): Compilation failed: invalid range in character class at offset 4 in
/wp-content/plugins/lightbox-plus/classes/shd.class.php
on line
1384
Warning
: preg_match(): Compilation failed: invalid range in character class at offset 4 in
/wp-content/plugins/lightbox-plus/classes/shd.class.php
on line
1384
Warning
: preg_match(): Compilation failed: invalid range in character class at offset 4 in
/wp-content/plugins/lightbox-plus/classes/shd.class.php
on line
1384
Warning
: preg_match(): Compilation failed: invalid range in character class at offset 4 in
/wp-content/plugins/lightbox-plus/classes/shd.class.php
on line
1384
Warning
: preg_match_all(): Compilation failed: invalid range in character class at offset 4 in
/wp-content/plugins/lightbox-plus/classes/shd.class.php
on line
700
Warning
: Invalid argument supplied for foreach() in
/wp-content/plugins/lightbox-plus/classes/shd.class.php
on line
707
Warning
: preg_match_all(): Compilation failed: invalid range in character class at offset 4 in
/wp-content/plugins/lightbox-plus/classes/shd.class.php
on line
700
Warning
: Invalid argument supplied for foreach() in
/wp-content/plugins/lightbox-plus/classes/shd.class.php
on line
707
Jak co roku o tej porze, ruch na blogu skupia się w okół receptur na pierogi. Rok temu pisałam już trochę o ich historii w mojej bezglutenowej kuchni i przekonana o szczęśliwym zakończeniu tych perypetii opublikowałam przepis na pierogi doskonałe. I kiedy tak pięknie pisaliście o efektach tej pracy, na warsztatach lepiliśmy coraz to lepsze egzemplarze, a i na naszej rodzinnej wieczerzy zjedliśmy ich całą masę, myślałam, że już zawsze będziemy wracać do tej receptury, a każdy bez względu na ograniczenia dietetyczne czy umiejętności będzie mógł przygotować porcję tradycyjnego dobra dla siebie lub bliskich. Lecz w momencie, w którym w komentarzach i wiadomościach zaczęły napływać pytania o wersję bez najważniejszego składnika owej receptury- złocistego siemienia lnianego- czar prysł. I kiedy jak zwykle zaczęłam już załamywać ręce, napisała do mnie borykająca się z chorobą autoimmunologiczną Kasia, której serdeczna, konkretna postawa i chęć pomocy sprawiły, że na nowo rozpoczęłam wielkie wałkowanie, lepienie, kreślenie proporcji i kolejne degustacje.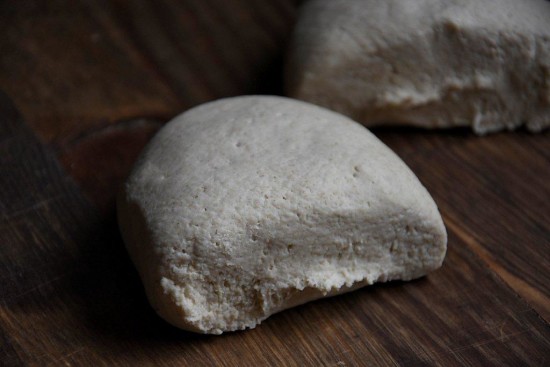 Ci którzy są tutaj dłużej, wiedzą, że nie nadużywam określenia "doskonałe". Przydomek taki otrzymują receptury najlepsze w swojej kategorii, testowane na tyle intensywnie, że mogę podpisać się pod nimi obiema rękoma. Tylko co właściwie począć, kiedy pierogi, na które przepis poniżej, smakują równie dobrze, jak te które miały być najlepsze, a członkini degustującej komisji twierdzi, że lepiej? Podejrzewam, że nie zostaje nam nic innego jak zaakceptować, że od dziś na szczycie podium pysznią się aż dwa przepisy. Zdradzę jeszcze, że ciasto z poniższego przepisu jest bardzo elastyczne, dobrze się wałkuje, przechowuje i potrafi pomieścić bardzo dużo farszu. Resztę sprawdźcie już sami

30 sztuk
Pierogi doskonałe II
składniki
ciasto
150 g mąki owsianej (bezglutenowej)
80 g mąki ziemniaczanej lub z tapioki
200-250 ml bardzo ciepłej wody
2 łyżki oleju
1 łyżeczka soli
dodatkowo
więcej mąki ziemniaczanej do podsypywania ciasta
farsz (np. z tego przepisu)
1-2 łyżeczki soli do gotowania
wykonanie
Oba rodzaje mąki wsyp do miski. Wymieszaj z solą i olejem. Dodaj połowę wody i rozpocznij wyrabianie ciasta za pomocą miksera lub robota kuchennego. Cały czas miksując, stopniowo dodawaj pozostały płyn. Ciasto powinno być jednolite i bardzo plastyczne. Wyłącz mikser i dokończ wyrabianie ręcznie. Uformuj ciasto w coś na kształt kuli i podziel na 2-3 części. Jedną pozostaw na blacie, a pozostałe koniecznie owiń dokładnie przezroczystą folią lub włóż do woreczka strunowego.
Blat oprósz minimalną ilością mąki ziemniaczanej. Ciasto rozwałkuj cienko. Szklanką wytnij kilka kółek. Na środku każdego ułóż łyżeczkę farszu i złóż na pół. Zlep dokładnie przyciskając mocno. Możesz wykończyć końce warkoczykiem, odciskając końcówkę widelca lub lepiąc zakładki.
Gotowe pierogi wrzucaj do garnka z wrzącą, posoloną wodą. Kiedy wypłyną gotuj około minuty. Wyłów łyżką cedzakową i delikatnie opłucz pod zimną wodą aby uniknąć wzajemnego sklejania. Układaj na talerzu.
Pierogi możesz przechowywać w lodówce przez kilka dni lub jeszcze przed ugotowaniem zamrozić.
Smacznego!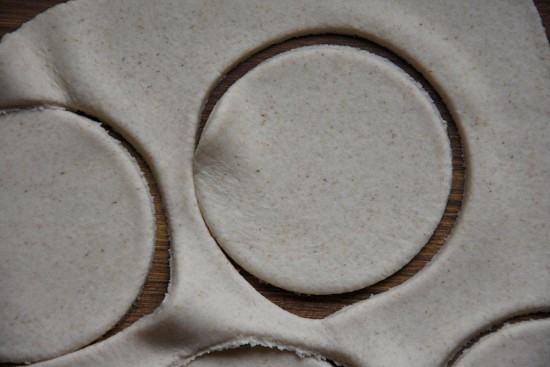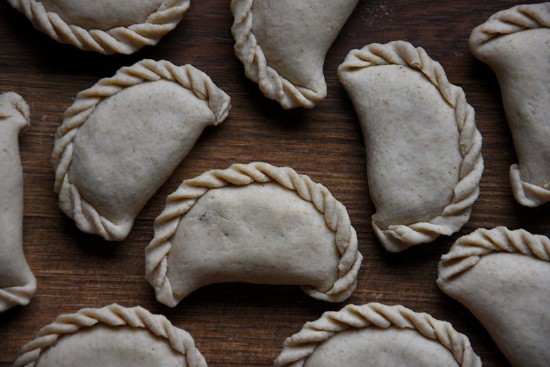 Uwagi
Woda, której użyjesz nie może być wrząca. Powinna być gorąca na tyle żeby móc zanurzyć w niej palec nie parząc się.
Bardzo ważny jest etap pierwszy czyli prawidłowe wyrobienie ciasta. Odpowiednia ilość wody jest kluczowa w całej późniejszej zabawie i pozwoli uniknąć frustracji przy wałkowaniu. Zbyt mała jej ilość sprawi, że ciasto będzie się kruszyć, rwać lub rozwarstwiać, a zbyt duża- lepić się do wałka i dłoni. Użyj miksera by ułatwić sobie wstępne połączenie składników, ale poświęć też chwilę na wyrobienie ciasta ręcznie.
Jeżeli potrzebujesz podsypać blat mąką, użyj ziemniaczanej. Pamiętaj jednak żeby używać minimalną jej ilość. Odpowiednio wyrobione ciasto nie będzie kleić się do żadnych powierzchni, a duża ilość mąki sprawi, że nie będziesz w stanie zlepić końców pierogów.
Może się wydawać, że wycięcie od razu wszystkich kółek zaoszczędzi czas i energię. Niestety, w ten sposób łatwo wysuszysz całe ciasto i bardzo trudno będzie Ci nadziewać je farszem. Polecam przygotować sobie maksymalnie 5-6 porcji, a resztę na bieżąco wałkować i wykrawać.
To ciasto jest w stanie pomieścić sporo farszu jednak mierz siły na zamiary. Jeżeli dopiero zaczynasz pierogową przygodę, nakładaj mniej i skup się na technice zlepiania. Farsz dobrze jest dociskać do środka kciukiem.
Pamiętaj by po ugotowaniu, dobrze opłukać pierogi pod zimną wodą. W ten sposób unikniesz ich wzajemnego zlepiania.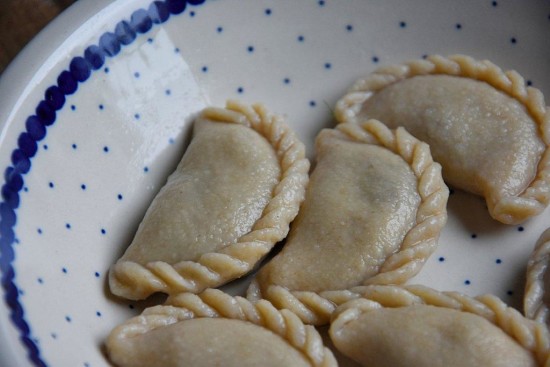 Drukuj przepis